Lift Your Holiday Spirits
... with a bit of help from Kindred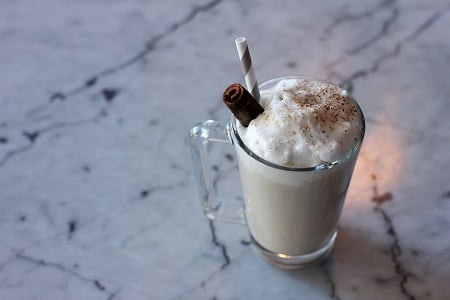 Are you scrambling trying to figure out the perfect eggnog to serve your guests this Christmas? Never fear; Kindred's bartender, Blake Pope, has created a flavorful AND healthy eggnog that'll be all the rage at your holiday party.
The first part involves a spiced almond milk, and Pope's recipe makes enough for six servings. Once you've got that part down, you'll need to make each cup with a bit of love via part two – the real eggnog part, complete with whipped whites and bourbon.
Spiced Almond Milk – Eggnog Part 1:
2 cinnamon sticks
1 cardamom pod
1 ½ tsp whole cloves
1 tsp grated fresh nutmeg
3 cups almond milk
In a medium saucepan, place cinnamon sticks on bottom and using a kitchen torch – torch sticks until burnt and fragrant. Add almond milk, cardamom, and nutmeg and bring to a boil. Turn off the heat and let the mixture steep for 30 minutes or overnight in the refrigerator.
Alright, time for part 2:
1 oz. bourbon
6 oz. spiced almond milk
1 ½ tsp simple syrup
2 egg whites
1 tsp simple syrup
In a shaker, add the spiced almond milk, bourbon, and 1 1/2 tsp. simple syrup. Shake and strain into glass.
Meanwhile, whisk egg whites with an electric mixer until soft peaks form. While mixing, slowly add the remaining teaspoon of simple syrup until everything is combined. To assemble the whole thing, top the glass pf bourbon and spiced almond milk with egg whites, then garnish with cinnamon stick and grated nutmeg.
There you have it – congratulations on being the hit at your holiday party – thanks to Kindred!