Lights! Camera! Fashion!
A weekend fashion show will raise money for 15 Charlotte nonprofits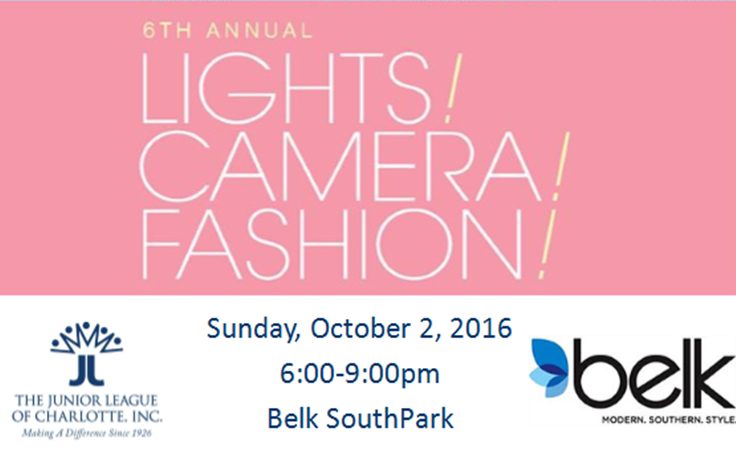 Fashion, fun and philanthropy will be in the spotlight at the Junior League of Charlotte's sixth annual Lights! Camera! Fashion! show this Sunday from 6 – 9 p.m. Hosted by Belk SouthPark, proceeds from event tickets will go to support the Junior League's commitment to almost 15 community nonprofits including Alexander Youth Network, Chameleon's Journey, and Circle de Luz.
Ticket prices range from $25 to $65 and include exclusive night-only discounts throughout the Belk store, hors d'oeuvres, desserts, wine and beer. The VIP tickets include a private wine tasting at Arthur's Wine Shop located on the first floor of Belk prior to the event and an exclusive vodka and whiskey tasting from the Great Wagon Road Distilling Company.
More than 350 people attended the 2015 Lights! Camera! Fashion! event, which raised more than $25,000.
This year is the Junior League of Charlotte's 90th anniversary. In addition to tastings, in-store discounts, food, and a silent auction, the event will also feature a 'Mystery Wall' with 90 boxes, in honor of the milestone, filled with items including gift cards, event tickets and jewelry.
In lieu of professional models and a runway show, this year Junior League members and other local leaders and personalities will be dressed by Belk stylists and will be showcased as models on pedestals throughout the store.
Tickets are still available and can be purchased here.