Lincoln's Haberdashery Wants to Provision South Enders
Michael Shortino's new market will open by early November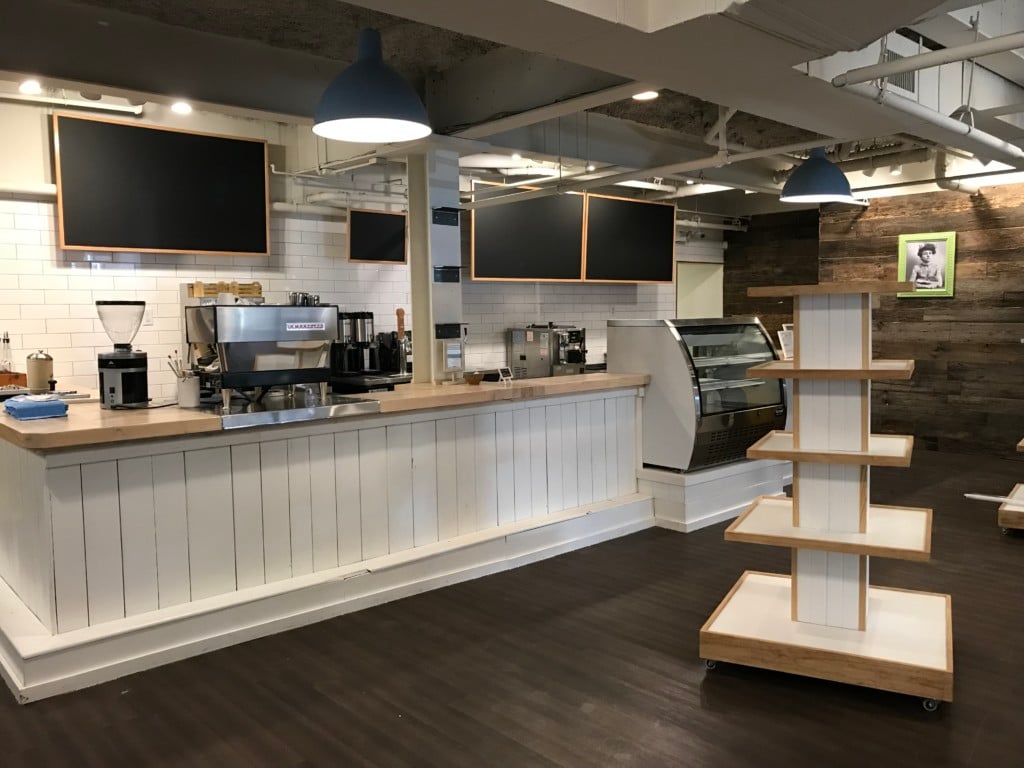 ​WHEN MICHAEL SHORTINO is ready to open Lincoln's Haberdashery late this month or early next, he's not going to make a big fuss about it. "I'm not telling anybody a date," he says. "What I'm gonna do is take the paper off the window, I'm gonna clean the windows, and the next morning I'll open the doors."
Shortino, who lives a few hundred yards from the coffee shop/cafe/wine bar/corner store he's opening in South End, wants Lincoln's to be a neighborhood spot above all else, and that means easing into the new concept. "I might tell some of my neighbors we're opening, come in for a cup of coffee," he says. "But that's it."
The shop, in the ground floor of an old brick building at South Boulevard and Bland Street where Lance crackers were once made, came about out of necessity. "We live in a walking neighborhood," Shortino says, "but there is nothing. There is no bodega, no sandwich shop, no place to grab a bottle of wine.
"Going down South Boulevard to go to Harris Teeter or Publix is probably the worst thing in the world. To get a loaf of bread or a bottle of wine? That's insane."
I live half a block down the road and can attest to this. Getting in the car—in the city's most walkable, transit-oriented neighborhood—to pick up a six pack of beer or a wedge of cheese makes me cringe.
Shortino, who owns the popular ramen spot Futo Buta just around the corner, plans to eventually keep Lincoln's open from 6 a.m. to 10 p.m., though he'll start with mornings and early afternoons. The 5,500-square-foot space includes wine shelves, beer coolers, a pastry case, and a coffee bar. Its decor is something like country-store-meets-modern. Rough-hewn reclaimed wood covers some walls; stark white subway tile lines the wall behind the counter. The men's bathroom features cheeky paintings of Bill Murray and Samuel L. Jackson dressed in elaborate military regalia.
"The pastry case is going to be unique and rustic and fun," Shortino says. "The way that I look at it is it's gonna be Instagrammable." He plans to keep the menu tight—eight or so breakfast dishes, a handful of pastries, some sandwiches, ice cream. After 5 p.m., the menu will transition to "very simple things to eat with wine."
The wine selection will be mostly everyday, affordable choices, with a few splurges thrown in. Inside refrigerated cases, customers will find less familiar beers. Given the store's proximity to South End breweries, Shortino wants to offer unexpected brews instead. And don't miss the mimosa kits—carriers with sparkling wine and fresh-pressed juices—on weekends.
What Lincoln's Haberdashery won't be, and what Shortino says isn't in the works for Charlotte, is another Futo Buta. "I just don't want to open more in the same city," he says. "I don't want to saturate the market. It brings down the quality and the integrity of what we're doing." He's looking at other cities, including Asheville and Greenville, South Carolina, to expand that concept.
The vibe at Lincoln's, he hopes, will come from people like him (and me)—those of us who live within walking distance of the shop and will come in regularly. "I have an idea in my mind what I want this to be, but it might not be that at all. Come the end of the day, this going to be what the people in the neighborhood want it to be."
Adam Rhew is this magazine's senior editor and the editor of Charlotte Home + Garden.