Lines of Duty: Chief Rodney Monroe
When a white CMPD officer shot and killed an unarmed black man two years ago, there were no riots here. Why not? The answer starts with the retiring police chief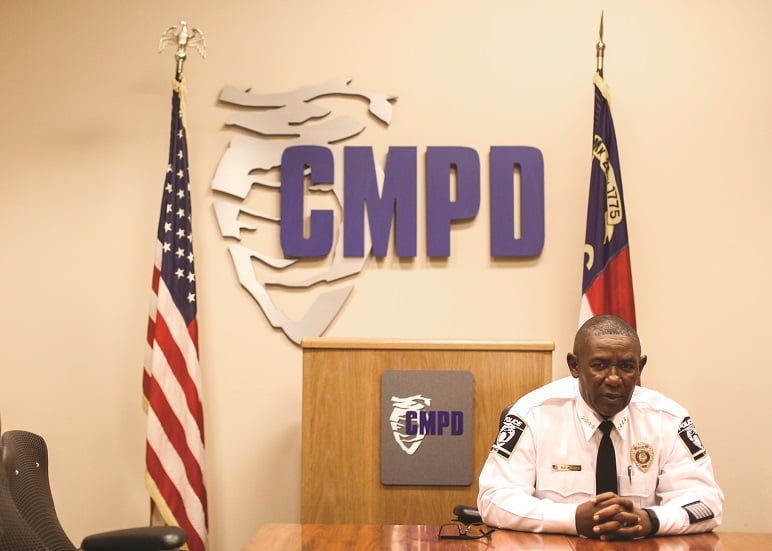 THE HOMICIDE INVESTIGATION began in the driveway of the Bradfield Farms neighborhood pool. A young man's body was riddled with 10 bullets—eight gunshot wounds in his chest, another in his abdomen, and the tenth in his upper left biceps. His wrists were handcuffed behind his back.
At 3:05 a.m. on September 14, 2013, a paramedic pronounced the man dead. Charlotte-Mecklenburg Police Chief Rodney Monroe was at the scene.
He had driven to this suburban community on Reedy Creek Road east of uptown to watch the investigation unfold, just as he does for nearly every homicide in Charlotte. He wanted to observe his detectives and crime scene technicians as they collected evidence and interviewed witnesses. He wanted to see what they saw, hear what they heard. "I'm looking and listening to everything," he says of his strategy in such cases.
As the medical examiner would later note, the victim in this case was a strong, muscular young man. His name was Jonathan Ferrell, and he was a 24-year-old former college football player. At the time of his death, he was six feet tall and weighed 225 pounds.
Woods framed the driveway where he died. The entrance to the Bradfield Farms pool is at the bottom of a hill, which is also surrounded by woods. In the darkness of the early morning, Ferrell had drifted off the road and into those woods and crashed his fiancée's car. He had kicked his way out of the wrecked Toyota Camry and walked to a neighboring house to seek help, his family would later allege in court documents. That journey would lead to his death.
Monroe focused on the crime scene in front of him. When homicide investigators finished gathering evidence, he returned to police headquarters. He spoke to his detectives. He reviewed the witness statements. And less than 18 hours after Ferrell died, a warrant was issued to arrest the man who killed him.
This is how Monroe handles homicides. This incident was no different from his normal routine, he says. Except this time, the man his officers arrested was one of their own.
***
MONROE HAD BEEN running the Charlotte- Mecklenburg Police Department for five years by the time Ferrell died. He reduced homicides to their lowest level in more than three decades, safely navigated the protests surrounding the Democratic National Convention, and earned trust from some people in Charlotte who had never before been inclined to put much stock in a police chief.
He's Charlotte's first black police chief, and he's been lauded as a "patrolman's chief," whom many longtime officers respect. He's also faced criticism from some in the rank and file—veteran officers who say morale on the force is low, in part because the chief doesn't communicate with his employees as much as he does with the public.
But the Ferrell case put Monroe at the center of America's tortured debate over the death of unarmed black men at the hands of police. Ferrell died two months after George Zimmerman was acquitted in the shooting death of Trayvon Martin in Sanford, Florida. A year later, Michael Brown was killed in Ferguson, Missouri. Then came Eric Garner in New York. And Freddie Gray in Baltimore. The tragedies haven't stopped, and the communities where they occurred are still suffering. Violent clashes between police and protestors in Ferguson gave way to looting and riots in Baltimore. Each uprising tapped into decades of frustration over racism, poverty, and police brutality.
But no other police chief in these high-profile cases acted so swiftly to arrest one of his own officers. Monroe, who retired July 1, is not a man who follows the crowd. He became a cop despite growing up in a neighborhood where many of his peers felt contempt for those who wore the badge. He ran two other police departments in the South—in Macon, Georgia, and Richmond, Virginia—before taking the job in Charlotte. And he has spent his career trying to stem the violence that steals the lives of so many young, black men.
***
BORIN IN NORTHEAST Washington, D.C., Monroe moved two blocks over the city line into Prince George's County, Maryland, when he was in sixth grade. His father was a carpenter, his mother a nurse. As a young boy, Monroe would sit on the corner and wait for the neighborhood policeman to show up so he could listen to his radio. This was not typical behavior for a young black man during the 1960s and 1970s, when protests over civil rights and the Vietnam War led to violent clashes with the police.
"I always thought they were pretty cool," Monroe says. "But my friends did not think so kindly of the police, so I never shared that with them."
When he turned 16, he couldn't wait to do a ride-along with the officer from his neighborhood. Curious bystanders looked at him funny when he arrived at a crime scene: "It always felt like people were staring at me, wondering why I was with this white police officer."
Monroe, 58, still doesn't look like a typical police officer. He's short and slightly round, with a closely shaved head and black-frame glasses that he removes when the conversation turns serious. Sitting in a conference room at police headquarters one spring afternoon, he exudes a kind of quiet control that makes one hesitate to challenge him.
He joined the D.C. police force in March 1979. Within the next five years, two of the four close friends he'd spent time with in middle school and high school would die. Ultimately, three of them died—one was shot and killed, one died of AIDS, and one was hit by a car while riding his bicycle on Christmas Day. The fourth friend went to jail.
"Thank goodness I made that choice," Monroe says of becoming an officer.
***
HE CLIMBED THE ranks to run one of the most violent police districts in southeast D.C. It averaged about 85 homicides a year, he says, and his officers were not making much progress in solving the crimes. That's why he started going to murder scenes. He wanted to talk to the people who lived nearby about how the crime affected them, "and how disrespectful it was that people would come into their community and take somebody's life.
"And I started seeing where people would start coming up to me and talking to me, and saying that they were glad to see me there."
Gradually, residents began cooperating more with the police. They helped detectives solve cases.
But there was one homicide scene Monroe could never visit.
It was February 2002, less than a year after Monroe had moved with his wife and children to Macon, Georgia, to become the chief of police there. His phone rang around 9 or 10 p.m. His niece, who lived in the Washington area, was on the other end of the line, sobbing.
Her mother, Monroe's sister, had been killed in a domestic violence dispute. "And she's crying hysterically and trying to tell me what happened," Monroe remembers. "That's the one point [at which] I've never felt more helpless in my life."
No flights were available until the next morning. Monroe jumped into his police car with his family and started driving.
It took about 12 hours. When Monroe arrived, the Prince George's County police were more than willing to give him access to information they were gathering about the case. But the chief didn't want to know.
"I didn't want to see her," he says.
As he recounts the story, the air in the sterile police conference room seems to contract. Monroe, a man who commands more than a thousand men and women, breaks down without warning when he speaks of his sister. "I didn't want to see the …" he inhales sharply, "crime scene. I didn't want to see the photographs. Just didn't want to …"
He pauses to inhale again. " … have that image in my head."
Now his voice is shaking. "So I ignored a lot of that."
Instead, he drove the streets looking for the man who killed his sister. The police believed her boyfriend had committed the crime, but they hadn't found him yet.
"I knew the police were looking for him to question him—I mean, not looking for him to do any harm to him—but just wanting to know why and what happened," Monroe says.
So Monroe looked. He drove. Later that day, the police called. They found the man. He was behind his house, dead from a self-inflicted gunshot wound.
***
THE MORNING Jonathan Ferrell was killed, Monroe called retired CMPD homicide detective Garry McFadden.
A young man has been shot and killed by a police officer, the police chief told him. I need you to come in.
McFadden is one of Monroe's righthand men, the person he calls in difficult moments to deal with the community and handle sensitive cases. Now his task was to notify Ferrell's family of his death and keep them constantly updated on the case. Ferrell's sister is a law enforcement officer in Tallahassee, Florida, and CMPD was paying her the same respect the police in Prince George's County had paid Monroe when his sister died. "My job was: Every single phase of this investigation, the family would be called," McFadden says.
This was not easy. It meant a police officer had to knock on Georgia Ferrell's door in Florida and tell her there had been an incident with her son. Then she would call McFadden. And he would have to tell her the unthinkable story of what happened:
Early that morning, just before 2:30 a.m., a young, white mother in the Bradfield Farms neighborhood was awakened by loud knocking. She opened her front door thinking it might be her husband. Instead, it was a tall, muscular man she had never seen before.
She shut the door and hit the security alarm. Gasping for breath, she dialed 911 and told the dispatcher that a black man was trying to break in through her front door. She was home alone with her baby; her husband worked nights. She grew increasingly upset as the man stood in her front yard, yelling for her to turn off her alarm.
Three CMPD officers responded to the call. The first to arrive on the scene was a 27-year-old named Randall Kerrick, who had two years of experience as a police officer. He was from Midland, a small, rural town east of Charlotte, and worked for Animal Control before joining CMPD.
As he approached the young mother's house, Kerrick heard loud noises coming from down the street. He and his colleagues—officers Thornell Little and Adam Neal—drove down the road to investigate. "Oh, my God, they're leaving," the frightened mother told the 911 dispatcher. "Please let 'em get him."
The cops found Ferrell in the driveway leading to the neighborhood pool. Officer Neal later told police investigators that the former Florida A&M football player appeared to be in a "zombie state" and "amped up" on something; Little also told investigators he thought Ferrell was "on something."
Kerrick's attorneys allege that Ferrell smoked an unknown substance at a friend's house that morning. State toxicology tests show that he had nicotine, caffeine, and alcohol in his system, but the amount of alcohol was below the legal limit for driving. CMPD ordered additional screening for hallucinogens, marijuana, and synthetic cannabis, but the results of those tests have not been released.
Officer Little stepped out of his car.
"Stop!" he ordered the man he thought was a burglary suspect, Kerrick's lawyers contend in court documents.
"Get on the ground!"
Ferrell ignored the command and moved toward the officers, the court documents contend.
Little drew his Taser.
Watching the situation unfold from the right side of the road, across from Little, Kerrick drew his gun.
Ferrell "began to sprint towards him at full speed," Kerrick's attorneys allege in court documents. Prosecutors allege the young man was running because two police officers had weapons aimed at him and he feared for his life.
Little fired his Taser and missed. Kerrick backpedaled, ordering Ferrell to get on the ground.
What happened next is unclear.
Kerrick's attorneys allege there was a struggle. They say that when Ferrell was within an arm's reach of Kerrick, Ferrell reached toward his own waistband. That's when Kerrick fired the first shot.
The two men fell to the ground, Kerrick's attorneys allege in a court motion. Kerrick, who was five inches shorter and 68 pounds lighter than the football player, says Ferrell got on top of him, hit him in the face, and grabbed for his service weapon. Kerrick fired "several times in an attempt to retreat from underneath the suspect," the motion alleges.
But police never mentioned such a struggle in their statements to the media about the incident. Neither did prosecutor Steven Arbogast, in his response to Kerrick's court motion. He and the police noted that Ferrell was unarmed. And while Kerrick filed a simple assault report that day, saying a suspect "assaulted him by unknown means," he reported only minor injuries and refused medical treatment.
In the darkness of that early September morning, Kerrick fired 12 shots. Eight bullets hit Ferrell in the chest, one hit him in the upper left arm, and one hit him in the abdomen. Police handcuffed him as he lay dying in a ditch by the side of the road.
***
ONE PIECE of evidence could help clarify what happened that morning: video from the dashboard camera of one of the police cars. But about a month after Ferrell died, a local judge issued an order prohibiting the video from being released to the public. Both prosecutors and Kerrick's attorneys feared it would taint the jury pool.
But, of course, Monroe watched the video. After he returned from the crime scene that day, he called in his investigative team and reviewed the footage. Todd Walther, a 24-year CMPD veteran who's in his third term as president of the Charlotte-Mecklenburg Fraternal Order of the Police Lodge #9, was at the meeting. So was McFadden, the detective says.
The three men give differing accounts of what happened that day.
They watched the video, and the major heading up the homicide investigation gave a debriefing on the case, Walther recalls. Then, according to McFadden, the chief said, "Everybody go home and come back. And we have a decision to make."
Monroe denies saying this. He says McFadden wasn't even at the meeting that day. But McFadden says he was. And in his opinion, "the tape and evidence spoke for itself."
Walther wasn't so sure. His organization wanted to know why Monroe wasn't consulting the district attorney before pressing charges against Kerrick. "We felt that they pushed forward too quickly with charges that day," he says.
Michael Greene, one of Kerrick's attorneys, says his client didn't break the law. "We adamantly maintain that Officer Kerrick's shooting of Ferrell was wholly justified and in accordance with CMPD procedure and more importantly, N.C. law," he wrote in an emailed comment for this story. (Attorneys for the Ferrell family did not respond to requests for comment.)
Walther understood that Monroe was under enormous pressure to do something. George Zimmerman had been acquitted two months earlier, and public outrage was still simmering. It was easy to draw parallels between Trayvon Martin, the unarmed black teenager killed while walking in a Florida neighborhood, and Jonathan Ferrell, the unarmed black 24-year-old who was killed while allegedly seeking help after a car accident.
Monroe told Walther he was simply affirming the decision, made by his investigative team, to charge Kerrick with voluntary manslaughter. Two years later, he repeated that sentiment when interviewed for this article. "The decision to charge in that case wasn't my decision," Monroe says. "It was based on the evidence presented, and the investigators' decision, which I wholeheartedly supported."
At 8:14 p.m. on September 14, a little more than 17 hours after Ferrell was pronounced dead, Kerrick was arrested. It was the first time in more than 30 years that a CMPD officer had been charged for shooting a suspect.
***
FOUR MONTHS LATER, a grand jury in Mecklenburg County declined to indict Kerrick. This is common in cases in which cops are accused of killing suspects in the line of duty. The officer who shot Michael Brown was not indicted; neither was the officer who put Eric Garner in a choke hold.
But something unusual happened here. The state attorney general's office, which was prosecuting Kerrick's case, decided to take it to another grand jury a week later. The second grand jury issued an indictment. Kerrick has pleaded not guilty, and as of press time, the case was scheduled for trial in Charlotte on July 20.
Monroe will not be the police chief then. He informed city leaders in mid-May, saying it was a "very difficult decision" and one he had "been contemplating for some time now."
But the timing was not entirely random. Four days before Monroe made his announcement, city officials reached a $2.25 million settlement with Ferrell's mother, Georgia. She had filed a wrongful death lawsuit that, in part, blamed Monroe and the City of Charlotte for the death of her son. The settlement means the city, Kerrick, and the police department will not face any more civil penalties in the case.
Asked if the settlement had anything to do with his decision to retire, Monroe said simply: "Was I happy that had been settled? Yes."
***
MEANWHILE, the officer-involved shootings continue. In March, a CMPD officer shot a teenager in the leg and wrist, after the teenager refused to drop his gun. Less than three weeks earlier, a 20-year-old woman named Janisha Fonville was shot and killed after her partner called police to report a domestic dispute. Fonville had threatened her partner before and had a history of cutting herself. Her partner told the police she needed to be evaluated by mental health professionals. Her partner also warned the officers that Fonville had a knife. Officer Anthony Holzhauer alleges that when he entered her apartment, Fonville lunged toward him with the knife.
Every time there is a shooting, Monroe has answered questions in front of the television cameras. And behind the scenes, he works to ease tensions.
He pushed for CMPD officers to wear body cameras, which civil rights activists and police union officials say will be helpful in investigating and prosecuting police brutality. Police officers have also started having dinners with young black men. If these young men befriend cops, the reasoning goes, they'll be less likely to start a conflict if one pulls them over.
And one Sunday afternoon a month, Monroe helps lead a community meeting called "Hands Up, What Now?" These meetings—part of the "Cops & Barbers" collaboration between the N.C. Local Barber Association and CMPD—are designed to address recent conflicts between black citizens and police. They have plenty to discuss: A recent UNC Chapel Hill study found that young, black men between the ages of 20 and 24 in Charlotte are more than twice as likely as their white male counterparts to be searched during a traffic stop. Also, police officers here often don't reflect the communities they serve: 76 percent of CMPD officers are white, 17 percent are black, and about 4 percent are Hispanic. Given such statistics, "you almost look at an instant bias," says Gene Winchester, who is president of the N.C. Local Barber Association and also happens to be Monroe's barber.
The March meeting takes place in the gym of the Naomi Drenan Recreation Center in Grier Heights. As audience members find seats in folding chairs and bleachers, a video narrated by black men, women, and children plays on a loop. "Ten Rules of Survival If Stopped by the Police," the actors recite, looking straight at the camera. "Rule No. 1: Be polite and respectful when stopped by the police … Remember that your goal is to get home safely."
When Monroe arrives, wearing a white warm-up jacket and jeans, some people in the audience give him a standing ovation. "Chief!" someone yells from the back.
But the mood does not remain friendly. Toward the end of the forum, two burly cops are onstage with teenage volunteers, acting out different scenarios that might cause conflict— traffic stops, an encounter between police and men standing on a street corner. While the audience watches, a group of protesters walks in and stands silently a few feet from Monroe. They hold signs that say, "Justice 4 Janisha" and, "Why are you still hiring killers, Mr. Monroe?"
At first, Monroe ignores them.
Monroe speaks to Paris Bey (center), whose cousin,
Janisha Fonville, was shot and killed by a CMPD officer.
He listens as officers answer questions from the audience about deadly force. One man stands up and asks, "Why can't you shoot to wound?"
The audience applauds.
Monroe walks over to the microphone.
"Deadly force can only be used if you're about to lose your life, or somebody else is about to lose their life," he says. "That's the only time that you can use deadly force," he adds, meaning civilians, too.
The crowd murmurs loudly. If you produce a weapon in front of a police officer, that starts the continuum of deadly force, Monroe says. What he doesn't say is that CMPD's use of force policy makes no mention of "shooting to wound." That's because a police officer is not supposed to deploy a weapon unless the officer or someone else is in danger of serious injury or death. If the officer is not shooting to kill, one could argue the danger is not life-threatening.
"Yes, there are some very tragic incidents that have occurred here in Charlotte and across the country," Monroe says. "But we must all be held accountable for our actions."
Moments later, the forum ends. But for Monroe, it's not over. He does something public officials rarely do: He turns to talk to the protesters standing beside him. A tight circle of reporters and onlookers crushes in around him, and it's impossible to hear what he's saying, but his body language is clear. Paris Bey, Fonville's cousin, is upset. Her eyes well up. Monroe puts a hand on her arm to comfort her.
He offers to meet with her privately. But Bey doesn't want to talk. Instead, she says she wants Charlotte-Mecklenburg police officers to publicly explain how they handle cases involving mentally ill suspects such as her cousin. "I don't trust him," she says later of Monroe.
***
THE CHIEF IS undeterred. A month later, he's back at another Cops & Barbers forum, at a middle school in the Hidden Valley neighborhood. It is a week after Walter Scott was shot and killed as he fled from a police officer in North Charleston, South Carolina. Here in Charlotte, CMPD is trying to help citizens understand how cops think. Audience members at the forum use video simulators to experience what it's like when a police officer faces a situation that requires deadly force.
Microphone in hand, wearing a checkered shirt and jeans, Monroe answers questions. He says CMPD is focusing on teaching officers how to de-escalate conflict. He encourages citizens to file a complaint if they feel mistreated by the police. He even encourages people to videotape encounters with the police on their cell phones.
Through question after question, he remains patient and good-humored. He believes that these forums, along with CMPD's other community outreach efforts, will help keep Charlotte from descending into "total chaos" during Randall Kerrick's trial. "I believe that the work that we have done over the past couple of years is what's going to prevent things from getting out of hand," he says later.
The people in Hidden Valley don't ask about Kerrick, or the outcry surrounding his case. But Paris Bey and her family show up again, holding another "Justice 4 Janisha" sign. This time, Monroe doesn't try to engage with them. He does what he's done throughout his career, from the night his sister was killed to the morning Jonathan Ferrell died to the day he announced his retirement. He stays calm. He listens to people's concerns. And he just keeps talking.
Lisa Rab is the articles editor for this magazine. Reach her at lisa.rab@charlottemagazine.com or on Twitter: @lisayrab.