Lisa & Tyler
June 22, 2013: The VanLandingham Estate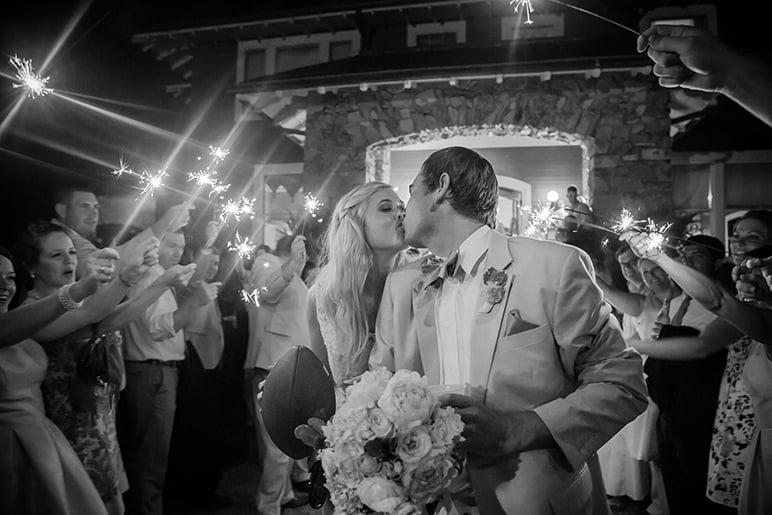 Photographs by BlueSky Studios
Every bride strives to make her groom weak in the knees, but Lisa Giordano actually did it. During their vows, Lisa noticed her groom, Tyler Carlton, swaying. "I asked him, 'Honey, are you OK?'" He swears he got overheated, but Lisa knows she took his breath away.
Guests paused in the shade for Toomer's lemonade and Cheerwine while the groom recovered. Chairs were brought in, the ceremony resumed, and the pastor pronounced the couple husband and wife. Tyler bribed harpist Kristen Osborne to play "Celebrate Good Times." And that's what they did.
This family-focused wedding brimmed with vintage charm—pink and green, tons of mementos, and a nostalgic candy counter for the kids. Karisa Pennell from Nectar added draping, crystals, and giant bows to the rose-and-peony wedding bower. Lisa's bouquet burst with pink and white roses, peonies, and hydrangeas. The dinner tables on the lawn were set with pink-and-gold damask linen and silver bowls overflowing with pink roses, peonies, and white hydrangeas.
Lisa and Tyler took to the floor to Kip Moore's "Hey Pretty Girl," before Split Second Sound got everyone dancing, even the father of the bride. The pair departed by sparkler light for their relaxing beach honeymoon in Seaside, Florida.