Address: 225 Baldwin Ave., Charlotte, North Carolina 28204
Phone Number:
704-376-1605
Specialty:
Surgery - Neurological
Practice:
Carolina Neurosurgery & Spine Associates - Charlotte
Be Part Of Our Resource Guides
Want your listing to appear in Charlotte Magazine's resource guides? Want to update or upgrade your existing listing?
Sign up for our E-Newsletters
Stay in-the-know on restaurant openings, things to do, and all things Charlotte with our handy newsletters. SIGN UP HERE. 
Things To Do
Jan
10
Fri
Special Exhibit: Then Sings My Soul

@ The Billy Graham Library
Jan 10 @ 9:30 am – Mar 31 @ 5:00 pm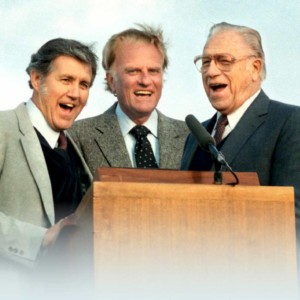 Just as Billy Graham shared the Gospel in every Crusade sermon, George Beverly Shea and Cliff Barrows—and many other team members—faithfully presented the Good News of Jesus Christ in song. Come discover the incredible ways the Lord used their efforts—and their music—to open hearts around the world.
•Read inspiring stories and personal memories from Billy Graham, George Bev Shea, Cliff Barrows, and others.
•Browse never-before-seen memorabilia.
•See compelling photos of the Crusade team's music ministry.
This special display is free to the public and no pre-registration is required. For more information, please call 704-401-3200.
The Norwegians by C Deby Swanson

@ Warehouse Performing Arts Center
Jan 10 @ 8:00 pm – Feb 1 @ 8:00 pm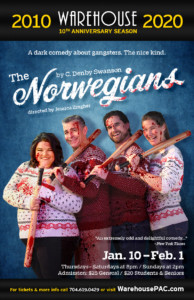 Running January 10th to February 1st 2020, the Warehouse will present what critics are hailing as a" guilty pleasure " ( New York Times ). A spite-filled comedy about women scorned in Minnesota and the really, really nice gangsters— Norwegian hit men—they hire to whack their ex-boyfriends. Olive is a transplant from Texas and Betty is a transplant from Kentucky, but neither of them was prepared for the Norwegian men they would fall in love with there: the practical, warm, thoughtful, destructive, evil, jilting kind. If you're a hit man in Minnesota, 83% of your clients want to take out their ex (oofda!). Betty has referred Olive to Gus and Tor, a partnership in the whacking business. What Tor doesn't know is that Gus has been sleeping with the clients. What Olive doesn't know is that Gus is Betty's own ex, and she has already put out a hit on him with a Swiss firm. Can Betty call off the job in time to let Gus do his? Should she?
Jan
16
Thu
Little Black Dress The Musical

@ Booth Playhouse at Blumenthal Performing Arts Cent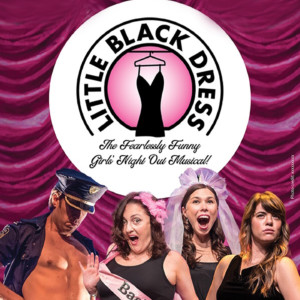 LITTLE BLACK DRESS tells the story of best friends Mandy and Dee. Together we witness the girls' major life events in their little black dresses – first job interview, first date, first awkward sexual experience – which happens more than once – first funeral, and more! Using hilarious improv, catchy songs, and a heartfelt story, LITTLE BLACK DRESS has made audiences across the globe laugh, cry, and party!  ​
Recommended for ages 18+
Jan
17
Fri
Maurice Sendak: The Memorial Exhibtion

@ Gaston County Public Library
Jan 17 @ 10:00 am – 6:00 pm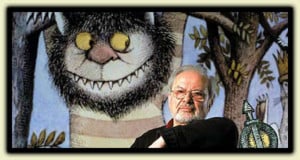 The Maurice Sendak Memorial Exhibition is a celebration of 50 Years, 50 Works, and 50 Reasons. This exhibition spotlights 50 original works by Maurice Sendak, who was an award-winning author and illustrator, most widely recognized for Where the Wild Things Are. Throughout his career, Sendak authored 22 books and illustrated 79 others. It will be on display at the Main Branch of the Gaston County Public Library in Gastonia, which is the only stop on the tour in North Carolina. Hours may vary. Please call the Gaston County Public Library for more information.
Maurice Sendak was the winner of the 1964 Caldecott Medal for Where the Wild Things Are and the only American illustrator to win the international Hans Christian Andersen Award (in 1970, for his body of work). He was a visionary figure in children's literature. Mr. Sendak began by illustrating the works of others— including Else Holmelund Minarik, Randall Jarrell, Isaac Bashevis Singer, and the Brothers Grimm. By 1956, with Kenny's Window, he was creating his own texts as well as illustrations.
Also a distinguished set and costume designer for opera and ballet, Sendak has designed productions of Mozart's The Magic Flute, Janácek's The Cunning Little Vixen, Prokofiev's The Love for Three Oranges, Ravel's L'enfant et les sortilèges and L'heure espagnole, Tchaikovsky's The Nutcracker, and Oliver Knussen's operas based on his Where the Wild Things Are and Higglety Pigglety Pop! In 1983, Mr. Sendak received the Laura Ingalls Wilder Award from the American Library Association, given in recognition of his entire body of work; in 1996, he received a National Medal of Arts in recognition of his contribution to the arts in America; and in 2003 he received the first Astrid Lindgren Memorial Award, an annual, international prize for children's literature established by the Swedish government.
Sponsor: Gaston County Public Library
Dilworth Tasting Room Queen's Feast: Charlotte Restaurant Week

@ Dilworth Tasting Room
Jan 17 @ 4:00 pm – Jan 26 @ 12:00 am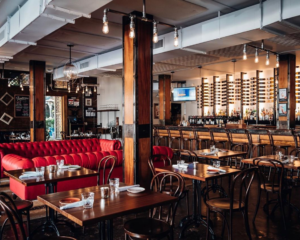 Looking to experience some of the best food in the Charlotte area? Enjoy Dilworth Tasting Room's three-course prix fixe dinner menu in this year's Queen's Feast: Charlotte Restaurant Week. Offered from Friday, January 17 to Sunday, January 26 and priced at only $35 per person, the menu offers a variety of tasty dishes from appetizers to dessert.
FIRST COURSE
Charcuterie : prosciutto and brie served with accoutrements OR Butternut squash bisque with spiced olive oil, goat cheese and pumpkin seeds
SECOND COURSE
Gnocchi in mushroom-garlic cream sauce topped with shaved Parmesan
Lamb meatballs in marinara topped with feta and basil served with Naan
Seared chicken breast with roasted cauliflower over romesco topped with pickled shallots and herbs
THIRD COURSE
Croatian Bajadera (almond nougat and chocolate layered bar) with whipped cream, orange curd and berries
Warm cinnamon bread pudding with boozy caramel sauce and house vanilla ice cream
Reservations can be made through Resy. Call 704.595.3337 for more details. We hope to see you there!