Literary City
Charlotte's neighborhoods build communities with books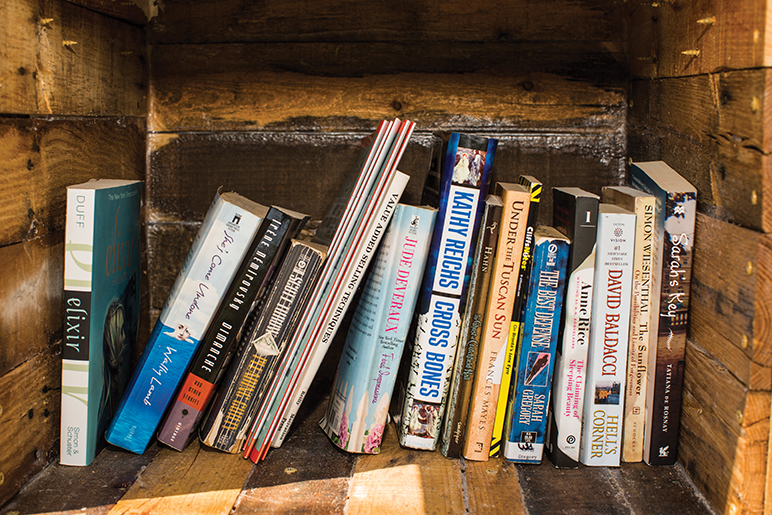 At a handful of libraries around Charlotte, a library card isn't necessary, and there are no fines for overdue books.
In fact, you don't have to return the books at all. The libraries that encourage borrowers to "take a book, leave a book" aren't operated by the Charlotte Mecklenburg Library. Instead, these mini lending libraries are part of the growing Little Free Library movement.
The concept is simple: Homeowners, nonprofit organizations, and local businesses install a Little Free Library—most look like oversized birdhouses with plexiglass doors that show off the books inside—fill it with books, install it in a public space, and encourage passersby to take a book. (Book donations are welcome too).
The little libraries "create a point of intersection for people within neighborhoods to gather and talk and share their treasured books and stories," explains Heather L. McCullough, a member of the Charlotte Mecklenburg Library Foundation Friends Council. "They can also serve as a point of pride for neighborhoods."
There are several local Little Free Library locations registered through littlefreelibrary.org, a Wisconsin-based nonprofit that launched the movement in 2009 and maintains a registry of official locations. But there are several unregistered locations in Charlotte too, including a new Little Free Library at the Rusty Rabbit in NoDa that is made from reclaimed materials, and another near the playground at Midwood Park in Plaza Midwood.
In November, Sara Klemmer installed a Little Free Library in the yard of her Plaza Midwood home. A book lover and former librarian, Klemmer loved the idea of giving books to her neighbors.
"I thought it was such a terrific way to promote reading and community," she says.
The mini lending library has created a buzz among borrowers in Plaza Midwood. Children love picking out books from the mini library, and a new borrower was delighted to find the novel her book club selected available in Klemmer's Little Free Library.
"It is an unexpected treasure in the neighborhood," Klemmer says.
It's that kind of community connection and literacy promotion that made Library Friends Council want to promote the boxes in Charlotte.
"There is no better way to build relationships and create a community of readers than to take Little Free Libraries directly to neighborhoods and community centers," McCullough says.
The Library Friends Council and the City of Charlotte offer book donations and grants to neighborhood associations and community groups that want to establish Little Free Libraries in the hopes there will be a lot more of the mini book boxes popping up in town.
"Little Free Libraries can provide more than just books," McCullough says. "They can create a true sense of community."
---
LEND OR BORROW
Pick up a book—or drop one off—at a Little Free Library in Charlotte. Here's a sampling of local locations; find more at littlefreelibrary.org/ourmap.
1. Midwood Park
Head to the heart of Plaza Midwood to find this library—it's in the center of the park, in front of the covered event shed.

2. Ashland Avenue
This turquoise box sits in front of a home on Ashland Avenue in Plaza Midwood.

3. 36th Street
This purple and grey library, labeled "Book Exchange," faces 36th Street in NoDa.

4. Terry Lane
Near Reedy Creek Park, this Little Free Library's box is red, purple, and yellow—and hard to miss.
5. Park Vista circle
Head to Park Vista Circle to borrow or lend a book in south Charlotte.