Local band with Bonnaroo aspiration needs votes!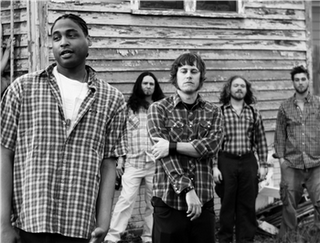 A call to arms for Charlotte culture crusaders! You now have an opportunity to help push a local Charlotte act onto one of America's most sought-after stages—the Bonnaroo Festival.
Eyes of the Elders, a five-man hip-hop group from Charlotte is participating in the Road to Roo competition. Here's how it works: fans go to the Road to Roo website, where they find a list of 721 bands, all of whom are vying for a spot at Bonnaroo. The fan downloads a song from his/her band of choice. That download counts as a "vote" for that band. Bands who finish in the top 8 are selected as finalists. The competition ends THIS FRIDAY NIGHT, and over the weekend, two bands of those eight will be chosen by a Bonnaroo panel to perform at the festival.
EOE it incorporates everything from bluegrass to pop into their rap songs; they released their most recent EP, Amerikan Night at the end of 2010. You can hear it on iTunes. Right now, they're in 7th place at Road to Roo, and need all the help they can get in these crucial last 48 hours. They would be one of the only bands from Charlotte (minus the Avetts) to have ever performed at Bonnaroo.
To recap: go to the Road to Roo website. You'll see a list of the top 20 bands. Hit "Eyes of the Elders." Hit "download." A pop-up window will come up with some mumbo-jumbo. Hit "allow." Then, there will be a request to "Like" the Bonnaroo Festival on Facebook (they provide the "like" button, so all you do is hit it and hit "continue"). Agree to the terms of conditions, and voila! You've helped a Charlotte act forge their path toward greatness.
Again, you only have until TOMORROW NIGHT to do this, so act fast! On a side note, if you're now curious to hear EOE live, they're playing at the Neighborhood Theatre on May 13.