Local Flavor with Charlotte Lucas
Designer Charlotte Lucas shares her Chuck Taylor-inspired personal style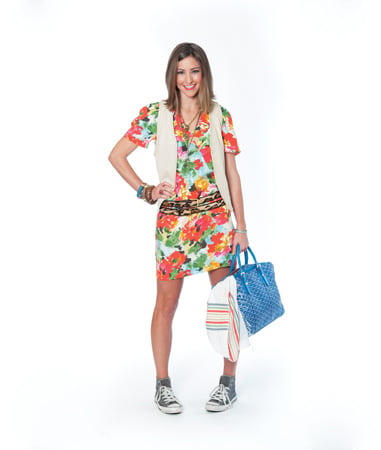 With her trademark worn-in Chuck Taylors, Charlotte Lucas is a fashionista with an independent streak. Just shy of her twenty-ninth birthday, the interior designer knows how to express her passion for design.
I DESCRIBE MY PERSONAL STYLE AS…ever-evolving. I try to continuously adapt my style as my mood and life change. As an interior designer, I am always mixing new colors,patterns, and textures. These designs usually find their way into my closet, often unintentionally.
I SHOP AT … Poole Shop, Hong Kong Vintage, J.Crew, and Anthropologie.
THE TOP THREE ITEMS IN MY SUMMER CLOSET ARE…floral patterns (I've recently raided my grandmother's closet for inspiration), printed jeans, scalloped shorts, and colored belts (loving all of Meredith Wendell's designs). Sorry, I can't pick just three!
WHY ON EARTH DO CHARLOTTEANS… stick to the strict seasonally appropriate guidelines of fashion? Who says you can't wear your white pants before Memorial Day? I love Southern
tradition and etiquette. But breaking some rules can often make a statement.

I SPLURGE ON… outerwear, handbags, cosmetics, vintage finds, and the occasional pair of shoes. I find that you can usually wear most of these items more than one season. Don't splurge on trends!

EVERY MAN'S/WOMAN'S SUMMER WARDROBE SHOULD HAVE… a classic button-up linen collared shirt. My husband shrank one of his favorites by accident, and it's been a staple in my closet ever since.

YOU WON'T CATCH ME IN … high heels in casual settings. Hence the old-school Chuck Taylors. Take yourself too seriously and it takes all the fun out of fashion.
MY FASHION ROLE MODELS ARE … Giovanna Battaglia, Hanneli Mustaparta (I just copied her ombre hair!), Talitha Getty, and Edie Sedgwick. I try to pull inspiration from different generations to keep variety in my closet.
What Charlotte is wearing:
Balenciaga dress, $475, scored at a sale in Atlanta; Graham & Spencer leather vest, $495, Poole Shop, 704-553-8868; Leopard print belt, $126, Coral, 704-817-9440; Converse Chuck Taylor All Star Sneakers, $50, converse.com; Vermeil earrings with lapis stone, $120, Decade, 704-332-5862; Goyard bag, Barney's New York; Scarf in bag: Lemlem white striped shawl, $125, Poole Shop; Jewelry: vintage/antique from Lucas's grandmothers; assorted Laura James Jewelry, $225, 704-372-1267; Vintage art spear necklace, $278, Capitol, 704-366-0388