Local Line Lamshop Featured in Elle Decor!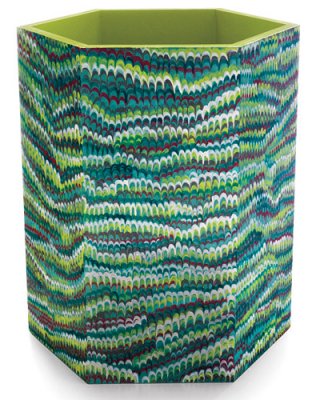 I love reading Elle and Elle Décor, but I especially love reading them when I run across local names in the print (!). As you can imagine, I was delighted to find that Lamshop, the locally-launched home décor line (shoplamshop.com) whose owners are featured in our current issue of Home+Garden, made the cut this month.
Here's what I've decided: Lamshop is killin' it lately. Each week for the past few, I've gotten an email tempting me with some new must-have, like a gorgeous lacquered side table or a perfect little butler tray for when I host dinner parties (it could happen). This week, it's a hand painted hexagon wastebasket in faux Italian paper (it comes in a number of other options—faux malachite, faux shagreen, faux tortoise, chevron stripe or solid colors—and retails for $395), and it just so happens to be one of the items Elle Décor featured in its September issue's Trend Alert: Marbleizing.
I'm going to be keeping my eyes peeled around this city for examples of marbleizing , and of course, for more of our own to be featured in my favorite high glosses. In the meantime, feel free to let me know when you see either or both so we can give them due credit!