Local Pianist, 14, Performing at Carnegie Hall Saturday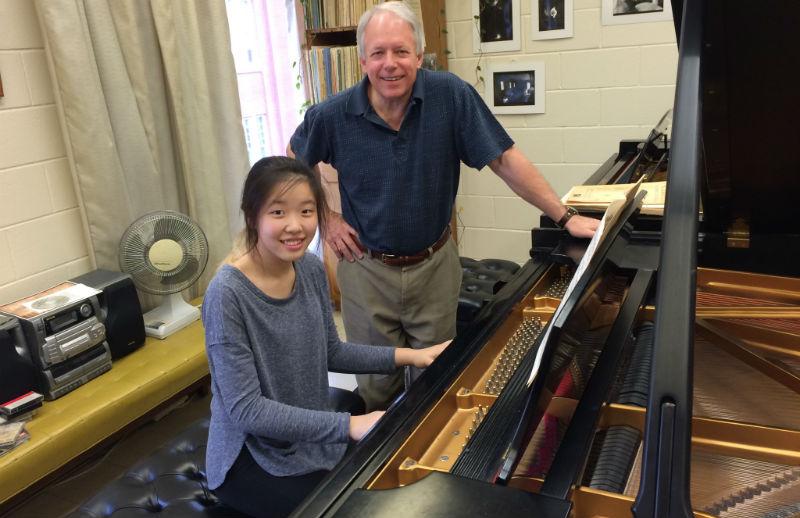 IT'S BEEN a fun week for Queens University music professor Dr. Paul Nitsch: He's been helping a 14-year-old student prepare to play Carnegie Hall in New York City. Keona Lim-Rose, a Charlotte piano student taught by Nitsch at Queens Music Academy, recently won the second-ever Malek Jandali International Youth Piano Competition. He's not the first piano instructor to coach a teenager heading to a big stage. But the namesake for the contest adds another layer of pride for Nitsch: Malek Jandali was once Nitsch's student, too. "It's a fairly unique situation to be in," Nitsch says. "It's really a thrill for all of us."
Nitsch has been a professor at Queens for 39 years. His work with Queens Music Academy, a non-college division of the school, has provided students of all ages. (Most academy students are under 18, like Lim-Rose.) Nitsch says he's looking forward not only to attending Lim-Rose's upcoming concert (Saturday, Feb. 6), but also catching up with her after the show.
"It will be a tremendous learning experience with emotions and feelings that one just doesn't have in a student recital," Nitsch says. "There will be a lot to talk about afterward."
Jandali came to Queens with a full scholarship in the mid-1990s, receiving the school's Outstanding Musical Performer Award. Since then, the Syrian-American composer has traveled the world and garnered several awards, including the 2011 Freedom of Expression Award, the 2013 GUSI International Peace Prize, and the the 2012 Arab-American Cultural Achievement Award. He was even the first Arab-American composer to debut at Carnegie Hall.
The honor isn't lost on Lim-Rose as she prepares for Saturday's concert. She and nearly 30 others entered the competition with recorded performances, playing complicated pieces from memory. When asked if she thought she'd play Carnegie Hall at so young an age, she laughs and provides a drawn-out "nooooo" in response. "Of course, I always wanted to perform there," Lim-Rose says, "but never thought so soon. I'm so excited. I want it to be a really fun and really natural experience."
After four decades teaching at Queens, Nitsch said there are certain qualities he recognizes in students such as Lim-Rose and Jandali. "They have initiative," Nitsch says. "You don't have to tell them to practice. They have this unquestionable need to play music. The biggest challenge is time. Keona is home-schooled, which really frees her up. One time [at the beginning of the week], she told me she had already gotten all of her work done for the whole week so she can practice playing."