Local Tokens
Wedding favors with regional flavor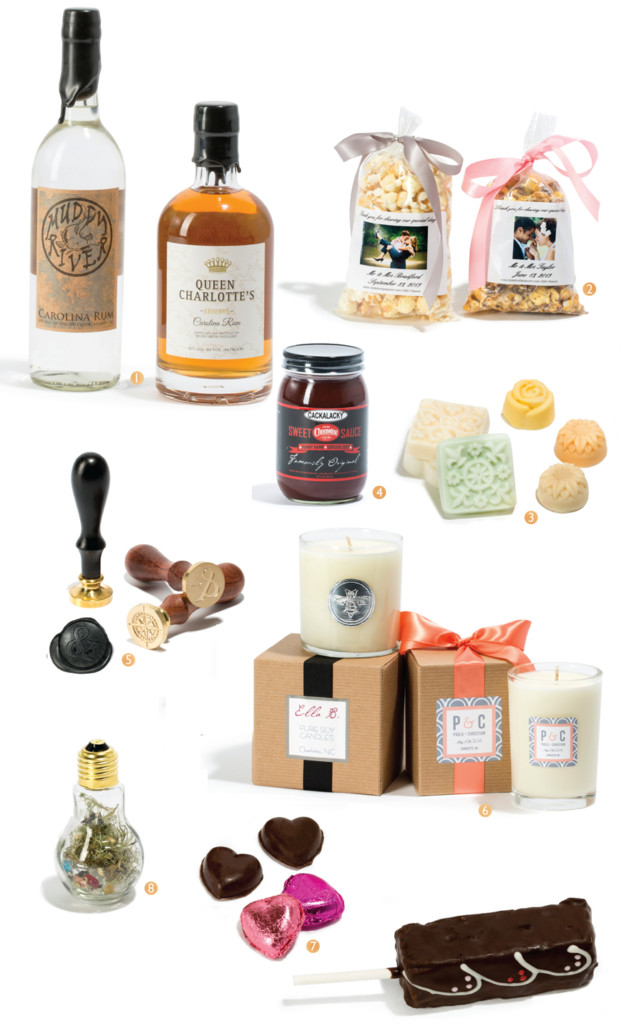 Show off your city and state pride—and show guests how thankful you are to have them celebrate your special day—with these eight locally made favors.
1. Muddy River Distillery Rum
Husband-and-wife duo Robbie and Caroline Delaney began producing artisan rum in 2012. Choose from two options—white, unaged Carolina Rum or eight-month-aged Queen Charlotte's Reserve—for your guests. Add a cocktail recipe to the bottle to round out the favor; the website offers several options. Prices vary, muddyriverdistillery.com.
2. Tastebuds Popcorn
This Belmont company began making gourmet popcorn in 2011. Sample the selection of 150 flavors—including Southern-inspired Cheerwine, Sun Drop, and Carolina Mix—at one of two storefront locations (in Belmont and Ballantyne). Tastebuds can create custom flavors and colors. From $4 per bag, tastebudspopcorn.com.
3. Made by Elizabeth
Each of these handcrafted soaps—designed by Charlotte native Elizabeth Stewart—is made with natural ingredients. Choose from 12 fragrance options, such as lilac or jasmine, and then personalize your favors with custom packaging including your wedding logo or monogram. From $75 for 50 soaps. handmadesoaps.co.
4. Cackalacky Cheerwine Barbecue Sauce
Pittsboro-based Cackalacky and Salisbury-based Cheerwine teamed up to create a sweet, tangy barbecue sauce. Each 16-ounce bottle combines two of the state's most notable flavors, giving wedding guests a true taste of Carolina. From $5.99 each, cackalacky.com.
5. Dewdrop Designs Wax Stamp
Designer Gillian Stevens will customize one of her rubber stamps with your logo, monogram, or other wedding detail to create a personalized favor straight from Charlotte. The stamps use wax to make beautiful seals that elevate any envelope. Each stamp comes in a rustic-chic muslin bag with one piece of wax. Inquire for pricing, dewdropdesigns.com.
6. Ella B. Pure Soy Candles
Ella B. Candles are hand poured, pure soy, and burn for more than 60 hours. The Neighborhood line has fragrances that represent Charlotte's neighborhoods and surrounding towns, including Myers Park, Dilworth, Ballantyne, NoDa, Plaza Midwood, Waxhaw, and more. You can also create a personalized scent for your wedding; a recent client's hit combination brought together Champagne, pomegranate, and pear. From $12 to $25 each, ellabcandles.com.
7. The Secret Chocolatier
Chocolate-dipped marshmallows, truffles, bonbons, brownie pops. At The Secret Chocolatier in Charlotte (locations at Providence Road and Ballantyne), Bill Dietz, the magician behind the confections, offers a long list of treats available as wedding favors. Choose from various packaging options, mesh bags, silver foil, or boxes, and then customize the package with a personalized label and bow in your color of choice. From $2 each, thesecretchocolatier.com.
8. Exceptional Terrariums
These miniature versions of Linda Barnett's terrariums, made in Concord, are ideal favors for plant-loving couples. Nestled inside a small, faux lightbulb are various species of lichen and Spanish moss, which create a small ecosystem. Three to five drops of water every three months will keep the terrariums healthy for a long time. From $10 each for orders of 25 or more, exceptionalterrariums.com.