Local Voice-Over Actors Sound Off
Professionals lend their talent to everything from video games to jewelry commercials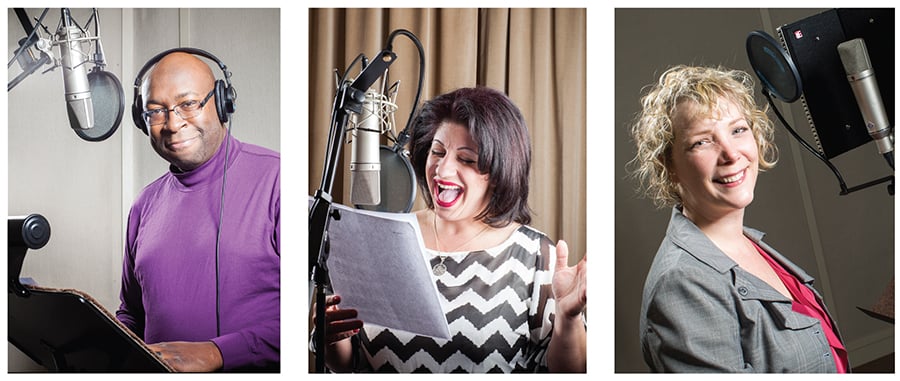 George Washington III
Neighborhood: University City
Getting started: A classically trained opera singer, Washington was lending his voice to in-house videos for First Union bank when someone suggested he cut a demo reel.
Favorite gigs: A huge comic book fan, he loved being the voice of the Green Lantern for DC Universe, an online video game.
Memorable moment: In February, Washington was working as the voice of a regional sports network in the Northwest. At the beginning of the second quarter of the Super Bowl, the network asked him to quickly record a commercial congratulating the Seattle Seahawks on their win.
---
Gabrielle Nistico
Neighborhood: Northwest Charlotte
Getting started: As a teenager, Nistico interned for a radio station in New York. She got her big break during a writers' strike that nearly shut down Hollywood. Casting agents were forced to recruit new, nonunion talent, and Nistico landed a spot on a national Dunkin' Donuts commercial.
Favorite gigs: She's been the voice of Tiffany & Co., White Castle, Nordstrom, and Walgreens.
Memorable moment: It's not easy to date a voice-over actress. No matter where she travels, Nistico says former partners call her to complain they can't get away from her because her voice is everywhere.
---
Catherine Smith
Neighborhood: Waxhaw
Getting started: Smith was filling in for the office manager at WFAE when the operations manager decided she had a good voice and put her on the air. She was hosting weekend jazz programs when a listener called in and asked her to do commercials for a trucking company.
Favorite gigs: She's the voice of Harris Teeter and Ashley Furniture.
Memorable moment: Recording an audio book by Louis L'Amour, a popular Western novelist. She worked with Kris Kristofferson and Willie Nelson on the project and got a glimpse of the celebrity lifestyle. "[Nelson] invited me on his bus, and it was beautiful but a little, uh, cloudy."