Lonnie Davis Brings Back Jazz
A New Orleans expat helps revive genre in Charlotte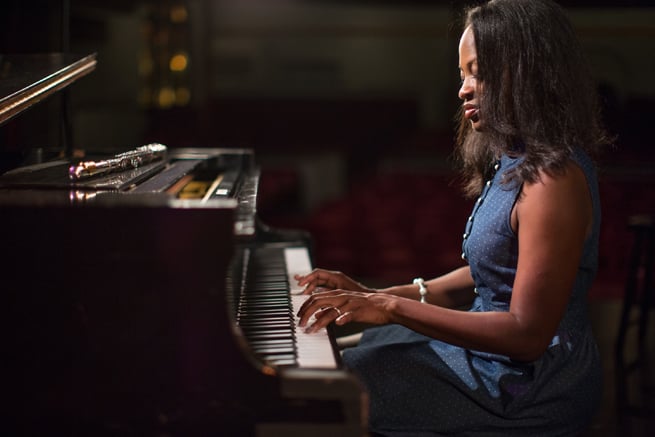 The alto sax player, sporting a black driving cap and Dr. Dre headphones, is in the middle of a feverish solo, riffing on John Coltrane's Impressions. He's bending and swaying, practically seizing, as he puffs into the horn. His nose is wrinkled, and there are narrow slits where his round, brown eyes used to be. His cheeks look as if they could pop at any minute. It's mid-May, and panes of glass in the white French doors to his left are starting to steam up from the humidity. In the front row, a couple of dozen middle and high school kids lean forward in their metal folding chairs, instruments perched on their laps. The metal catches and reflects dim golden light from the recessed bulbs above.
Lonnie Davis, in a faded black T-shirt, olive-green capris, and rubber flip-flops, stands along the wall of the far side of this church fellowship hall, grinning. Davis, 36, seems to always be smiling, especially when music plays. Her head bobs, and the curly hair she has pulled back bounces in time with the tune. She spends as much time watching her students' faces as she does the band.
She waits for the moment the music takes hold. When the tempo changes. When the kids start rocking in their chairs.
Since Davis, a New Orleans expat and accomplished jazz flutist, moved here nearly seven years ago, she's quietly invigorated Charlotte's jazz community, primarily through the work of her nonprofit, the Jazz Arts Initiative. Her goal isn't to bring Bourbon Street to Tryon Street. That wouldn't work, and Davis freely acknowledges it.
"There is only one New Orleans," she says, "and we certainly can't create another one in Charlotte. But why would we? So many jazz masters are from the Carolinas. Coltrane. Dizzy Gillespie. Nina Simone. There's already so much richness here. It just needs to be brought out."
The students gathered this Sunday afternoon are part of Davis's all-star classes—kids who are serious about music. Every week during the spring semester, the groups gather for two hours to learn about jazz history and theory. Davis brings in clinicians—older, experienced musicians like the sax player, Marcus Jones—to work with the students on technique. Today, Jones is one of a half-dozen clinicians jamming with the kids.
"We have to work hard to preserve jazz," Davis says. "It's not going to … be created on its own."
Davis's interest in music came from the father she doesn't remember. She was just a year old when he wrecked a Trans Am on the autobahn in Germany, near Landstuhl, where he was stationed in the Army. After the accident, Davis's mother moved the family back home to New Orleans.
One day, Davis came home and announced that she intended to learn the violin.
"It was just something I wanted to do," she says. "[My father's] side of my family is very musical, but I didn't realize that until I was much older, until I started asking questions."
But after a couple of years on the violin, she was unhappy. "I just couldn't make it sound good fast enough," she recalls. That frustration, and a desire to march in the school band, led her to the wind section. "I picked flute because it was the girl instrument," Davis says, laughing. Female instrumentalists were uncommon, and those who did play stuck to a handful of instruments. "It was either flute or clarinet."
She had experienced jazz before but wasn't drawn to it. "Being in New Orleans, you're going to hear jazz every day by default," she says. "But surprisingly I didn't listen to it in my house." Instead, Davis grew up between opposite ends of the music spectrum—jamming to Michael Jackson and Chaka Khan at home and playing classical music on the flute at school.
Eventually, in high school, a friend from marching band suggested she apply to a New Orleans music conservatory, NOCCA, which runs a well-respected jazz program for teenagers. "I didn't have any interest in learning jazz until I got to this school and saw other musicians—young musicians—who were really serious about this music."
Davis felt more comfortable playing jazz, no longer constrained by the ordered notes and measures of classical compositions. "It really allows you to dig into yourself and lets you express yourself in a way classical music doesn't allow," she says. She was able to stand out as a performer because of her ability to improvise and was quickly drawn to the songs of jazz masters like Dizzy Gillespie and Miles Davis. "That is what feeds me. That's still what I hear," she says. "The sound of the flute sounds best on those straight-ahead jazz tunes."
"In New Orleans, music and jazz and culture is bubbling up from the streets. And when we moved here, we didn't really feel that."
The first jazz solo Davis played became something of a theme song: "The Swingin' Shepherd Blues." It fits. The song is airy and friendly, much like her personality. "I played it everywhere," she says. "When there was a jam session, I called that song."
After high school, she went to theUniversity of New Orleans to study music and in wind ensemble class met a drummer named Ocie Davis. "He was from California, so he had this whole different vibe to him," she remembers, grinning. They fell in love and married a decade ago.
But her time at UNO wasn't always blissful. The program was challenging, especially for a female jazz musician. "I realized, 'Wow, I'm out here on my own,'" she says. "You had to be tough because everybody assumed you're a vocalist, that you're there to do a song and dance. But I was there to play music just like the guys." Davis second-guessed her major. She grew restless. Ultimately, she changed her major to psychology and finished with a minor in music. "I maybe wasn't mature enough to get everything out of the music program that I should have," she says.
But the change did little to break her love of jazz. "It really had nothing to do with the practicality of being a musician in New Orleans. It was always clear to me that you didn't have to have a music degree to be a great musician."
After graduation, Davis enrolled in a master's program at UNO to study city and regional planning. Ocie's music career was taking off; he was in high demand at jazz clubs across New Orleans. The couple had one daughter, Ishan, and was expecting another, Aamori.
That's when the storm came.
"Katrina couldn't have happened at a worse time for us," Davis says. The whole family evacuated and rode out the storm in Houston. Davis remembers flipping on the television and seeing her mom's house, flooded. "She left her car in the driveway, but we couldn't see it
because the water was so high." In that moment, Davis knew returning to New Orleans wouldn't be easy. "Musicians weren't really in demand right after the storm hit. Nobody cared about music, so we had to make a decision."
The family wound up in Blacksburg, Virginia, where Lonnie's older sister lives. Ocie taught adjunct at Virginia Tech, and Lonnie continued to work on her master's degree. But they were unhappy. "It was just so different from New Orleans," she says. There was no real jazz scene in Blacksburg. "We needed to play. We needed that outlet." Plus, Ishan had been enrolled in a French-immersion school in New Orleans and wanted to continue taking intensive language classes. Friends who knew that Charlotte schools offered French language programs suggested that Lonnie and Ocie pay a visit.
The family moved here on their third trip. The girls enrolled in school. Lonnie and Ocie started teaching lessons and playing small gigs. But it still wasn't enough. "We felt there was a void," she says. "In New Orleans, music and jazz and culture is bubbling up from the streets. And when we moved here, we didn't really feel that. We found musicians, but we didn't find the thriving scene we thought this major city would have."
So in the fall of 2009, Davis set out to help create that scene. She founded the nonprofit Jazz Arts Initiative and began tapping musician friends for support. Now, with an annual budget just shy of $100,000—drawn from tuition, ticket sales, grants, and individual donations—Davis runs a wide range of programs, all designed to enhance Charlotte's understanding of jazz. There are monthly concerts at the Stage Door Theater uptown, and JAI hosts seminars and workshops, like the Sunday afternoon jam sessions, for talented student musicians. Davis also brings music into public schools a half dozen times each year, putting on educational assemblies and working one-on-one with school jazz bands. In 2011, she arranged for trombonist Delfeayo Marsalis, brother of famed musician and composer Wynton Marsalis, to play for CMS students.
"We have been able to identify a need," Davis says. "This is a way to expose young people to jazz music. It only feels natural to me to bring the richness of that cultural experience to Charlotte."
Of course all that work means Davis, who came to love jazz because of her own skills as a flutist, doesn't get to perform as much as she once did. "It was an easy decision to make," she says. "This is affecting so many more people. It's more of a priority for me to use my time in this way."
"We have been able to identify a need. This is a way to expose young people to jazz music. It only feels natural to me to bring the richness of that cultural experience to Charlotte."
Three days after the Sunday jam session, Davis is welcoming guests to the Jazz Room, a small performance space at the Stage Door Theater. This is the second JAI-sponsored show here, and it showcases Mark Rapp, a trumpeter from New York, playing the music of Miles Davis in a black-curtained room with dim lights and tea candles flickering deep amber. Onstage, the quartet starts with a ballad, "Round Midnight." Ocie Davis is behind the drum set. The 150-seat theater is sold out.
The first notes of the song, sexy and slow, ooze from Rapp's trumpet. As if sliding into a warm bath, Rapp slowly eases the audience in, letting each measure hang in the air before pulsing out another. A couple of minutes into the song, Rapp steps out of the spotlight, letting each member of the quartet show off with a solo. The music pulls the audience in. All cell phones remain tucked away and silent. Heads bob, and feet tap. The patrons are completely absorbed.
At intermission, a patron, Jackie Tiani, comes up to Davis with a compliment. "The acoustics in here are wicked," she raves. But she also has a complaint, of sorts. "We're afraid to tell anybody because it's already selling out."
Tiani came with an extra ticket, for a friend who canceled at the last minute. A man offered to buy it before she made it through the small lobby. "I don't want this to get bigger because we'll lose this fabulous space," Tiani says. "Jazz in Charlotte is starting to take hold. Each time it opens up a new window. Oh, it's so exciting!" She too notices the audience's rapt attention. "They're so mesmerized by the music, they don't even talk. That never happens anymore."
The programs, and by extension Davis, have drawn praise from the arts community too. "She's feeding a participation and a passion for music in these young people," says Ryan Deal, who oversees performing arts programs for the Arts & Science Council. "She's got first-rate instructors. It's a who's who of the jazz scene in Charlotte." Deal, who reviews grant applications for arts programs, says no other organization is cultivating the city's jazz community like Davis's. "She's putting something in mainstream, uptown Charlotte and is filling the hall right out of the gate."
Tiani turns to tell Davis something, but the musician has run off with another guest, an older man so excited to purchase a membership for future shows that he doesn't want to wait through another set.
Back at the Sunday jam session, Davis watches an ensemble of eight students play a Thelonious Monk tune. On one end of the group, Matthew Gales, a rising ninth-grader in pink shorts and boat shoes, plucks a bass guitar that's nearly as long as his arm span. His brow is furrowed, eyes intensely focused on the music.
"Whenever I pick up the bass, I just play until my fingers get tired, which can last for hours," he says. The JAI program has deepened his love for music and led him to a more intense study of his instrument. He's not just playing songs. He's studying the notes, planning solos, and practicing his technique. As he picks the strings on the bass, the corners of his mouth turn up slightly.
On the opposite end, a lanky teenager is playing an old Lester piano, the bench's black paint stripped from years of rear ends sliding across it. His fingers race across the ivory-colored keys, suede boots tapping the tarnished brass pedals. The pianist, Luther Samuel Allison, will be a freshman at the University of Tennessee in the fall, on scholarship to study jazz music. Just as some people gesture with their hands when they talk, Allison's fingers play air piano when he gets excited.
"Whenever I pick up the bass, I just play until my fingers get tired, which can last for hours."
"I have a lot of friends who only listen to hip-hop music or R&B music," he says. "But I've brought them here to watch, and they're just in awe of the talent in this program."
So are the adults.
"We've spent good money [at other performances] and have been far less entertained," says Erika Logan-Gales, Matthew's mother. She sits in the audience while he plays, tapping her heels on the oak floor and snapping photos with her iPad. "These are serious jazz musicians. They just happen to be under 20 years old.
"You would not believe how Matthew has improved," she says. "His ability to improvise, his confidence. If he can master this very complex art form, I think he knows he is a competent individual."
The Monk song ends, and the students rotate. It's time for the last group of the day. They're going to play "Mr. P.C.," the type of traditional jazz Davis loves.
As the first notes blast across the room, Davis smiles. The song is frenetic—almost dizzyingly so—yet Allison coolly cues the other musicians with a nod of the head. Allison breaks out on a piano solo, and for a second his fingers become a blur, indistinguishable from the keys. He stands up slightly and tips his chin to the drummer, a 12-year-old with bright-green Nikes, who lets it rip. It's as if the students know this is the last time they'll play together, in this setting, until the fall semester. They're playing at full speed and volume; no one is holding back.
Davis moves from her perch along the wall to a metal chair in the front row, sitting among some of the students. She's completely consumed by the performance, forgetting for a second that these are teenagers. As the song crescendos with a clatter of the drums and blasts from the sax, Davis leans back in her chair, smiles, and lets out a big "Yes!"
Adam Rhew, a reporter at News 14 Carolina, is a native Charlottean and a regular contributor to this magazine. Reach him on Twitter at @AdamRhew.