Look, Ma! I'm Hobnobbing!
My backstage pass to a champagne party at Opera Carolina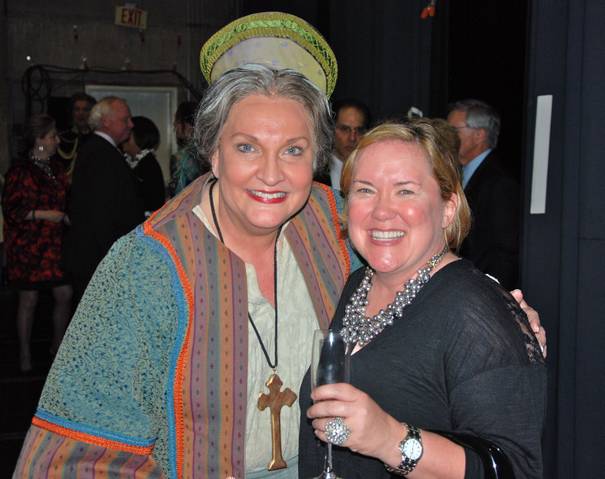 What does one ask the cultural attaché from the Russian Embassy in D.C. when one has the chance to meet him?
"Can you see Alaska from your house?" doesn't seem quite right.
Pavel Spitsyn was at the opera Saturday night and joined the cast (and other local VIPs … oh, and me) backstage for a champagne toast. (Did someone say "champagne"? You don't need to ask me twice.) Catherine Hansen accompanied Spitsyn. Her title is "Chief of Protocol, City of Charlotte"(Charlotte has a Chief of Protocol?), and she's the Executive Director and Chief of Protocol of the North Carolina Consular Corps. Glad I was only joining her for drinks. I'd be a nervous wreck about which fork to use if I were seated next to her at a dinner.
As if that would happen.
It's not every day a Russian dignitary is hanging out in Charlotte. But, Spitsyn was here for the premiere of Eugene Onegin, the first Russian opera Opera Carolina has ever produced. It's part of the ongoing Ulysses spring arts festival, which is celebrating many forms of Russian art and culture including opera, ballet, classical music, and film. And he wasn't here because festival organizers cajoled a Russian dignitary into coming. Highly placed sources tell me Spitsyn heard about the festival and the production of Eugene Onegin and wanted to come. Opera Carolina obliged, and threw a little party backstage for him, the cast, and some of Opera Carolina's high rollers.
So I still wasn't sure what to ask the cultural attaché when I was making my way toward him, champy in hand, in the elbow-to-elbow space. And I bumped into the Dixie Diva. (Well, not so much bumped as hovered around her while she was engaged in conversation until had no choice but to turn around.) I had interviewed Mint Hill's very own opera star but hadn't had the pleasure of meeting her in person. "Darlin'!" she exclaimed. "Sooo nice to put a face with your personality. Thank you for doin' that interview with me. I want to hug you, but let me warn you — I'm sweatin'. I'm wearin' 85 pounds of clothes."
Victoria Livengood is every bit as charming and gracious in person as she came across in the interview. And, her stage presence? The audience couldn't get enough.
Of the four leads, the Dixie Diva is the only one whose native tongue isn't Russian. (She speaks fluent Southern.) Sources tell me it took our local diva and the non-Russian speaking members of the cast four months to learn their lines.
The Dixie Diva and I had such a good time chatting — and I had such a good time enjoying the bubbly — that I never found the cultural attaché. You don't always get the story you came for. But you can still end up with a story. I raise my proverbial glass to Victoria Livengood, Opera Carolina, and Russian culture.
You've got two more chances to see Eugene Onegin — Thursday, March 22 at 7:30 p.m. and Sunday, March 25 at 2 p.m. Visit www.operacarolina.org for details.