Look Up
The economy falls, but the trees stand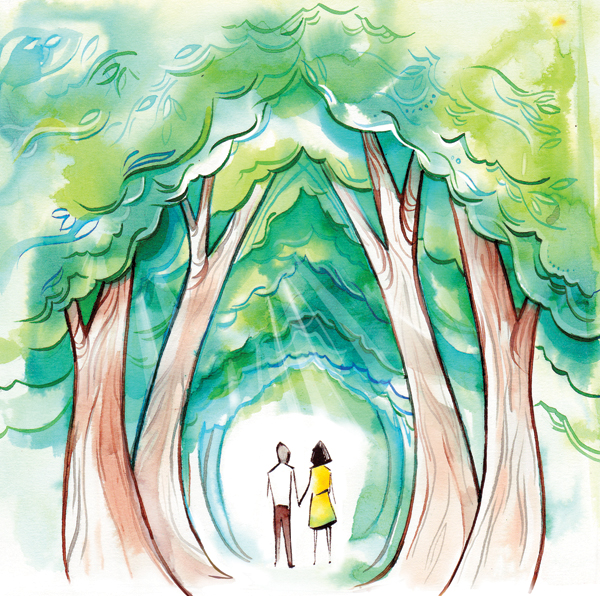 Today my brother is climbing redwoods in California. He's helping a famous research team collect data from the world's largest trees, Sequoiadendron giganteum. High in the canopy are ecosystems that exist nowhere else on Earth, isolated for hundreds of years in the upper reaches of a mysterious world. Until this research began in the 1990s, scientists thought the treetops had little life. As it turns out, pendant lichens hang from limbs, gardens of ferns and mosses grow along branches, and a quiet world of salamanders, spiders, flying squirrels, and, inexplicably, tiny crustaceans found only in streams is sustained in this aerial habitat. Small trees and shrubs live in dead cavities as Lilliputians among the giants.
My brother is not a scientist, but an entrepreneur who has created the world's largest arborist supply company. His passion for trees has connected him to those who share his interest.
"They measure how awake the tree is," he told me. A tree is tested throughout a twenty-four-hour period because it sleeps at night and stirs at daybreak. The sap starts to flow, and leaves use sunlight to make natural sugars from carbon dioxide and water. Oxygen is the waste product.
As fall approaches and Charlotte's canopy begins to change color, I think about the endurance of trees. Our city is rich with them, and though we may be losing banks and businesses, jobs and teachers, the trees are beautiful and thriving. They give us a spectacular show in October; many of us will drive to Blowing Rock, Asheville, or along the Blue Ridge Parkway to see it. It's good to get outside and enjoy the change, and to be reminded that something out there has life in it. Trees grow even when financial markets don't. We have entered troubled times; trees provide a better point of view.
From an airplane, one can see an abundance of trees across Mecklenburg County. Al Harris told me that when he flew into Charlotte for the first time, it seemed our little skyscrapers were poking up out of a forest. Harris is a landscape architect who has taken it upon himself to resurrect the city's Treasure Tree program, which documents trees that are the largest of their species. "We don't have an ocean, we don't have the mountains, but our natural resource is our trees, our canopy," he says. He's also on an environmental committee of the City Council. In its strategic initiatives for 2010, the council resolved to "protect natural ecosystems and habitats, including the tree canopy." Harris's committee is preparing a cost-benefit analysis of Charlotte's trees. Some people wanted to know only the cost, but others insisted on adding the benefit. Trees enrich a city like a river; they bring life to it.
Two years ago when Harris moved to Charlotte, he decided to photograph some of the stately trees along Eastover Road. An anxious homeowner stopped him, but the conversation soon turned friendly and Harris learned there were others who shared his interest. A string of contacts led him to an elderly gentleman who had played a significant role in identifying the city's Treasure Trees. He gave him a three-ringed notebook crammed with notes and photographs, the repository of years of work. "I felt like this was the passing of the torch, and I had to do something," Harris says. For the last two years he has gone from one address to another, knocking on homeowners' doors to find our 123 Treasure Trees. He hopes to have a book published by Arbor Day this spring.
Laura Brewer, Charlotte's assistant city arborist, told me about Harris when we were discussing trees. While the rest of us may be anguishing over the economy, she notes the downturn may be a blessing in disguise. "We were losing a lot of tree canopy," she says. Acres of forests disappeared to make way for housing. "We are seeing a slowing down of development, so we're better off than we were," she points out. Trees are crucial to air quality; in a year, a single mature oak absorbs all of the carbon emissions of one car while producing enough oxygen for two people. Nearly a fourth of our canopy was destroyed by development between 1984 and 2001, according to a study by American Forests, a national nonprofit. No doubt the news is worse now, eight years later, but we'll have to wait to find out more. A follow-up study was put on hold because of a lack of funding.
The stability of trees gives me hope during this strange season. I have no idea what is going to happen to the economy, but a number of people I know who are in their seventies and eighties speak with foreboding. "The Roaring Twenties were followed by the Great Depression," one friend said ominously. "The good times don't last. You've got to save for a rainy day."
Their comments have me worried, which probably explains why I reached for a new book on display at Myers Park library, The Great Depression Ahead. Although the book jacket looked like an ad for a Red-scare movie of the fifties, I fell for a cover line: "New York Times bestselling author." Curiosity trumped skepticism.
Author Harry S. Dent Jr. claims the current financial crisis will get worse, with a great crash beginning late this year. Real estate will deflate by 40 percent to 50 percent and unemployment will rise to 12 percent to 15 percent. Because the American economy is tied to the world economy, the rebound will be hindered by international factors. We're also due for another terrorism attack, he says. A depression will persist until probably 2012, and an overall downturn until the 2020s because, like the weather, Dent says our economy follows predictable seasons. The sun rises, the tides change, and the economy is due for a collapse.
Days after I became ensnared in this infomercial (Dent writes a subscription-based newsletter, holds seminars, and provides advice to investors), I heard Time magazine's economics columnist interviewed on The Dianne Rehm Show. Justin Fox, author of The Myth of the Rational Market, confidently explained the market is unpredictable.
In August, Newsweek declared, "The Recession Is Over!" However, an expert in the cover story says, "It's going to feel like a recession, even when it ends."
Is anyone else as confused as I am?
That's why I'm sticking with trees.
I went back to the library to find The Wild Trees, Richard Preston's 2005 account of the husband-and-wife research team my brother is helping. I needed to read about something more stable than the five-alarm economy. My son lost his job in Washington, D.C., and is talking about moving his domestic headquarters to our upstairs bedroom suite before taking off for Bali and then to southern Thailand. He'd been restless anyway. When I learned about this, he was days away from a rugged camping trip to the Grand Tetons with a friend from Myers Park High School who now lives in Austin. "I can't see myself sitting behind a computer for the rest of my life, crunching numbers," he said.
Those who have jobs don't want them. Those who want them can't get them.
Up on the hillside of our backyard, a scrappy ginkgo tree hugs the lawn. In a class of its own, ginkgos are among the world's most ancient trees, and are often called living fossils. Believed to no longer exist in the wild, even in their native China, they are cultivated for their beauty and longevity. Their leaves are shaped like lovely fans, and after turning bright lemon yellow in the fall they drop all at once.
My little tree has had a tough time. The whole thing looked dead in the spring. "You're going to have to cut that down and get rid of it," my husband said, although he gave me the tree two years earlier. No, I won't, I told him. It's my tree and I am going to wait. It's young; maybe it will make it. When buds finally began to appear, they were only on lower branches. Throughout the summer a dead trunk poked up through a hive of leaves like a mast on the horizon.
This month the wide fans will flutter on the hillside against a Carolina blue sky. After the leaves drop, and October slips by, nature's night will settle in. The plants that give us the paper you are holding, that give us wood for houses and furniture, that offer shade during summer's heat and firewood during winter's cold, these living things will retreat into silence. They will go to sleep, slowing down so much, in fact, that they will appear to be dead.
If our city's natural wealth enters a near-death experience before returning to life, maybe it's not surprising if the same happens to us. Maybe a great depression lies ahead. Or maybe something else we can't foresee.
But the season will pass. We'll come through.
Laurie Prince's award-winning essays appear regularly on these pages. E-mail: editor@charlottemagazine.com, or comment online.