Look What's Popping Up This Weekend
You have two days to see the work of four local designers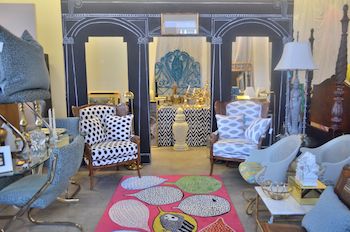 About three years ago, Ariene Bethea left the human-resources field to sell vintage home accessories and furniture. It seems natural that someone with a professional career in managing human relationships would be a good salesperson. But Bethea went into online retail, creating the site Dressing Rooms Interiors. Running a store entirely online presents its own set of advantages and challenges.
"Selling online can be kind of isolating," Bethea says. So every once in a while, Bethea creates a short-term, concrete location where customers can see her wares firsthand and meet her in person. About a year ago, Bethea teamed up with Kim Loring, fellow artist and designer who owns the online shop Legere Creativ. Together the two make up Elle & Bae. They specialize in pop-up shops and event styling and planning.
This weekend Elle & Bae present their spring pop-up event at Post & Gray in South End. The two-day shop will offer home decor, textiles, lighting, furniture, and art. Two other local designers will join them for the weekend: April Carlisle of East & Coco and Rosa Dest of Rosa Dest Interiors.
"Pop-ups give us a great opportunity to let people know we're here," Bethea says. This weekend's event is Bethea's fifth time participating in a pop-up production and her second with Elle & Bae.
The weekend's events start on Friday night with a reception exclusively for industry professionals and media representatives. With the popularity of style blogs, Etsy sites, and social media, many leaders in the local design industry have never met in person. This event allows people to shake hands, pass out cards, and make connections, Bethea says.
Many of Bethea's items end up across the country, which is rewarding. But she rarely gets to see the smile on a customer's face or the piece displayed in someone's home. Sometimes a good, old-fashioned storefront can be refreshing. Even if only for a couple of days.
Elle & Bae Pop-Up at Post & Gray
Saturday, March 29, 10 a.m.-5 p.m.
Sunday, March 30, 1 p.m.-5 p.m.
2139 S. Tryon St.
Charlotte, NC 28203