Looking Down at the Clouds: Grandfather Mountain
And finding the Attic Window, its greatest reward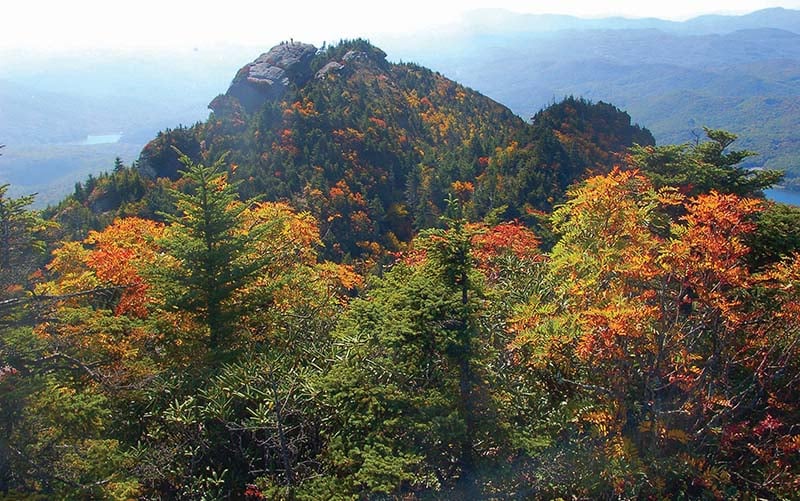 ANDY IS my dear friend and I love him deeply, but I wanted to rip out his neck and jam my hiking poles down his throat when we got about three-quarters of the way up The Chute. It's the most extreme stretch of the Grandfather Trail on Grandfather Mountain. My knees hurt, my back hurt, my shoulders hurt, and all of this was his fault.
Our hike on one of North Carolina's most famous mountains was his idea, a 39th birthday present to himself, and he graciously invited me to join. For the first time in my life, I thought, truly, I need to stop, or I'm going to have a heart attack. As I fell apart physically (and mentally), Andy looked like he wasn't even sweating. I didn't hate him because I hurt; I hated him because he didn't.
The Chute is about three-tenths of a mile of nothing but sharp, randomly strewn rocks. The bottom is open; it looks like a debris field. The top narrows to just more than an arm's length wide, with rock faces on both sides. At certain points, scaling it feels closer to climbing than hiking.
Carrying 30 pounds each, we had already covered eight and a half miles in about seven and a half hours and climbed roughly the equivalent of 200 flights of stairs. We were close to our campsite, although I didn't know that at the time. Climbing is hard enough; climbing when you're uncertain of the end feels like insanity or punishment or both.
The pain and exhaustion clouded my view of the hike (not to mention Andy). Every hike I had ever taken in North Carolina's mountains left me with an indelible memory—and they were all good. I wondered if misery was going to be all I remembered from Grandfather Mountain. The reason to do something hard is the reward at the end. What if the only reward was getting to the end?
***
ONE SATURDAY MORNING four years ago, I decided to try something I had never done before: I went for a hike. A few hours later I stood atop Crowders Mountain. Before I knew it, I was a regular there. I kept going back. I wrote an ode to the mountain in this magazine last summer. I hiked all around the state. I became a hiker.
Before I took up this hobby, I could take or leave the outdoors. I like the exercise of hiking, I like the sense of accomplishment, I like the views, and I like getting away. But I could get all of those things in easier ways. What keeps me returning to North Carolina's mountains again and again is this: I collect experiences, and hiking in the mountains gives me them, one vivid moment at a time.
I never know when the moment is coming, only that I know it when it happens. It's usually, but not always, at or near the end. C.S. Lewis called it joy—that inexplicable feeling that there is more going on than just what is going on.
On Mount Mitchell—the tallest peak east of the Mississippi River—the moment came the first time I hit 6,000 feet above sea level and the smell of evergreens washed over me. On Pilot Mountain, it came when chirping birds woke me up. I lay in the tent and listened, concentrating on separating one bird's whistle from another. There had to be dozens of them. My 5-year-old daughter rolled over and said, "Daddy, it sounds like music."
I have had only one such moment while hiking and not in the wilderness. Last summer, my backpack started to fall apart. I wanted a new one but couldn't afford it. Then one day my neighbor, who encourages me every time he sees me doing a training hike in our neighborhood, surprised me with a brand-new pack.
I used that pack so much it fell apart, too.
***
ANDY AND I arrived at the trailhead at 8:30 that morning. It rained while we were in the parking lot and nowhere else. I was thankful for that. The Grandfather Mountain hike wasn't just difficult, it was also the most dangerous I've ever done. The possibility of dying is my least favorite thing about hiking. I read every story I can about hikers who fall to their deaths, just to try to learn what they did wrong so I can avoid that. Most places I've hiked, extreme danger isn't an issue; there's no cliff to fall from. But on several occasions, the Grandfather Trail hugs the edge of the mountain just a few feet from a sheer drop. There is always room to walk, but when you're exhausted, carrying a heavy pack, and exposed to the wind, it's easy to take a wrong step.
Andy and I walked carefully and slowly along the ridges of Grandfather Mountain. We soaked in the views and cursed the development that marred them. We shimmied up and down ladders and pulled ourselves over slick rocks by using ropes as guardrails. The trail brought us to Grandfather's famous mile-high bridge. We walked back and forth across it. We saw more people in the parking lot than we saw in two days hiking.
We arrived at the bottom of The Chute in the middle of the afternoon. As I looked up, it appeared to go 10 steps beyond infinity. I hoped that I'd make it to the campsite without Andy having to carry me or my stuff or both. I scratched and clawed and jammed my poles down and pulled myself up and up and up and looked down—and still it seemed like I was closer to the bottom than when I started. We passed hikers who were on their way down, and I asked every question I could think of to avoid having to start climbing again.
All of a sudden, we arrived at the top. A few steps more, and Andy and I dropped our packs at our campsite called Attic Window.
***
A SIGN at the site warned of bears. I thought, the arrival of a bear would make a great moment (as long as it didn't eat me). The same sign said we should keep our food 100 feet from the campsite; but 100 feet in front of or behind us would have been over the cliff. I suppose I could have carried our food 100 feet down The Chute and then climbed back up. But getting mauled by a bear sounded better than that.
We set up our tents on a raised wooden platform. We sat down. It felt like 3 in the morning, but it was only 5 p.m. I took a huge swig of water. I caught my breath. My view of the day started to improve as pain from The Chute faded. I remembered that I actually like Andy. He has shared most of my mountain moments with me.
My eyes followed a trail in front of me. It looked like a tunnel, with the canopy of trees as the roof. At the end, maybe 20 steps from us, light streamed in through an opening the size of a window—making obvious why this place is called Attic Window. The clouds visible through the window were the color of skim milk.
I walked to the opening, stopping several feet before the cliff's edge. I hoped being close to the edge would give me a better view. It didn't. I believe it's always a good day when I look down and see clouds, but I wanted to see more than just clouds. I knew the blue of the sky above and the green of the forest below were out there; I just had to wait for them to reveal themselves.
I turned around and walked back to the platform. I exulted in a pulsating post-hike high. Everything looked more vivid, more real, bigger, taller, steeper. I could've skinned a bear with my pocketknife. I bet the skim milk clouds would've tasted like whole milk.
Andy and I talked and listened to music and ate. We laughed about how much my legs hurt. I looked through my little Attic Window again, and this time I saw expanses of green on a distant mountain. Like my pain, the clouds were gone. I looked again, and misty clouds swirled around, sometimes collecting to obscure the green, sometimes dispersing to reveal it. I walked to the edge and saw blue above. All evening and the next morning, every time I looked out Attic Window, I saw something different. I had my joy.
---
ABOUT THIS HIKE: We started on the Profile Trail and followed that to the Grandfather Trail. We took the Grandfather Trail to the Mile High Swinging Bridge and then returned the way we came. Unusual tip: Bring gloves. You'll want them to hold onto the ropes and ladders along the trail.
---
This article appears in the October 2015 issue of Charlotte Magazine
Did you like what you read here? Subscribe to Charlotte Magazine »
---