Looking Forward to Spring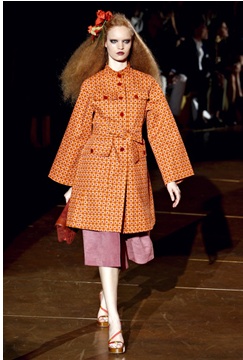 While most of you have just recently flipped your mental calendar over to January, we here in Magazine World were working on January stories back in November, which means that for us, it's basically already March. You know what that means… spring! Better yet, it means spring fashion.
This is the week that we make the call on what trends and styles we want to put on display in our Spring Fashion feature in the March issue, and I'm dying to know what spring trends you can't wait to wear. Are you mad for mod color blocking? In need of neons? Wild for prints and bold colors? Blushing for bloom-inspired appliques and ruffles? Brave enough to totter in mile-high platforms? Let us hear it in the comments and stay tuned to Shop Talk for a sneak preview of some of the trends (for guys an gals) we'll be highlighting this spring.
Photo from the Marc Jacobs spring 2011 collection, Style.com.