Love At First Site
Our 5 favorite wedding website builders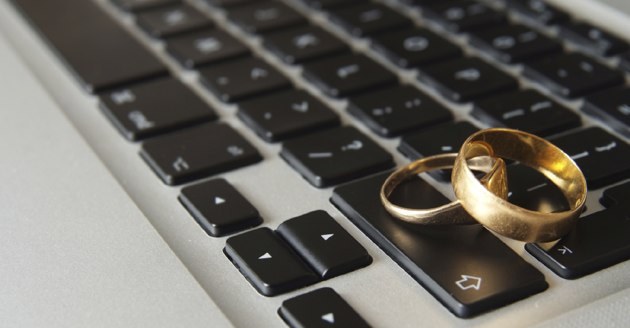 Aside from the meticulous concept of coding from scratch, (and, let's be honest, what bride to-be has time for such particulars) building a wedding website that breaks the cliché mold is quite the feat. For the girl who simply wants to get the word out to guests in the most straight-forward form, a basic building platform like WordPress will do just fine. But in a tech-savvy, social media-driven world, the wedding website has become a virtual extension of the paper goods themselves, serving as an ever-important indicator of your event aesthetic. After all, with most guests constantly on the go, they'll likely be consulting their smartphone or computer before rummaging the mail pile for your invitation suite. So you'll really want to create a site that shares the spirit of your upcoming nuptials in visual appeal. That said, the platforms at your disposal have truly upped their game, and there's lots available to create an engaging and well-designed site for the big day. And after extensive research on my end, I've narrowed down the search for you to my five favorite platforms.
1. Appy Couple. I first came across this super tech-savvy site when blogging for a wedding planning company. With a huge variety of beautiful design templates and color schemes to choose from, I was hooked from the get-go. This two-in-one site will create a customized website and smartphone app which you may then invite guests to download to their phones free of charge. Add in cool concepts like guest-list specific updates sent straight to guests' smartphones and photo sharing abilities, and you've got a winning website. $28 for site and application.
2. Riley & Grey. In an effort to ensure unique website designs, this platform is by invitation only. But don't shy away–the design results are stunning. And aside from the team of top-knotch designers who will build your site, it features useful tools such as guest list tracking and management, as well as sending reminders to those who have yet to RSVP. $35 a month or annual fee of $240.
3. eWedding. Aside from a plethora of beautiful designs from which to choose, this site offers a few fun interactive features like quizzes and polls for guests to help get wedding detail input along the planning way. Free with additional storage/features starting at $4.95.
4. Wedding Window. With a seemingly unlimited amount of pages available to design, even the free version will provide plenty of entertainment for guests perusing your site. And the premium option offers cool features like Google Translator for guests whose first language is one other than English. Free or premium packages beginning at $10.99 a month (or annual fees starting at $59).
5. Weduary. This website builder feels fresh and fun for a young couple tying the knot. It's highly social media-based, and if your engaged friends are using the same site, you can keep track of all your dates via the site. Plus it has cheeky features like "Flirt" which allows guests to peruse all the singles who will be attending. Free to start.