Love It: Cross Body Bags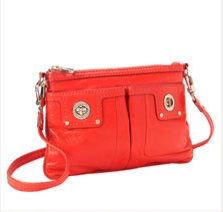 Look, I love my over-sized handbag as much as the next girl, but all that space comes with some drawbacks. Namely, whenever I carry a big 'ol bag, I find myself stuffing it to capacity just because I can. Magazines, Nalgene bottles, snacks, extra pairs of shoes – I'll cram them all. All that overpacking eventually leads to a bag that is too bulky and heavy to fit on my shoulder and instead ends up hanging awkwardly on my bicep.
That's why I am ditching my giant hobo bag in favor of this sleek little number by Marc by Marc Jacobs It is big enough to fit all the basics, (wallet, keys, phone, etc..) but too small for me to stuff with extraneous clutter. Best of all, it's designed to hang diagonally across your body, which means no more hoisting, yanking, bicep bruising or shoulder strain. It comes in a neutral brown color if you want to make it your every day bag, but I couldn't resist adding a hot pop of red to my summer wardrobe. (Available at Nordstrom.)
What do you think, Shop Talkers? Are you ready to trade in that trusty tote for a sleeker, easy-to-wear bag? What crazy items have you managed to jam into your purse? Let us hear it in the comments.