Love It: Crown Town Prize Pack from Local Etsy Artists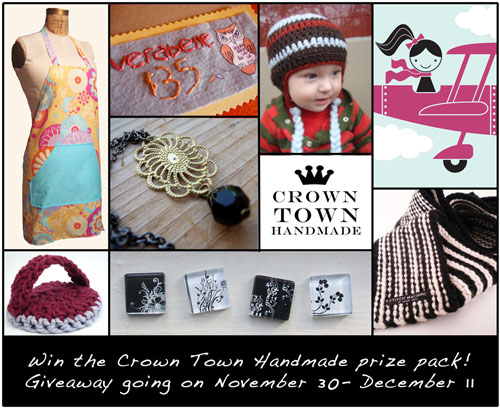 My love for Etsy.com truly knows no bounds – it's got to be one of the single coolest inventions of the internet. So, I was positively giddy to hear about this contest to win not one, not two, but EIGHT handmade Etsy gifts. Better yet, they are all from local, Charlotte designers.
The rules to enter are simple: you've got between now and December 11 to locate and comment on the social networking pages (Facebook, Twitter and blogs) of the participating designers. A winner will be chosen, and runners up could win additional handmade items from any one of the participating artisans. For directions on how to find each designers social networking pages, and for the complete list of rules on how to enter, visit Verabelle Vintage 's blog.
***Shop Talk Bonus Prize*** Mention @jenntgrab in your tweeted entries to the Crown Town contest, and I'll put your name in to win a special locally made gift from Shop Talk as well!