Love It: Philip Stein FRUITZ collection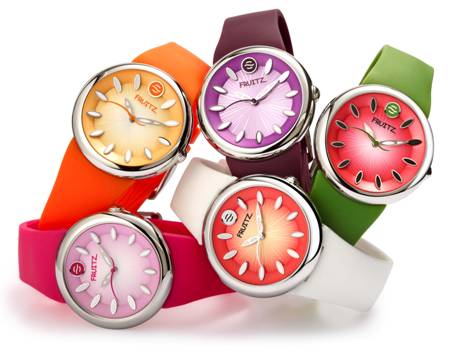 There was no item more coveted in my 4th grade class than a Swatch watch. When somebody got one for their birthday, we would all crowd around to look at it. Brightly colored straps, crazy art on the faces – telling time had never been so much fun. I got my first (and last) swatch in the 5th grade. It was purple and sparkly and I loved it to pieces. Even though its batter died long, long ago, I can't bring myself to get rid of it. It is a memory of such a simple time – when the best accessory you could own was made of plastic.
Well, it's time to re-embrace that fanciful affection for timepieces with Philip Stein's sporty new collection called Fruitz. They might have a playful, child-like appeal, but these wrist wrappers are definitely for adults. They contain Stein's signature natural frequency technology which is supposed to help reduce stress, increase concentration and improve your sleep patterns the longer you wear it. Also, as any watch lovers would know, Stein's designs usually don't fall under the category of "affordable". This line makes his designs accessible to those of us with champagne tastes and Diet Coke budgets (they clock in at $250 each). Look for them at Nordstroms!