Lowcountry Runway Report
Charleston Fashion Week Bridal Show Coverage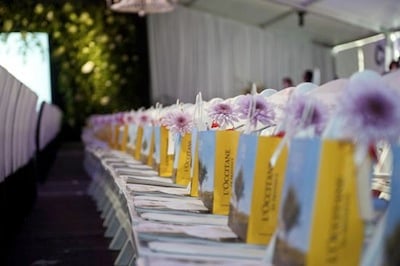 Though I always love a trip to the Big Apple, and all the street style and whirlwind of shows it entails, there's something to be said of a week similarly spent in the South. Couple all the high fashion and runway thrill with the laid-back ease of lowcountry living, and you have Charleston Fashion Week. Rather than my usual onset of fatigue which sets in the moment New York Fashion Week ends, I come back from Charleston feeling refreshed and energized by the camaraderie and humbleness–and of course seriously inspired for future editorial feats. So here's my coverage of last Saturday's day of bridal shows.
Emerging Bridal Designer Winner: Kendra Barnes
This ingenue most certainly didn't disappoint in her design element expertise. From intricate rosette appliqués to flirty LWDs with Alice + Olivia-esque flounce to each full skirt, Kendra's detailed collection echoed the conveyed the mastery of a seasoned bridal vet. Metallic brocade lining and soft romantic silks made for a seamless assortment that could translate easily from season to season.
Featured Up-And-Coming Designer: Whitney Deal
Having seen a few of her minimalist gowns in the current issue of Charleston Weddings, I was already head over heels for Whitney's simplistic take on wedding day glamour. Her runway collection was no exception. Ultra-feminine peplums and ballerina-like silhouettes made for the most whimsical blank canvases for accessorizing–but also stunning as stand-alone pieces.
White on Daniel Island
Having gone to pick out a best friend's gown last summer, this charming boutique and its equally charming owner, Jodi Moylan, will always hold a special place in my heart. And her selection of stunning bridal confections, complete with bohemian beachy gowns and undone curls, was perfectly befitting of her bewitching personality.
Lula Kate
Lula Kate is always a crowd pleaser among Southern girls. And her new collection just may have taken our love to a new level. With an equal mix of Daisy Buchanan-approved fringe feathers and ladylike structured frocks, this assortment of gowns most certainly ran the style gamut–and they were all winning creations.
Modern Trousseau
I have not enough words to describe my adoration for Callie Tein. Her contagiously cheery disposition and charming accent are simply icing on the cake of her collection of consistently impeccable gowns. She will be my go-to when it comes time for my own I dos. Though she is busy finishing her new collection before bridal market in NYC, her mainstays and favorites were every bit as beautiful floating down the runway.