Lucky, Mr. Ford, and the Chief
What we can learn about race, police, and disagreeing with each other from our three most recent Charlotteans of the Year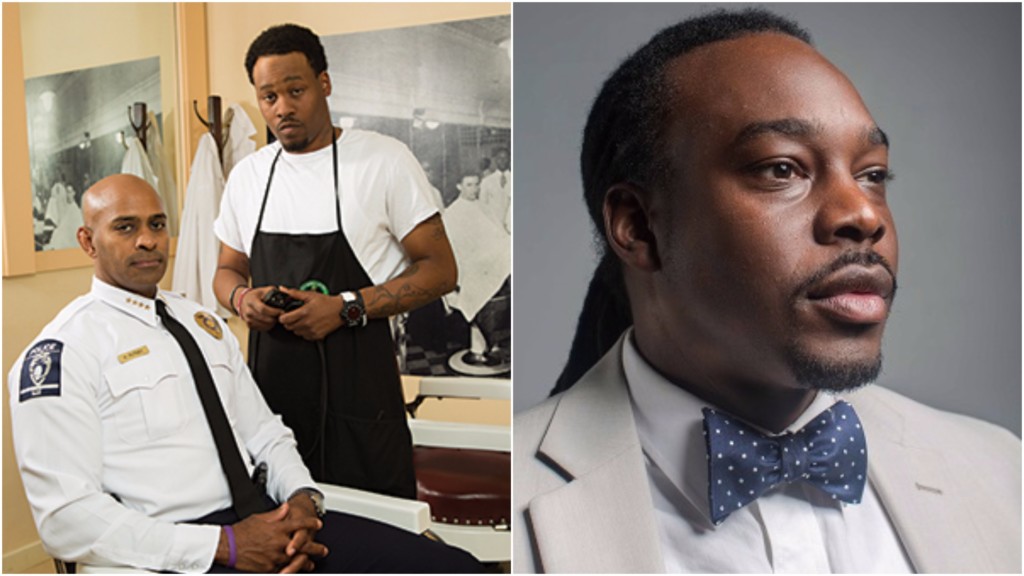 ON THE DAY AFTER INDEPENDENCE DAY, the President of the United States stood underneath exposed beams in Charlotte's convention center and submitted a counterpoint to the main drumbeat of Donald Trump's presidential campaign.
"I know the other guy talks about making America great again," a casually dressed Obama said. "Well, America's really great."
The crowd hooted, but deep down we all waited for something to fall. It's risky to say something is this way or that way, especially in America, where tragedies happen frequently, and where what's great for some has always been not so great for others.
America spent the rest of the week proving the president wrong. Hours after his speech here, 800 miles away in Baton Rouge, Louisiana, a video began to circulate of police officers shooting Alton Sterling outside of a convenience store. Protestors took to the streets as the rest of the country watched the video, one click and share at a time. We were there, then, on our phones, the next night when Diamond Reynolds went to Facebook Live and described how it came to be that her boyfriend, Philando Castile, was in the passenger seat of her car, dying after being shot by an officer in Falcon Heights, Minnesota.
In Charlotte, a protest began to form before sunset that evening, not far from where the president spoke. It was the kind of thing that happens in a vibrant city, people gathering to say something louder than they can as individuals. It happened in cities all over that night, including Dallas.
***
THAT MORNING, Thursday, after Baton Rouge and Minnesota but before Dallas, I called a man who's devoted his life to bringing police and people together, to bringing black and white together.
He's a barber. A black barber. A black barber who was once a felon. Shaun "Lucky" Corbett started selling drugs when he was 12. His arrest record includes all the things he got caught doing, from breaking and entering to carrying concealed weapons to driving drunk. It doesn't, he'll tell you, include the things he didn't get caught doing, like hauling cocaine from Charlotte to New York. For the better part of the 1990s, he was everything a bad cop might jump to use brutal force upon—tatted up, strapped, black.
But then he quit. He got a "real" job. In 2005, he paid his way through barber school by working the overnight shift at Fuel Pizza in uptown Charlotte. His old friends called him "Pizza Boy" and told him to give up the law-abiding life and come back to them. He ignored them. He became a barber in 2006 and bought his own barbershop in 2010. He started holding coat drives over Christmas and turkey drives over Thanksgiving and book bag drives in August.
Last year, his son Khalil turned 18, right around the time 18-year-old Michael Brown was killed by police in Ferguson, Missouri. Looking back on his life, Lucky had no idea what to teach Khalil about what to do in an encounter with a police officer. He worried that Khalil would be a character in one of those shaky videos one day. So he helped start a program, Cops & Barbers, to put young black people in the same room with police officers to talk. They held meetings at rec centers throughout the city. The White House asked him to come to Washington to talk about the program with people from other cities. He took off work on a Friday, the busiest day of the week for any barbershop, to make that happen. "Because when the White House asks you to come, you don't say no," Lucky says.
Lucky became one of Charlotte magazine's 2015 Charlotteans of the Year. He appeared on the cover, standing with Charlotte-Mecklenburg Police Chief Kerr Putney. He gave a speech at a banquet this past December, the name "Lucky" still tattooed across his neck, and people jumped to their feet to cheer for him afterward.
That's who was on the other end of the phone Thursday morning—a man who is all of that. And here's what Lucky said, 12 hours before the officers in Dallas were slain.
"I don't think the problem is the officers. I mean it's a problem. But it's just an extension of the problem."
He talked for 55 minutes. He got worked up, defending the same police departments that once arrested him. He asked: Should we care more about people murdered by police officers in other states than we do about the three young men who were murdered in Charlotte this weekend? Then he told me what he believes is the bigger problem.
"A white guy don't know how to approach a black guy anymore. A black guy don't know how to approach a white guy anymore. That's too much tension. And you add a bag and a gun to that. It's going to explode. We're pawning that tension off on police officers, and it's bigger than that. We're frustrated within ourselves as a people."
***
ON THURSDAY EVENING, I called another friend. A teacher. A black teacher. A black teacher who keeps a piece of cotton in his house to remind him that he's the grandson of sharecroppers.
James Ford grew up in Rockford, Illinois, a city once ranked as the second-worst place in America to be an African American. A river runs through town. East of it, white people. West of it, everybody else. His parents took advantage of a provision in the school assignment policy to help get him into an elementary school that was mostly white. Kids called him everything—yes, even that word. He got accepted into a magnet program in high school, where he met some of his best friends, including a white boy who had "P.E." shaved into his hair. The young Mr. Ford had never met a white boy who listened to hip hop, especially Public Enemy.
Mr. Ford moved to Charlotte from Illinois in 2010 and landed a position in a high-poverty, majority-minority school on the east side of our city, Garinger. He was so good at reaching those kids that the state named him the North Carolina Teacher of the Year. Mr. Ford became Charlotte magazine's 2014 Charlottean of the Year, one year before Lucky. He appeared on the cover of the magazine. He gave a speech at a banquet that December, and people jumped to their feet afterward.
Seven months later, in the days after nine people were shot and killed in a Charleston church, Mr. Ford wrote an essay titled "We Still Have a Race Problem." It included these lines:
"To suggest we believe this is not at all about race not only insults the intelligence of many Americans, but it serves as routine maintenance of the status quo."
That's who was on the other end of the phone Thursday night—a man who is all of that—three hours before Dallas. We talked about what Lucky said in the wake of the events in Louisiana and Minnesota.
"I love Shaun," he told me, "but I couldn't disagree with him more on some of the points."
You see, Mr. Ford says, Castile reminds him too much of himself. Castile was in his 30s. He was black. He had dreads. He worked in a school. He also had a concealed carry permit, and Mr. Ford describes himself as a fan of the Second Amendment.
Castile was dead Thursday night after being shot in the passenger's seat of a car, reportedly while reaching for his wallet. Mr. Ford was in his home Thursday night, on the phone with me, with his twin babies shouting in the background.
"That," says one of the most influential educators in this city's history, "could have been me."
***
IT CAN SEEM as though there's no other option, like it's all this way or that way, top and bottom.
To some, the list of names from Trayvon to Walter to Freddie to Alton to Philando makes all police suspects in this crime against our country. Because that's what it is, after all. A crime, a breaking and entering of fear, a theft of peace, in which black people don't feel safe in the presence of a uniform.
To others, the mere existence of a movement to say black lives matter is a movement against law enforcement, and that's what sent those bullets ricocheting through the streets of Dallas on Thursday night, killing five officers and wounding seven more.
This is a country obsessed with sides and scores. And social media makes it easy to root ourselves in beliefs and shove anyone who believes otherwise in a locker room on the other side of the gym. In Charlotte, most of the city's white and affluent population lives in the southeast side of town, only seeing the west side on the way to the airport, windows rolled up and doors locked along the way.
But here are two Charlotteans of the Year, 2015 and 2014, 37 and 36 years old, seeing the events of this week through different lenses. You could put them in any number of groups together. Two black men. Two black men who've devoted themselves to teaching the next generation. Two black lives that have mattered as much to Charlotte's young and underprivileged minorities as perhaps any other two lives in this city.
They don't agree on everything, though. That's OK. In fact, that's the only way. One black man is not every black man.
***
AND ONE OFFICER is not every officer.
On Friday, I watched another man stand in front of the cameras. A black man. A black police chief. A black police chief who said he grew up not trusting cops.
Kerr Putney was 10 years old on October 20, 1979, the day police in his hometown of Roanoke Rapids pulled his father's body from the Roanoke River. The sheriff's department classified it as an accidental drowning, but Putney still believes his father was murdered. "I thought they did a shoddy job," Putney told me last year. "I thought they didn't care about the value of a black life." Putney was raised by his five sisters and a mother.
After moving up through the CMPD ranks, Putney was named police chief here last summer. He immediately began working with Lucky on Cops & Barbers. He's worked to keep our officers and our young black people talking. He organized the department's strategy on the Friday night last August when the trial of Randall Kerrick, the white CMPD officer who shot an unarmed black man named Jonathan Ferrell, ended in a hung jury, sending protesters into the streets.
Putney became a 2015 Charlottean of the Year alongside Lucky, and the two stood on stage together, a convicted felon and a police chief. Mr. Ford was in the front row, helping lead the standing ovation.
That's who was in front of the cameras Friday—a man who is all of that—trying to keep people calm in Charlotte at the end of a nightmare week in America. A video of Putney's raw comments went viral this weekend.
"Even now, when I see blue lights, it hits me in the stomach. I have had that reaction since I was eight years old," Putney said. "But what you don't know is, I'm sometimes more fearful when I put this uniform on."
When Putney said that, I thought back to the Saturday before Christmas this past year, when I walked into one of my favorite restaurants in Charlotte, Alexander Michael's. I saw Putney, not in uniform but in a purple sweatshirt, sitting in a booth and eating with friends.
He was a different person at that table than the one I'd known. The first time we met was during an interview at police headquarters, during which he sat straight and rigid, his gold nametag glistening, and he gave me exactly 30 minutes. Not one second more or one less.
But that night at Al Mike's, he was just Kerr. He came over to say hello and we talked for a few minutes before I took a seat at the bar. The people next to me were on a date, and all around me the restaurant was filled with families. To them I suppose I was just the man at the bar eating alone during the holidays. I ordered a dinner and a Guinness anyway. At some point while I ate, Putney got up and left without saying goodbye. A few minutes later, I asked the bartender for my bill.
"It's taken care of," he said. "Merry Christmas."
Putney's not the type of person who'll admit to it. But it's one of those moments when you think America's pretty great, and our city reveals itself as a place where things like this happen, where a boy who grew up without a father can become the police chief in the purple sweatshirt who, just because, might pick up the tab for the guy at the corner of the bar, a Guinness and a plate of blackened chicken over Cajun cream sauce, a meal that goes by a funny name on the menu: What It Is.
Michael Graff is the editor of Charlotte magazine. Email him here.