Lulu, a Plaza Midwood Favorite, Still Beckons
Six years in, Lulu has a new point of view—and still has a lot to offer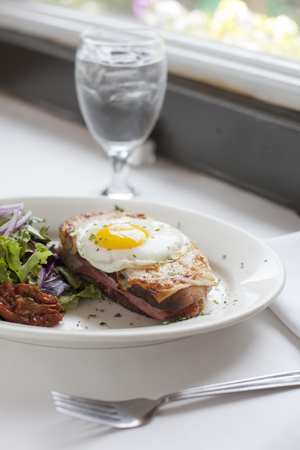 When Fabrice Dinonno and Marc Jacksina opened Lulu six years ago, the French-American bistro seemed a bit out of place. Tucked into a nondescript bungalow, it sits on a quiet stretch of Central Avenue, several blocks from the heart of Plaza Midwood's trendy nightlife scene—a seemingly ill-fated location.
And yet, the upscale restaurant managed to gain a following—one that hasn't waned even as it has undergone a few transitions and setbacks. In 2010, Dinonno bought out Jacksina, the creative force behind the restaurant's original menus, and Caine Ayres has stepped in as the new chef de cuisine. (After a stint at Andrew Blair's, Jacksina landed at Halcyon in the Mint Museum uptown.) Then the restaurant lost its small but popular patio because of zoning issues. Through it all, Lulu's welcoming, cozy ambience—perhaps its best quality—is the one thing that hasn't changed.
The latest menu, which changes seasonally, still features some long-standing favorites, notably The Movie Star ($10.50), a heaping plate of gingered and fried calamari alongside a tangy, spicy slaw. But Jacksina's departure has given Dinonno and Ayres a chance to experiment in the kitchen, and the result is a menu that draws less inspiration from France and experiments more with Southern fusion. Witness the Castro burger ($11), a Grateful Growers ground pork patty topped with bacon, pancetta, Gruyère, fried pickles, and jalapeño grain mustard on a challah roll; the Merguez ($11), with lamb sausage, green tomato chowchow, harissa, and frisée on pita bread; and the "BBQ" Duck ($11), a pulled duck leg confit with a pomegranate glaze on a challah roll, served with coleslaw and fried leeks.
Standouts include escargots ($9.50), which bask in a rich garlic butter sauce, and plump Prince Edward Island mussels ($15.50 with bread; $18 with fries), which come with a choice of sauce: Portuguese (with chorizo, saffron, tomato, lemon zest, and cilantro), Marinières (white wine, shallots, fresh thyme, and parsley), or Dragon's Milk (lemongrass, coconut milk, and red curry).
A few dishes, like the Moroccan-spiced rack of lamb ($32), would benefit from a lighter hand when it comes to seasoning. The Chicken Cecelia ($23), a Brie-stuffed Ashley Farms half chicken served with greens and crème fraîche potatoes, is disappointingly dry instead of decadent and creamy—lacking the confidence and flair that made it one of the restaurant's classics.
But Lulu's transitional period isn't over just yet. Dinonno and Ayres are focused on making the restaurant less of a special occasion destination and into a more approachable dining experience, including lower prices and a wider selection on the dinner menu. A new, covered outdoor patio that will seat about twenty-five people is in the works—look for it to be completed by summer. Although Lulu continues to evolve, the restaurant's consistently good service and the promise of more changes on the way solidify its role as a neighborhood favorite.
Location:
704-376-2242