Luna Lounge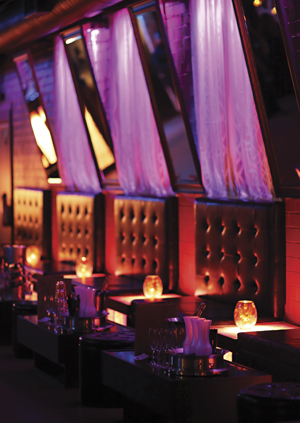 WHAT: Luna Lounge
VIBE: This isn't your typical club-closes-then-new-one-opens-in-same-location kind of deal. The space formerly occupied by Coyote Ugly has been transformed into a sleek, upscale nightclub and lounge. The owners renovated the long, narrow building and added a sophisticated glassed-in room on the front offering views of College Street from sections of reserved seating. The walls are exposed brick, lined with candle-filled sconces on one side and tall mirrors on the other, creating an elegant atmosphere. The center of the room features a bar, while at the end of the space a small dance floor leads up to a DJ booth.

WHO'S THERE: Open since August, Luna is drawing large crowds, particularly on weekends. The crowd is noticeably diverse and always stylish. Women come dressed in cocktail dresses while the guys tend to be of the buttoned-down variety. The end of College Street, where Luna is located, puts it off the beaten path, but having its own parking lot is a definite draw.
WHAT SETS IT APART: Its owners, who also co-own Kiss Lounge and the Sunset Club, have a track record of success and loyal following. Their experience almost guarantees you'll enjoy yours.
WHERE: 521 N. College St., 704-376-8303, lunacharlotte.com.