Lunchbox Records Unveils New Space, Marks Record Store Day with Kacey Musgraves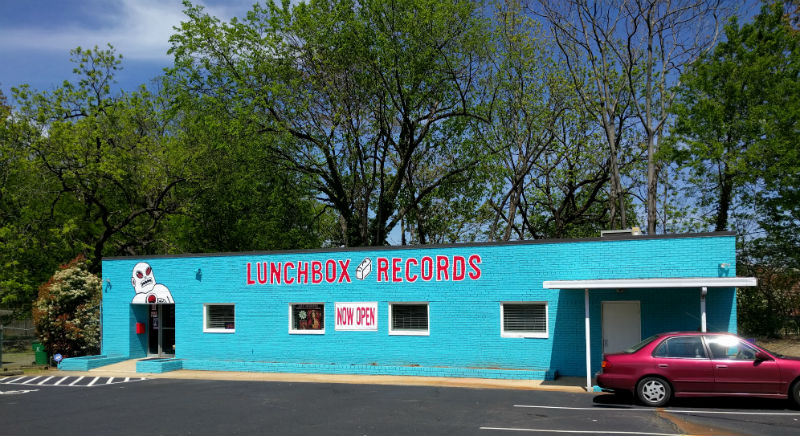 IT'S THREE DAYS before Record Store Day. This would already be a busy week for Lunchbox Records owner Scott Wishart, as he prepares for the craziest day of the year for the store on Saturday, April 16. But it was only days ago that Lunchbox re-opened in a new location, half a mile up Central Avenue toward uptown, and there's still much to do. I stop by Lunchbox to chat with Wishart about the new space and RSD. Several times during our conversation, the phone rings.
"Hi, Lunchbox Records," Wishart answers. "We open at 9 a.m. on Saturday. Nope. I'm not sure what time the line starts forming."
Wishart says he outgrew the previous Lunchbox space "years ago," and he began the search for a new venue around 2011. A few spots seemed promising, but for one reason or another, they didn't pan out. "I got lucky with this one," he notes.
He signed the lease for 825 Central Ave. in September, but it needed major renovations. "It was a funeral home," he says. "So of course, we had to do a lot of stuff to it. It had dropped ceilings and viewing rooms. So we redid the walls, the ceiling, the electrical, and the floor. We had hoped to reopen in January, but things didn't work out that way."
The former Brooks & Davis Funeral Service now stands out as a turquoise record store, three times the size of the old Lunchbox. Aside from more space to browse, longtime shoppers celebrate two additional developments: a dedicated parking lot and a dedicated stage, located in an otherwise bare corner of the new store.
As the Lunchbox crew continues to sort through a decade's worth of "junk piled on top of junk" at the old location, they're organizing the releases for Saturday's international holiday for vinyl-lovers. Record stores throughout the region mark the event, but Lunchbox has a special guest: Grammy-winning singer-songwriter Kacey Musgraves. The country songstress plans to sign copies of her latest album and hang out at the store throughout the day. Wishart says that development came as a surprise to even him, when he received the call from her management.
"They told me that she wanted to celebrate Record Store Day somewhere," Wishart says, "and she had been at the store before and wanted to do it here. I had no idea that she had even been here. Most people who play music, I don't know what they look like. Usually, someone who works here may say, 'Oh, hey, it's that guy or it's her.' But I have no clue."