Lux Officially Opens in Charlotte; My Two Cents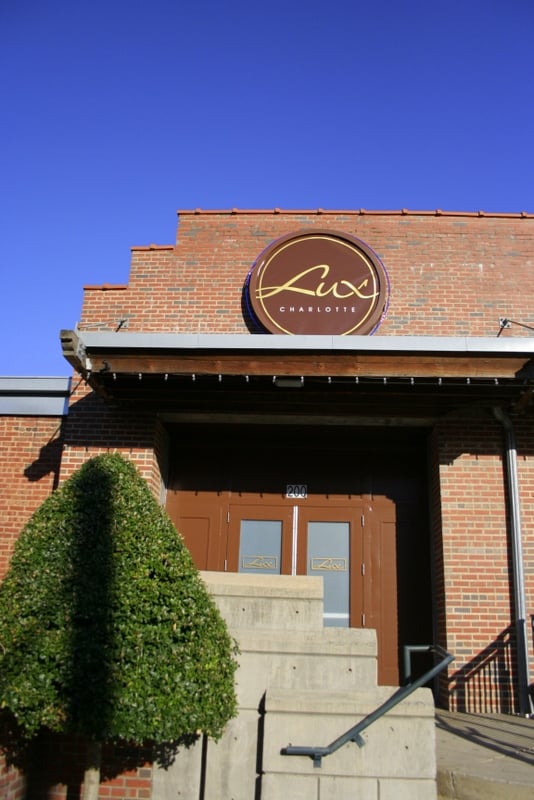 I blogged about Lux three weeks ago when the nightclub was opening its doors for the first time. The owners were taking advantage of the large number of visitors in town that week for the CIAA Tournament, so they held several events, including drawing a packed house for singer R. Kelly. Since then, things have been relatively quiet as they prepared for their official grand opening, which is taking place this weekend. It's a two-night celebration on Friday and Saturday (details on this at the end).
I had the chance to check out Lux last week. I'd wondered if the club was occupying the entire space that Jillian's once did. Yes, it is. At 24,000 square feet, I'm almost positive Lux is the largest nightclub in Charlotte—certainly in center city. And they've decked out the space.
When you walk through the main entrance, the large bar is to the right—the same as it was when it was Jillian's. But most of the restaurant-style tables and chairs have been replaced with club furniture. The place is designed to cater to the reserved-seating and bottle-service clientele. Even the booths have been re-done and now have that luxurious look. This is all in the main room, which alone is the size of most clubs. There are several big-screen TVs and a DJ booth, and the space has a lounge feel. This space also contains a private room, enclosed behind a glass wall, which can easily hold about 50-75 people. It's filled with couches and tables and has its own bar.
Next, after you pass through the main room, the next room—again, which could be a club in itself—is pretty much where the partying goes down. There's a large open space to serve as the dance floor, a bar in the back, and a stage in the front. Lining every inch of the left and right walls are VIP booths. In the back you have the standard sofas and tables that you see at places like Luna, Apostrophe, and Kiss. But along the walls closer to the front are king-sized VIP booths. It's six of them—three on each side—and they're on a raised platform, enclosed in glass. You can't help but to feel elite if you're partying in one of these. And be prepared to shell out big bucks—a booth fee and minimum number of bottles purchased. The price will vary depending on the night and type of event being held.
Off this room is a hallway, dominated by "Lux" painted in large letters on the wall, that leads to restrooms. It also has a doorway that leads to the last one-third of the club. This area is still under renovation and the manager told me it will likely be used for special events. It has a large bar and dance floor of its own.
Lux has just about everything you would want in a nightclub: great location in South End; on the light rail line with a stop in close walking distance; a large parking lot; great layout and décor; plenty of space; multiple bars; a full kitchen serving food late; and more. But the most important factor will be the crowd. Will Lux draw enough people each week to make this the go-to party spot? And will it draw the right kind of crowd befitting of the "urban-chic style" it's boasting?
I've seen large nightclubs fail because they start off doing the right thing with high standards—age requirements, dress code, etc.—but loosen up those restrictions when they feel they aren't draw enough people in, but then the wrong crowd takes over and drives away the patrons the club was initially catering to. I've also seen large clubs fail simply because they're too big, so even when there are a hundred people there, it feels empty.
As I've said before, I'm interested in seeing how this place develops. Charlotte needs an upscale, hip-hop club that consistently draws a great crowd. The kind of place that if you have friends in town, you can take them there any Friday or Saturday night and you know it will be a great experience. As opposed to a club where it's only a "hot" night depending on the particular weekend or which celebrity guest is brought in.
But first things first. This Friday and Saturday night, March 25 and 26, is the official grand opening at Lux. Friday night will feature music by DJ Shogun and DJ Incognito (Incognito is playing both nights), and Power 98's No Limit Larry is hosting both nights. Friday's event will offer complimentary drinks and passed appetizers from 9-10 p.m., while Saturday features an appearance by hip-hop star Trina. Tickets for both nights are available by signing up at luxcharlotte.com
Lux, 200 E. Bland St., 704-370-2000. luxcharlotte.com.