Luxury at the Lake: A Penthouse Condo in Cornelius
Home in The Peninsula has custom touches at every turn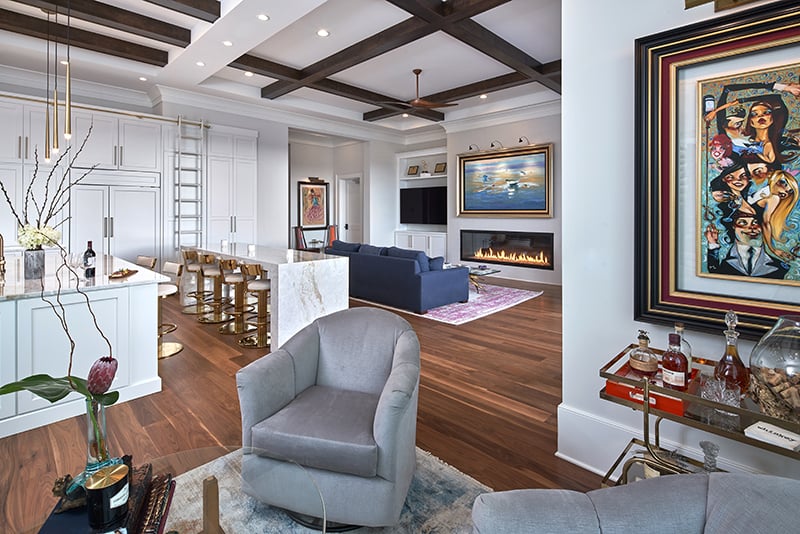 After nine years in their 8,700-square-foot home in The Peninsula, a waterfront community on Lake Norman, Jim and Colleen Ludington were ready to downsize.
But the couple planned to wait until their youngest son, 16-year-old Sam, graduated from high school. "We weren't looking, but I heard about the Watermark project and went to meet with the developer, and I just loved everything they were doing," Colleen says. "We worried that if we didn't get in right from the beginning, we'd miss our chance at one of the penthouses."
Watermark Lake Norman is a gated, resort-style condo community with 48 units that broke ground in 2018 and was completed late last year. The Ludingtons bought one of 10 penthouses with private elevators and two-car garages. Their unit was still under construction when they purchased it, which allowed them to work with the builder on architectural changes before they moved in last fall.
Colleen, a realtor and children's book author, wanted it to feel like a pre-war apartment in New York City. "My whole aesthetic—from the herringbone walnut floors to the marble bathrooms—I wanted it to have that timeless and classic feel." The framework was there: high ceilings, hardwood flooring, and a wide-open living area. The Ludingtons would make just a few modifications to the kitchen layout, add a built-in wine display, and install a custom fireplace in the living room.
Jim, a retired technology executive and gourmet cook, wanted a spacious kitchen with gas appliances and room to store his cookware and gadgets. They added 10-foot cabinets and had a rolling ladder crafted with gold rails to match the kitchen hardware. A second kitchen island gives the family an informal dining area with room for eight; its waterfall-edge countertops are gray and gold Dolce Vita quartzite from Cutting Edge Stoneworks in Mooresville.
Off the kitchen, a separate seating area originally budgeted as a dining room is now the Ludingtons' wine lounge. The couple wanted to replicate the wine cellar in their previous home that held their extensive collection of French and Italian wines. They worked with the team at Vine & Branch Woodworks in Mooresville to design a 12-by-10.5-foot wine wall that holds up to 600 bottles. The built-in unit also has a humidor drawer for cigars, side cabinetry for glassware, and pull-out cabinets below for liquors and mixers. They turned the area beside it into a lounge that overlooks the pool where Jim likes to have his morning coffee.
In the living room, a custom 7-by-2-foot gas fireplace from Fireside Hearth & Home anchors the space. "We designed the living room around a French painting that hangs above the fireplace," Colleen says. "We had to do a lot of research to find a fireplace that would scale properly."
The master suite includes a custom-built, boutique-style closet that displays Colleen's clothes, designer shoes, and collection of half a dozen Kentucky Derby hats. In the bathroom, Vine & Branch installed custom cabinets with a StyleLite Tierra Elm finish; the countertops are Calacatta Gold Marble.
With the project complete, the couple says their favorite part of penthouse living is the open floor plan, which allows for more interactions with their boys. "It's been great for our family," Colleen says. "We thought, We'll build it and maybe we'll rent it, and then we fell in love with it."
MICHELLE BOUDIN is a reporter for NBC Charlotte and a frequent contributor to this magazine.