Mac's Speed Shop Keeps Its Local Flavor: Beer, Bikes and Barbecue
Mac's Speed Shop keeps adding locations, and the five guys behind it couldn't be happier—or more surprised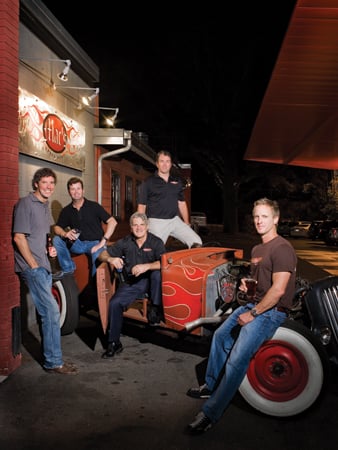 If you've been to a Mac's Speed Shop—and if you've lived in Charlotte for very long, chances are you have—then you know that three things reign in these casual restaurants: beer, bikes, and barbecue. So then it should come as no surprise that in 2003, when the six guys who started the popular spot started tossing the idea around, it was over beers. And when they started looking for inspiration it was on their bikes. And when they chose to go the barbecue route, it was because that paired best with the beers.
"We created the atmosphere and then let the people run it," says Wynn Davis, one of the now five co-owners (former co-owner J. D. Duncan left in 2009). "We just knew we didn't want to do the sports bar thing." What the owners and their customers created was a restaurant where you're as likely to see a family enjoying an after-church meal as a group of bikers stopping by for a beer at the bar or to check out one of the frequent live music shows.
"We always say we're everything from bankers to bikers to babies," says co-owner David Jewell. Its North Carolina 'cue-focused menu has also become one of Charlotte's favorite destinations for visiting chefs, including Anthony Bourdain and Thomas Keller. And on most days you can catch a glimpse of any of the five owners, Andy Cox, Hal Kempson, Hall Johnston, Jewell, and Davis, who all frequent their restaurants.
Despite believing they'd found a casual niche in a market that was saturated with white-tablecloth steakhouses, the owners originally had their doubts about how successful Mac's would become. "We threw in some money fully expecting to lose it," says Davis, who points out that when they opened on South Boulevard the immediate area was filled with empty warehouses. "But we figured at least we'd have a bar to go to for a little while."
But it seems they hit the market at just the right time. With a sinking economy, people were looking for casual, cheap fare, and the beer craze has put their craft brews and large draft selection in high demand. Mac's, which has three Charlotte locations including one in Lake Norman and one in Steele Creek, recently announced it will be opening restaurants in Greenville and Fayetteville in the next six months. The concepts will be the same and they hope to draw similar crowds. While the owners will all still live in Charlotte, they'll be doing plenty of traveling to the new locations—on their bikes, of course.