MAGS was good to us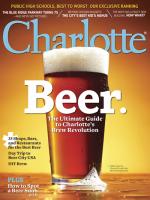 This past Thursday, the Magazine Association of the Southeast held its annual conference in Atlanta. I'm proud to report that we picked up eight Gamma awards at the conference's luncheon. Charlotte magazine won six awards, and our sister publications Charlotte Wedding and Charlotte Home + Garden each won one. Here are the details:
• Huge congrats to writer Rhiannon Fionn-Bowman, who won a Gold for Best Profile for her story on David Merryman, the Catawba Riverkeeper. Link to story.
• Also in the profile category, Jonathan Singer's rollicking piece on the late Cal Walker, a once-upon-a-time well known radio DJ in Charlotte who died alone and destitute, won Bronze. Link to story.
• Jeremy Markovich's piece on a football Friday night at South Point High School in Belmont won Bronze for Best Feature. (Personally, I think he was robbed.) Link to story.
• Our October 2010 cover–Beer!–won Silver for Best Cover.
• That cover was for a boozy package on the beer scene in Charlotte. It won Silver in the Service Journalism category. Link to package (it translated much better to print)
• The November 2010 issue–with Friday Night Lights on the cover–won Bronze in the Best Single Issue category.
• Charlotte Wedding picked up an Honorable Mention for Best Single Issue in its section.
• Charlotte Home + Garden won Silver in the same category.
Thanks to MAGS for the recognition, kudos to our talented, hard-working staff, and congrats to our dedicated, talented freelance writers! And most importantly, thanks to all of our readers and advertisers for supporting our work.
UPDATE: I missed an honorable mention. "Stop the Presses?", Walker Lundy's illuminating, heartbreaking story on the trials and tribulations of The Charlotte Observer, was recognized in the Best Feature category.