'Maid Mishap
A few quick fixes for frequent dress dilemmas with your bridal party girls.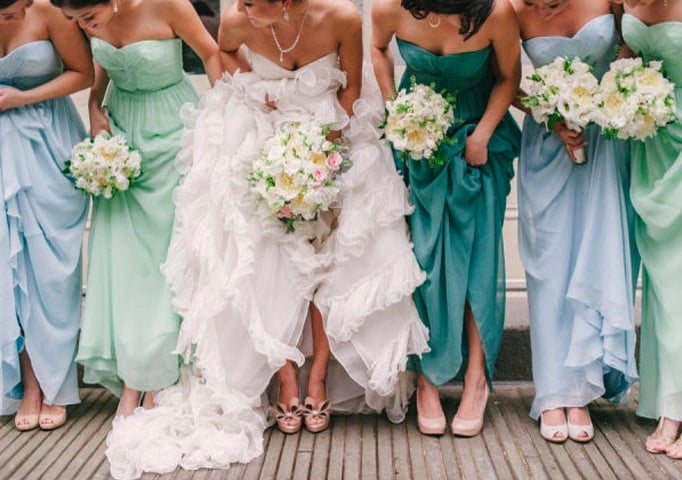 From witnessing wedding day squabbles from the planner's shoes to sitting pretty in the midst of it with friends, there are few bridal party squabbles I've not heard when it comes to dresses. Whether it's price, color, cut or the high-maintanance bridesmaid, the frustrations and arguments are seemingly endless in origin. The Catch 22 of deciding upon attire for your ladies-in-waiting is choosing what's right for your special day versus catering to their requests and preferences. At the end of the day, no one wants to be a bridezilla. These girls are your closest friends and you want them to share in your happiness when you walk down the aisle… Which makes the complaints and setbacks all the more stressful. So in your honor, I'm sharing my most-heard quandaries along with my best solutions.
Budget Buster. So the dress you've chosen is out of someone's means? You've got a few options here. First off, make sure the price isn't steep, even for those who can afford it. This can vary slightly based on bridal party age, but really you should aim to keep the base price under $200. You must be mindful of the fact that dresses are simply one part of the equation. Your girls will also be funding alterations, shoes and accessories to complete the ensemble. Second, talk to the other girls. Maybe you can get a pool of funds from the bridal party to compile and give to the member with the lesser budget. You can also, of course, discretely help the bridesmaid yourself. Depending upon parent involvement and budget, you can also ask your mom or dad for advice on the matter, and they may be willing to assist.
Cut It Out. Maybe one or more of your ladies-in-waiting dislikes the cut of the dress. This one is tricky because while you may love a particular dress, if your bridesmaids don't, they won't feel comfortable during the day… Not an ideal situation. So in this case, you've got to be honest with yourself and make sure you're being every bit as critical of each girl in her dress as you would be of yourself. If you can truthfully say that the dress is flattering on the girl(s) who dislikes it, have an open conversation with her first. Ask her what precisely she dislikes. Chances are, a trip to a quality tailor and a few tweaks can solve the problem with ease.
Lose-Lose Situation. Everyone knows that one person who can never be pleased. If she happens to be a member of your bridal party…and she happens to complain about the dress–because, let's be honest, no one is surprised, again talk it out with her. Ask her point blank what she dislikes about the dress. Use your best judgment as to whether it's a legitimate cause for complaint or simply another projection of her personality (after all, you know her best since she's one of your ladies-in-waiting).
Back To The Drawing Board. So the entirety of your bridal party is up in arms about the dresses you've picked. This instance is a bit more difficult to manage, as it's no longer on a small-scale level. While it's important that you're pleased by the overall look (it's your wedding after all), a resounding 'no' from everyone is impossible to ignore. Maybe the dress itself would be a winner, simply by swapping out the color. Talk to everyone together and narrow down the problems to ones upon which everyone agrees. Then take those problems and come up with a solution which solves them. From here, you can take these newly established points and come up with some dress options that will be better received by your girls.
The Golden Rule. Whether it's the notoriously picky friend or the limited-funds girl, don't let the stress or guilt get you down. After all, these girls accepted your honorable invitation to be a part of your day, knowing fully well the duties which go along with the title. Chances are, you have been or will be a part of their big day as well. Try to put yourself in their shoes. If the request is unreasonable, don't expect anyone to comply, as you wouldn't want to either. By the same token, you shouldn't be overruled by minor complaints or high-maintanance girls. Simply be gracious and kind, express thanks frequently and you've succeeded in being a classy friend and bride.