Make it Maple
Maple syrup: it's not just for breakfast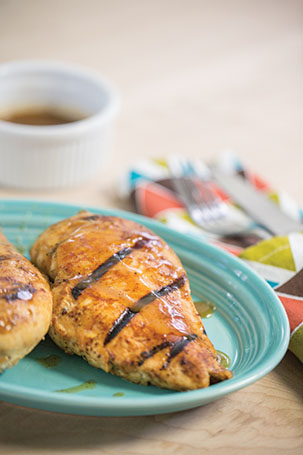 Maple syrup often gets relegated to the breakfast table, but its deep, appealing, straight-from-the-earth flavor makes it a match for more than just pancakes and waffles. Weather, the type of tree, and the timing of the harvest cause variations in flavor, from sweetness to nuttiness and even coffee and caramel-like notes. Typically, the purer the syrup, the more nuanced the flavor—but the dark, sweet stuff in your pantry will still add a terrific, seasonal zing to veggies, meats, and even cocktails.
Maple-Chile Grilled Chicken
Serves 4
4 chicken breasts
1/3 cup olive oil
Juice of 1/2 lemon
3 tablespoons maple syrup
1 1/2 tablespoons Dijon mustard
1/2 teaspoon mayo
1/2 teaspoon chile powder
Kosher salt
Black pepper
Place chicken breasts, oil, lemon juice, kosher salt, and black pepper in a resealable bag, shake to combine, and let marinate at room temperature for 30 minutes.
Meanwhile, combine remaining ingredients to make sauce. Preheat grill or grill pan to medium-high heat. Remove chicken from marinade and grill, turning once, about 20-25 minutes, or until a meat thermometer inserted into the breast reaches 160-165 degrees. Let rest 5 minutes. Spoon sauce over each breast and serve.
---
LOGAN CYRUS
Maple-Roasted Carrots
with Scallion Yogurt Sauce
Serves 4 as a side dish
For carrots:
1/2 cup olive oil
1/2 cup maple syrup
12 carrots, peeled, and cut on the bias into roughly
1-inch pieces
1/2 teaspoon sherry vinegar
Kosher salt
Black pepper
For sauce:
1/4 cup 2-percent Greek yogurt
1/2 tablespoon olive oil
1 scallion, chopped
Preheat oven to 400 degrees. Mix 1/2 cup olive oil with maple syrup in a bowl. Add carrots, season with salt and pepper, and toss to coat. Spread on sheet tray in a single layer and roast, until cooked, 15-20 minutes, stirring on occasion. Meanwhile, combine sauce ingredients, season with salt and pepper and set aside. Remove carrots from oven, toss with vinegar, and sprinkle with salt. Serve with a dollop of sauce on top.
Citrus-Maple Old Fashioned
Makes one drink
1 ounce orange juice
1/2 ounce maple syrup
4 dashes Angostura bitters
2 ounces bourbon
1 ounce soda
Orange peel for garnish
Combine orange juice, maple syrup, and
bitters. Mix well. Add bourbon. Fill glass with ice, pour drink, top with soda, and garnish.