Make Your Own Suet
Jill Palmer shares her recipe for a homemade bird treat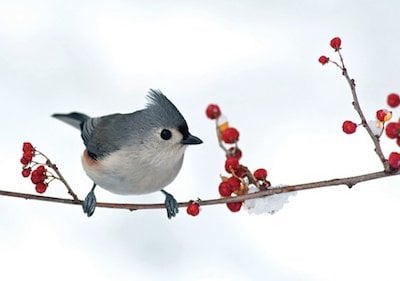 In our current issue of Charlotte Home + Garden, we talk about the challenges birds face in the colder months. Last week, we found three local stores to stock up on bird supplies. Jill Palmer, president of the Mecklenburg Audubon Society, was kind enough to share her recipe for homemade suet, which is a mix of lard, seeds, nuts, and fruit that helps birds get the necessary calories this time of year. Palmer says this recipe is a winner because it brings in birds of all types.
Birds Favorite Suet Recipe
1 (2-pound) bag plain, yellow cornmeal (not self-rising)
2 cups lard
2 to 3 heaping tablespoons crunchy peanut butter
2 to 3 tablespoons mix-ins; whatever you have on hand, such as raisins, currants, oatmeal, peanuts, sunflower seeds
Soften the lard in the microwave. Use a hand mixer to combine the lard and cornmeal. Stir in the peanut butter and mix-ins.
Store in a container in the refrigerator, and scoop out as needed. The mixture is greasy, so use gloves when handling it.
For more information on the Mecklenburg Audubon Society, click here. The society often holds bird walks, field trips, and meetings. Join them this Tuesday, Feb. 4 at 8:30 a.m. for a bird walk along Nation Ford Greenway. Click here for details.