Man of the Past
If elected, Democrat Anthony Foxx would be Charlotte's youngest mayor, by one year. But for a young guy, he has quite a history with the city. And that's what he's counting on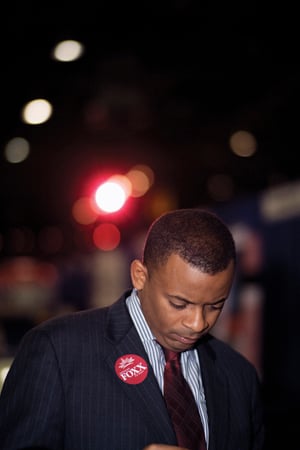 Anthony Foxx remembers.
He remembers a political ad he watched twenty-two years ago, in the family room of his grandparents' Lincoln Heights split level. It featured a tight shot of a pothole, then a rapid succession of car tires hitting it at full speed, to vividly illustrate this claim: then Charlotte Mayor Harvey Gantt had neglected the burgeoning city's road system, something challenger Sue Myrick promised she would fix.
After a campaign that was widely criticized for its complacency — exemplified by its failure to hit back effectively on issues such as roads — Gantt lost. And the end of his term marked the last time a Democrat was mayor of Charlotte.
"It showed me how tough politics can be," Foxx, now thirty-eight, says of the mayor's race he witnessed as a teenager. "It ain't all sweetness and light."
With the memory of the 1987 mayoral race to prod him, Foxx seems determined to make no such mistakes in 2009, as his party's first serious contender for the job in decades.
He staked out his spot early, declaring himself a candidate in October 2008, months before it was known that fourteen-year incumbent Mayor Pat McCrory would not run again. Even before the end of last year, he had raised $88,000 for his campaign war chest, then picked up another $190,000 or so through mid-2009, including $20,000 in the form of a personal loan. He has spent most of that money—with more than $110,000 of it going to at least seven different political consultants—and he's assembled a core staff of about ten campaign workers (some volunteer) who are so careful about media coverage that they won't allow him to be interviewed without one present.
"I'm playing to win," he says.
Foxx, who would be Charlotte's youngest mayor (McCrory was thirty-nine when first elected), talks a lot about the city's history when he's discussing how he would lead it out of its bruised and battered present.
"The secret to our future is really in our past," he said in his campaign announcement speech, citing how community leaders shepherded Charlotte smoothly through the Great Depression and the civil rights movement.
It's unclear how the power-of-memory theme will resonate with voters in a city that has added tens of thousands of newcomers each year for the last decade. Foxx, however, is a product of this city's past.
Foxx says his first memory of Charlotte is looking out the window of his grandparents' home, in the Dalebrook section of predominantly African American Lincoln Heights, which was then middle class but is now on the city's list of "challenged" neighborhoods. His mother, nineteen and single when Foxx was born, transferred to UNC-Charlotte from Spelman College so they could live with her parents. They were Foxx's primary caregivers for the first ten or so years of his life, as she pursued a master's degree and a career in philanthropic development. He doesn't have his father's last name, and he doesn't have a relationship with him.
"I learned more from him in his absence than anything else," he says, trailing off.
So Foxx wasn't born into privilege, but he was born into certain possibilities, because of the time in which he grew up and the people who surrounded him. "It seems that Anthony has been preparing for this moment all of his life," says Parks Helms, former Mecklenburg County commission chairman and a Foxx supporter.
His personal biography contains a who's who of distinguished Charlotte people and institutions. Foxx's grandfather, James F. Foxx Sr., was a career educator who was so prominent in the community that for decades before his death in 2001, it was considered essential for any local Democratic candidate to seek out his advice and his endorsement. Anthony Foxx remembers phone calls at all hours from people wanting to talk politics with "Mr. Foxx," as his grandfather was known to most, and his earliest lesson in politics was a lucrative one: the day after each election he would collect campaign yard signs and return them to their owners in exchange for $1 apiece.
For high school he made the half-mile walk from his house across Beatties Ford Road to West Charlotte, which he calls a "magical place" that was then hailed as a model of successful desegregation. Roughly half black and half white, it was populated by students from some of the wealthiest and some of the poorest neighborhoods in the city. But since a federal court forced the county to stop busing for racial integration in 2001, it has once again become predominantly African American and poor.
As a high school junior, Foxx attended a program for prospective students at Davidson College. He says a square dance held the first night of his visit was an early sign the school might not be a perfect fit for him socially, but he liked the academic challenge Davidson presented, so he went. Though he says it was tough, he seems to have made the social adjustment, joining the cheerleading squad and being elected student body president.
During his college summers, there would be no jobs waiting tables or mowing lawns for Foxx. His mother, grandmother — a public school French teacher — and grandfather paid for him to attend a study abroad program in France, and while not fluent he still understands the language fairly well.
The next summer it was off to South Africa on a trip funded by Davidson's international studies program with James Ferguson II, a longtime family friend and a legendary trial attorney who in 1970 had successfully argued before the U.S. Supreme Court for desegregating Charlotte schools. In South Africa, Foxx assisted as Ferguson helped train black lawyers at a time when the apartheid system was just beginning to crumble.
After getting his law degree at NYU and taking the North Carolina bar exam, he took a month off to work on his trumpet-playing skills in New Orleans, where he befriended famed jazz musician Wynton Marsalis, who is now a campaign supporter.
He spent a year at Smith, Helms, Mulliss & Moore, a venerable North Carolina firm that has since folded into a larger international firm, and a year clerking for a federal judge in Ohio. From there, he went to Washington, D.C., to work for the U.S. Department of Justice before Charlotte Congressman Mel Watt — whom Foxx had known all his life because Watt's wife and Foxx's mother are second cousins — convinced Foxx to take a job as legal counsel for a subcommittee on which Watt served.
Foxx acknowledges what he calls "the power of opportunity" in his life, and says his appreciation for those opportunities has motivated him to work hard. A self-described slow reader, he says his grades at Davidson were lackluster during his freshman and sophomore years, but witnessing the struggles of young South African lawyers gave him the "kick in the pants" he needed to buckle down. Many nights during his junior year, he says, he would go to the one campus building that was still open after his student government meetings had ended, turn on a classroom light and read, sometimes into the early morning.
And he has made sacrifices. When he was elected to the City Council in 2005, he switched to part-time status at Hunton & Williams—a firm he joined after returning to Charlotte from Washington in 2001 — so he could devote more time to public service. At a career stage when many of his peers are making partner, he remains an associate.
In Charlotte politics, a common path up the ladder is to serve for a few terms as a district representative before taking the next step of running for one of four at-large seats on the council, so it was considered a bold move when Foxx—who'd never held elective office — announced his at-large candidacy in 2005.
District 2 Councilman James Mitchell, a Democrat and close Foxx ally, says Foxx's family name and his close connection to Watt probably played a role in his win that year. But Mitchell sees Foxx's 2007 reelection as an affirmation of the job he did during his first term, specifically citing his leadership in creating the Business Corridor Revitalization plan.
That's a plan that Foxx's Republican opponent, Councilman John Lassiter, pushed too. And that illustrates a theme that's arisen over and over in the last few months during forums where the two candidates have discussed their views: on the issues people are talking about in this election, Foxx and Lassiter actually don't differ radically. They agree on the merits of transit. They agree that our courts and police force need more funding. They think Charlotte should continue to stay attractive to businesses and that the city needs to work better with the state government in Raleigh.
They've differentiated themselves through their résumés. Foxx emphasizes his Charlotte native credentials, while Lassiter supporters argue that his experience can't compare to Lassiter's, who served five years on the Planning Commission and eleven on the school board before being elected to City Council in 2003.
"Anthony has seen a lot of Charlotte history, but how much has he actually done?" says District 7 Councilman Warren Cooksey, a Republican. "John Lassiter knows the history from having made it."
Both candidates have been criticized as lacking in charisma, and in a position largely defined by its holder's ability to use the bully pulpit, that could be considered a serious deficit.
Even Mitchell describes Foxx's demeanor as "meek."
"People say he lacks star power, but I really think it's because he sees himself as 'just one of you guys,' " says Mitchell. "When he walks into a room it's not like — OK, everybody stand up now, I'm here."
At a recent candidate forum in uptown's Third Ward neighborhood, Foxx wore his high school debate team ring as a way to psyche himself up, he says. Jill Santuccio, his campaign's deputy communications director, stood at the back of the room with her hand cupping her ear, a reminder for Foxx to speak up.
He seemed serious, rarely smiling or sharing personal anecdotes during his answers. He left almost immediately after the forum ended, while Lassiter lingered, chatting and shaking hands with attendees.
"He sort of goes into a zone, like a tennis player might," explains Santuccio. "He gets very focused."
Focused, and never ever complacent. Two days after the Third Ward forum, he issued an e-mail attacking Lassiter for a video he had e-mailed his supporters in which he said that he's been a supporter of affordable housing. At the height of the summer, months before most voters were paying attention, it was a harbinger of an aggressive campaign. Kevin Monroe, a Foxx adviser who ran Foxx's City Council campaign and was the Obama campaign's North Carolina political director, said it was important for Foxx to quickly refute Lassiter's claims.
"I'd say we took a lesson from the '92 presidential race and the Clinton-Gore rapid-response teams," says Monroe. "You can't just let things sit and fester."
Foxx's staff also seems to be taking a lesson from Obama's 2008 campaign, using traditional grass-roots tactics—such as knocking on doors and organizing phone banks—as well as new-media tools such as Facebook and Twitter.
Ted Arrington, a UNC-Charlotte political science professor, says that's probably a smart move for Foxx, because the Obama campaign was very effective in getting its supporters to the polls.
"City elections, which are held in off years, are really about voter turnout," he says. "That's all there is."
Foxx starts a driving tour of Lincoln Heights—about four miles northwest of the First Ward house where he currently lives with his wife and two young children—with a brief history of the neighborhood. After the Second Ward African American enclave known as Brooklyn was torn down in the urban renewal efforts of the 1960s, many middle-class blacks moved to Lincoln Heights. The housing stock is similar to that of Barclay Downs, near posh SouthPark mall, he says, but the home values here are one-third to one-fifth of what you'd find there.
From the driver's seat of his Volvo SUV, he points to the houses on the street where he grew up, and names the families that lived in several of them. The Dixons, the Millers, the Scoggins. He points out the bus stop where he and his grandmother would catch the No. 6 bus to Trade and Tryon, then make a day of it at the old downtown Belk department store.
There's Friendship Missionary Baptist, where he went to church every Sunday. There's where the Northwest Middle School track used to be. He and his mother would run there together. There's Lincoln Heights Daycare — the first licensed African American-owned day care in Charlotte when it opened in the 1950s. He remembers the tough love practiced by the owner, a Mrs. Harshaw, when he went there in the early 1970s.
Last fall, when staffers for Kay Hagan's U.S. Senate campaign asked him to suggest a place where she could stage a press conference to unveil an early-childhood education plan, he directed them there. Standing on the day-care center's lawn, watching then candidate Hagan speak in front of the television cameras just two weeks before he would officially announce his mayoral candidacy, he describes swelling with pride for his hometown.
"People don't think of Charlotte as a place that has a lot of texture like, say, a New York," says Foxx. "But this city actually does have a mythology—with heroes and tragedies—that does give us a lot of texture. It just doesn't get talked about.
"And that's a shame because it's something we could really draw strength from."
Foxx certainly draws strength from his intimate association with several of the people who shaped this city — Gantt, Mr. Foxx, Ferguson, Hugh McColl Jr., Watt, and many others. Now, he wants to join them.
Jen Pilla Taylor is a frequent contributor to this magazine.