Man of the World: Joël Gallegos
As assistant provost of UNCC's international programs, he sports a classic style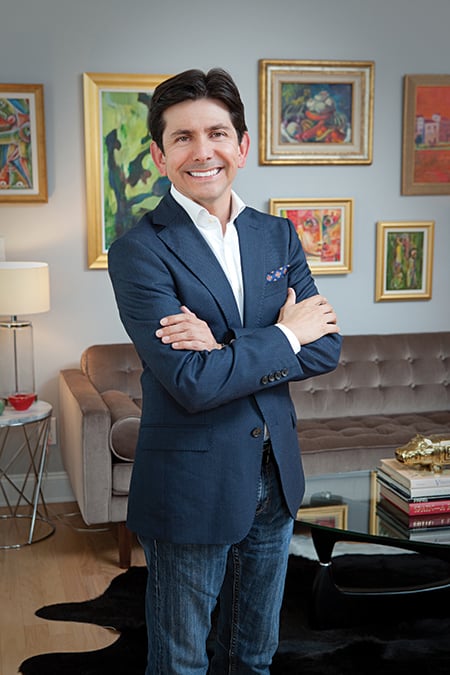 JOËL GALLEGOS whips up a martini—chilled to icy perfection in a single-serve shaker—and pours it into a crystal glass. He's standing at the kitchen island in his swanky First Ward condo, talking about Albie Sachs. "I'm reading this right now," he says, nudging The Strange Alchemy of Life and Law, the South African judge's account of his career. "I'm going to South Africa this summer."
Gallegos is constantly on the go. In his job at UNC Charlotte, he oversees student trips to more than 50 countries and visiting students and scholars from more than 80. He also travels for meetings as a board member of several nonprofit organizations. Despite such a chaotic schedule, his home looks anything but harried. Above the velvet, button-back sofa is a gold-framed collection of art, handsomely arranged. Animal skins are scattered over blond wood floors, and modern tables hold weighty books, Tiffany globe paperweights, and exotic mementos.
Gallegos, an Ohio native, grew up with a multilingual Spanish father who was a fencing master and champion equestrian. His mother's family is of French lineage; maybe that's why he's thinking of getting an apartment in Paris. With a master's degree in French literature, he'd be right at home at a sidewalk café there.
Though his taste is decidedly international—he bought the Thomas Pink shirt he's wearing in London and the Zara sport coat in Prague—it's anchored in American flair. Those are Banana Republic jeans he's got on. And tonight he won't be sipping Bordeaux but that martini, a quintessential American cocktail.
---
JACKET // It rains a lot in Britain, home of the classic Barbour jacket. Made of cotton that's coated in wax, Gallegos's jacket has seen him through bad weather in cities around the world.
WATCH // The Tank watch was created by Louis Cartier in 1917; this modern version is from the Française collection and has a metal chain-link band. Gallegos learned the importance of having a good watch from his father. "My father always told me that you can tell a lot about someone from their watch."
NONFICTION // With so much time on planes, Gallegos appreciates a good read. He picked up this Oxford University Press book after meeting Albie Sachs. And he met Malcolm Gladwell, author of The Tipping Point and Blink, at a recent conference in Boston. "He's as interesting as his hair," Gallegos says, noting the author's halo of curls.
GUCCI LOAFERS // He got his first pair in high school and has been a loyal customer ever since. The Italian-made loafer with the trademark horsebit has been favored by movie stars since the 1950s.
MARTINI // Shaken, of course. His favorite is the Hendrick's martini at Carpe Diem.