Mandy & Ryan
October 10, 2009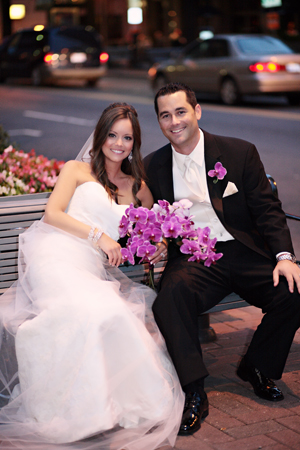 Mint Museum of Craft + Design
Getting to the altar was quite a journey for Mandy Bruzdzinski, a sleepwear designer, and Ryan Harrell, a real-estate banker. After five moves and multiple periods of long-distance dating, their ten-year relationship finally culminated in a momentous wedding. The theme: pure celebration. 'My vision was very modern, sophisticated, Sex and the City-like," says the bride, twenty-seven. "I wanted martinis, bright colors, candlelight, and great music."
The perfect venue for such a bash was the rooftop of the Mint Museum of Craft + Design, transformed into a modern city lounge by Carolyn Shepard Design Group. Mandy wore a dress she designed and had handmade at Classic Brides & Formals in Davidson. At sunset, she and her twenty-nine-year-old groom, wearing a black Men's Wearhouse tux, at last said "I do" with Mandy's cousin Gabriel Biggs officiating.
After the ceremony, the couple took a carriage ride through uptown, then returned to the museum for a dinner of shrimp and grits as well as chicken, spinach, Gruyère, and mushroom crêpes with their 100 guests. For dessert, a five-tier, five-flavor masterpiece by Specialty Cakes sweetened everyone's palate. Wilmington-based Organyx Band got people on the dance floor, and Ryan upped the lighthearted mood by playing a joke on all the unattached guys. "He threw a basket of garters instead of just one into the crowd, making pretty much all of them catch one," laughs Mandy.
But as for Mandy and Ryan, their solo days had happily come to an end. — Erika Hueneke