Mardi Gras Party, Fitzgerald's Turns Four, StrikeCity Turns Seven, Banana Bar Crawl and More, Feb. 18 to Feb. 21
From a banana bar crawl to a Mardi Gras party to several anniversary parties, you've got your hands full this weekend, Charlotte.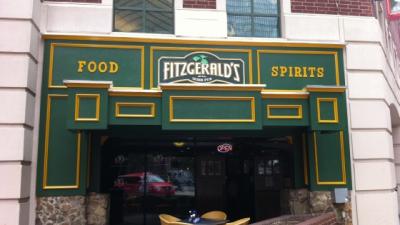 The theme of this weekend is, well, there is no theme. Grab your Mardi Gras beads, your banana costume, your bowling shoes and more this weekend because Charlotte's got a whole lot to offer. Oh, and those bananas you see in Uptown Saturday night? Don't mind them. They paid to look like that. See y'all out there!
Thursday, Feb. 18
A Night Out For A Cure Soiree
At this win-a-date auction, money raised goes toward supporting the Susan G. Komen Foundation, Deangelo Williams Foundation as well as the American Cancer Society. The semi-formal event also features a DJ and dinner. The charity auction is at La Revolucion, 900 NC Music Factory Blvd., beginning at 7 p.m. Tickets, which include dinner, are $43. Buy them here.
Friday, Feb. 19
Mardi Gras Party
Bring out your beads, Ballantyne! Blue Olive Lounge is letting the good times roll to celebrate New Orleans' biggest party. This party features $2 Corona and Modelo and free entrance. The party starts at 9 p.m. at 14021 Conlan Circle.
Fitzgerald's Turns Four
This Uptown spot turns 4 today, and so it's celebrating by offering $4 U-call-its and a free buffet from 5:30 p.m. until 6:30 p.m. This free party is at 201 E. Fifth St.
StrikeCity's Seventh Anniversary
Let's raise the bumpers for this one. The EpiCentre's bowling alley is partnering with Jack Daniels for its seventh anniversary, so things are about to get really messy. For its seventh birthday, the bowling alley is rolling out the sevens: the free, seven-hour party starts at 7 p.m., featuring giveaways every hour, a guest DJ and a special Jack Daniels-inspired menu with Jack Honey/Fire drink specials, honey bourbon wings and barbecue bourbon burgers. Happy birthday, StrikeCity. The party is at 210 E. Trade St.
Hotel Bar Tour
Here's a fun twist to the usual bar crawl. Travel to four of Charlotte's best bars inside hotels tonight with transportation provided by SilverFox Limos. Can you say, "Swanky"? Start at Libations inside the Double Tree, 895 W. Trade St., from 5:30 p.m. until 6:30 p.m. and go to three other spots, including the bar at the Westin and the Omni. The Human Rights Campaign of North Carolina also has a pre-gala bar takeover at the Westin from 7 p.m. on, so be prepared for a big crowd there. Tickets are about $22. Buy them here.
Science on the Rocks
Discovery Place, 301 N. Tryon St., turns up the heat tonight with its February adults-only night. This month features fire demonstrations, dry ice experiments and liquid Nitrogen Baileys-flavored ice cream among other activities. Tickets are $8 in advance or $10 at the door. Buy tickets here for the evening that begins at 5.
Saturday, Feb. 20
Banana Bar Crawl
Get ready to split and go bananas, Charlotte. The Banana Bar Crawl is back for its fourth year of potassium-packing partying. This year, the crawl takes Charlotteans dressed as bananas to Whisky River, Blackfinn, Suite, BAR Charlotte, Fitzgerald's, Prohibition, Whisky River, SIP and Bubble. Registration is from 5 p.m. until 7 p.m. at Whisky River, 210 E. Trade St. Tickets are $20 in advance or $25 at the event. Buy your ticket here.
Boots or Corsets
This feels very 50 Shades to us, but we'll let you be the judge. Ice Martini hosts a "Boots or Corsets" party tonight, so…bring out your boots or corsets. There's no cover, but there are $3 Corona specials. The naughty party starts at 9 p.m. at 9525 Birkdale Crossing Drive in Huntersville.
Guys and Dolls Auction and Gala
Pony up $125, and you'll get a five-hour open beer and wine bar, heavy appetizers, access to a DJ and dancing, and free entrance to Uptown after parties. The fundraiser sends funds to the Cystic Fibrosis Foundation, and last year, about 700 people filled this party. Doors open to this black-tie-optional party at 6:30 p.m. at the Hilton Charlotte Center City, 222 E. Third St. Buy tickets here.
Sunday, Feb. 21
Bartender's Ball
With more than 10,000 square feet of heated tents to stretch across the walkways to Suite and the entirety of Rooftop 210, 210 E. Trade St., this party is back for its 15th year. Tickets to this party are about $81 and include top-shelf liquors and a full line of beers, food from a slew of local restaurants and live entertainment all evening. The party is from 7 p.m. until midnight, and cocktail attire is required. Bonus: this party benefits Project HALO, a no-kill animal shelter. Buy tickets here.
Verify dates, times, prices, and other info at the web addresses listed for each event.
Be sure to bookmark www.charlottemagazine.com/Blogs/Dusk-Till-Dawn to stay plugged into Charlotte's nightlife and social scene. Click here to sign up to receive the weekly Dusk Till Dawn e-newsletter.
Want your event featured in Dusk Till Dawn? Follow me on Twitter @Jared_misner and let me know about your event, or send me an email at dusktilldawnblog@gmail.com.
Send Jared an email at DuskTillDawnblog@gmail.com, or send him a tweet @Jared_Misner.

Also by Jared Misner:

→This Weekend's Social Events
→Bowling For Books, First Friday Fort Mill, Electric Luau Party, Soulmatic Carolina Music Fest and More, Aug. 6 to Aug. 9
→The Moon Walk, Candy Fest, Silly String Party, Booze Cruise and More, July 30 to Aug. 2
→Christmas in July, More Christmas in July, National Dance Day, National Tequila Day and More, July 23 to July 26