Mark O'Connor's Musical Family Hosts World-Class Strings Camp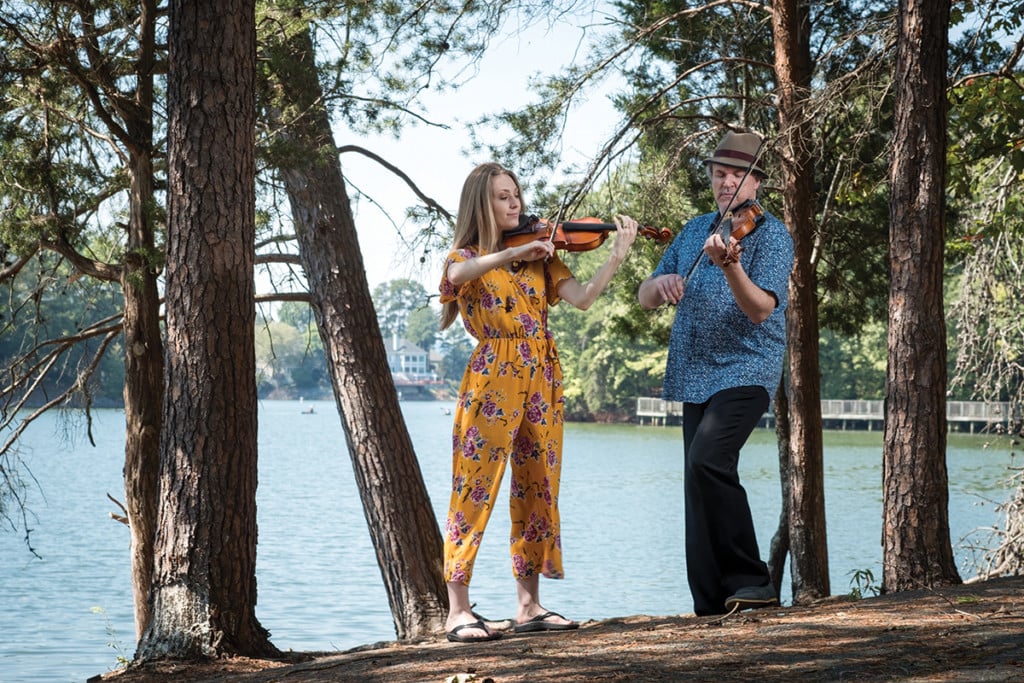 It feels refreshingly cool in the basement hallway of Myers Park Baptist Church on a summer afternoon, as dozens of students tune their cellos, violas, and violins for the O'Connor Method String Camp's final orchestra rehearsal. The camp's founder, violin virtuoso and composer Mark O'Connor, strolls around the room, violin and bow in hand, listening intently, as rehearsal begins. Several conductors take turns leading the students through 18 songs—from swing to traditional spirituals. When they end with a rollicking rendition of ragtime's "Stepp Down Hoedown," Mark smiles approvingly at the campers. "That was a lightning round."
Camper Kristina Roller, 17, who has played cello for 10 years and first performed with Mark and his wife Maggie in the spring with the Youth Orchestra of Charlotte, says the O'Connor approach is "quite a stretch" from her classical training. Here, at the five-day camp, campers learn how to improvise and perform alongside notable performers.
That includes playing with the camp's impressive faculty and the members of Mark's Grammy Award-winning bluegrass band. Mark leads an intensive course for music teachers on his strings method. Maggie, a celebrated violinist and fiddle player, is the camp's co-director and teaches techniques such as chording and bow chopping. Mark's son, Forrest, teaches mandolin, and his wife, Kate Lee, teaches voice and violin.
The camp, Forrest says, cultivates "a spirit of collaboration." The 30-year-old Nashville native is tall, lanky, and charming like his father, and attended 15 camps as a student. This is his fourth year teaching.
"The five-day window offers much more beyond forming friendships," Forrest says. "Students form musical partnerships and learn different musical styles they can fall in love with. It's experiential learning—often their first jam session, their first performance."
During the final recital, Forrest and other faculty members take turns accompanying the students onstage, who sing and play their own selections to the wild applause of their peers.
That evening, they congregate one last time for the camp's crescendo, held upstairs in Heaton Hall. Many of the 131 campers warm up on their strings to proud parents' flashing smartphones. Members of the Mark O'Connor Band (with Joe Smart and Geoff Saunders), who in 2017 won the best bluegrass album Grammy for their debut record, Coming Home, gather onstage and perform four of their songs.
Then, the stage opens up to the students for the "play down." Mark calls out the songs, starting with an advanced version of "Jerusalem Ridge," and each song that follows beckons more students as the arrangements get simpler. He plays along in the center of the stage, overflowing with a sea of happy campers. They end the show with "Boil 'em Cabbage Down," the first song Mark, 57, learned to play on the fiddle when he was just 11 years old.
Mark started hosting string camps in 1994 in Nashville, and then at East Tennessee State University, in San Diego, Boston, New York City, and now Charlotte, where he and Maggie reside. The camps have drawn over 7,000 participants.
"My goal this whole time was to be able to educate not just students, but audiences, about the breadth of American string playing and all its offshoots," Mark says.
Mark's method makes the music accessible and fun to learn, says cellist Tanja Bechtler, who played with the Charlotte Symphony for 12 years and now leads the Bechtler Ensemble. "The method shows the structure of the music in very simple language," she says. "A child can understand the whole component of it and not get stuck playing the same thing over and over."
About half of this year's campers are local, but students come from across the globe—two traveled from the Czech Republic. They plan to hold the camp in Charlotte again next year. In the meantime, the Mark O'Connor Band is wrapping up a tour with the Zac Brown Band, and Mark is fine-tuning his craft—whether that's playing classical symphonies or improvising bluegrass riffs. "I think the genius of American music is about the musicians who participate in developing the music—musicians wanting to make an impact," Mark says. "I think that's an incredible feeling of outright democracy in music."