Martin Short Brings His "Party with Marty" to Charlotte
My Q&A with the former SNL funnyman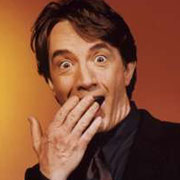 Who is the real Martin Short?
It's hard to tell. He becomes his characters so fully — Meryl Streep-like — that we never really get to glimpse the man behind them.
We won't get to know him any better when he comes to the Knight Theater on March 31. But we will be laughing our arses off, I'll bet. Short will do his stand-up routine including songs, dance, video, and sketches. Plus, he'll become Jiminy Glick, the world's most obnoxious entertainment reporter, and will interview one of the QC's celebrities.
Short's range is similar to Streep's, too. He can play flamboyantly gay (see his eccentric wedding planner Franck from Father of the Bride), endearingly annoying (the excitable Ed Grimley from SNL), and female (Katharine Hepburn on SNL).
If you haven't heard much about Short recently, you must not watch How I Met Your Mother. He had a recurring role last season as Marshall's boss. He's an accomplished song and dance man, too. He won a Tony Award for best actor in a musical for his performance in the Broadway revival of Little Me. And if you need to be reminded how funny he is, check out his response to a reporter's question about why he's still in show business. "Two words, sweetie: balloon mortgage," he said.
Short says of the show he's bringing to town, "I'd say that this show is like a one-man variety show. It's as if Carol Burnett had done her show all by herself — it's that approach. 'A Party with Marty,' I call it." I caught up with him recently and asked him what's in store for Charlotte audiences.
Revue: What's your act like? What can we expect to see?
Martin Short: It's ninety minutes of song, dance, and comedy. There's a lot of improv involved. It's one act.
Revue: I read that you're going to do Jiminy Glick and interview a local celebrity. It seems like it would take you quite a while to get into Jiminy's costume.
MS: I don't do the full costume like I would for TV. It's a mask and a wig; it's very quick.
Revue: Can you reveal who the celebrity is you'll be interviewing?
MS: I cannot.
Revue: But you must have to do some research in advance on this celebrity, right?
MS: Well, I like to do a little bit of prep, but Jiminy Glick is such a bad interviewer, so it doesn't matter, really, if I get it right or wrong since Jiminy so often gets it wrong. It's all improv. The way this interview goes varies from night to night. The local celebrity just plays it straight. They play it as if they're being interviewed by an idiot. They are.
Revue: I'm so glad Ed Grimley will make an appearance. Who else can we expect?
MS: Franck will be there, and he'll be offering commentary on the presidential candidates and whether or not they have style.
Revue: Oh, I'm so excited to get Franck's take. Is he a Democrat or Republican?
MS: Oh, Franck doesn't care. He's really only concerned with the candidates' sense of style.
Revue: You know Charlotte is very excited to be hosting the Democratic National Convention later this year.
MS: As you should be.
Revue: I know that singing and dancing is also part of your show. I don't think many people realize you won a Tony for your singing and dancing. Describe that part of your act.
MS: It'll feel as if you invited me into your home, and you have a big piano in the living room, and I just jump up on it and start singing. I try to create a very intimate experience.
Revue: Will we get to know anything about you personally?
MS: No. That would happen over dinner — not at a party.
Revue: What kind of songs you will sing?
MS: Oh, the kind I might do on Letterman. Satirical stuff.
Revue: And the dancing — I'm guessing it's not highly choreographed.
MS: Just the opposite. It's highly improvised.
Revue: I read your response about why you're in entertainment — the bit about the balloon mortgage.
MS: That was tongue in cheek. Entertainment is what I do for a living. It's like asking a lawyer why he's a lawyer. I've always loved live theater because the performer is totally in control. In a film, you might do ten takes and the director chooses exactly the one you wouldn't have chosen. But in theater, the performer's in charge.
Revue: Really? I would think theater would be harder, because so much of it depends on the audience reaction.
MS: Oh, [laughing] but that would assume I care about the audience's reaction. I'm not there for the admiration of strangers.
Revue: I read that you had acts called — and I love these titles — "Stroke Me, Lady Fame," "If I'd Saved, I Wouldn't Be Here," and "Sunday in the Park with George Michael." I couldn't get confirmation on those, though. Are those acts you've done?
MS: I said on a talk show once that those were names I was considering for this show I'm bringing to Charlotte.
Revue: I can't wait to see your act.
MS: I'm very excited about coming back to Charlotte.