A Curated List of Creative—And Charitable—Masks Sold in Charlotte
Charities include Loaves and Fishes and The Carolina Mask Project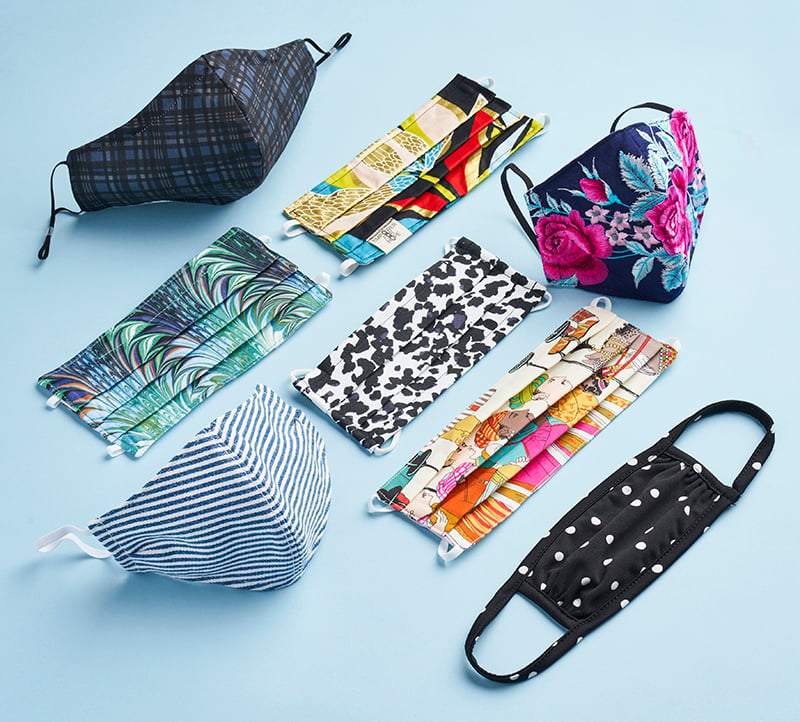 MASKS ARE ESSENTIAL in a COVID-19 world. Charlotte makers and vendors prove that coverings also offer creativity and personality—and many use proceeds for further good.
Row 1: Lake Como mask (left); Sea Breeze mask (right)
Row 2: Aqua Palms mask (left); Il Porcellino mask (right)
Row 3: The Jane
Wide variety of designs can be found online (see masks on home page)
A portion of each mask sale goes to Loaves and Fishes to help feed the community.
---
Row 1: Dino Skeletons youth mask (left), available in childrens and teen sizes, $20; Leopard print youth mask (right), available in childrens and teen sizes $20
Row 2: Blue-black small plaid unisex mask (left), $25; Abstract Wings printed mask (right), $25
Wide variety of fabric masks available online, including custom design and insult masks. Masks are made from 100% cotton with inner layer made from Filti fabric, a filter material which features Nanofiber technology and is highly-efficient on sub-micron particles. A portion of the sales are used to help continue donating fabric to mask-makers in North Carolina and South Carolina who are participating in groups like The Carolina Mask Project.
---
Charlotte's
980-299-7162
901 Providence Rd., Charlotte
Marie Oliver Mosaic Print, $20
Marie Oliver black and white speckle $20
Marie Oliver beet root speckle, $20
---
Pura Vida
704-335-8587
3202a N. Davidson St., Charlotte
Limited Edition Adult Embroidered rose 100% cotton with filter pocket, $30
Other styles also available
---
Abode
704-332-3731
1530 East Blvd.
(not available online but can call to order)
Manuel Canovas Designer fabric, $25
Many other styles to choose from in store.
---
KatyLoo Boutique
803-686-3048
951 Market St, Ste. 104, Fort Mill, SC
Denim Stripes adult mask, $14
Black polka dot child's mask, $12
Navy floral print child's mask, $12
---
Local Charlotte porch pickup or USPS shipping available.
African print masks with pocket for filter (fabrics may vary) handmade in Charlotte by empowered artisans. Two elastic styles available – behind the ears and behind the head. $9-12 ea. (Buff style masks also available.) For every mask purchased, Empower for Hope donates a mask to front-line workers.