'Master of the Mix' to Bring Hip-Hop Stars to Charlotte Monday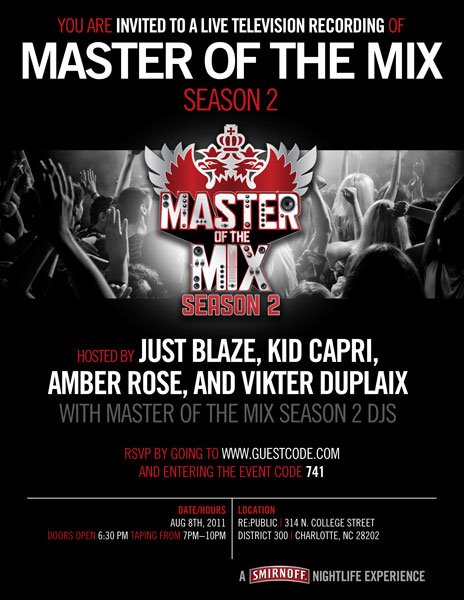 If you love hip-hop, and the element of DJing in particular, you might like this event taking place this Monday, August 8. A live taping of Master of the Mix season two is being held 7-10 p.m. at RE:PUBLIC.
Master of the Mix is a reality television show on BET Centric, presented by Smirnoff, that pits top DJs against each other in a competition that airs weekly. Season two reportedly will begin airing in November and you can be a part of one of the episodes this Monday.
The event will be hosted by some big names in hip-hop: super-producer Just Blaze, legendary DJ Kid Capri, video model (and Wiz Khalifa's girlfriend) Amber Rose, and season one runner-up DJ Vikter Duplaix (DJ Scratch won the competition last year).
To attend this free event, you'll need to RSVP at guestcode.com after entering code 741. Doors open at 6:30 p.m. RE:PUBLIC, 314 N. College St., masterofthemix.com.
Be sure to bookmark www.charlottemagazine.com/Blogs/Dusk-Till-Dawn to stay plugged into Charlotte nightlife.