Matrimony: Back in the Neighborhood
After a big spring making national headlines, the Charlotte band gears up for hometown show at Neighborhood Theatre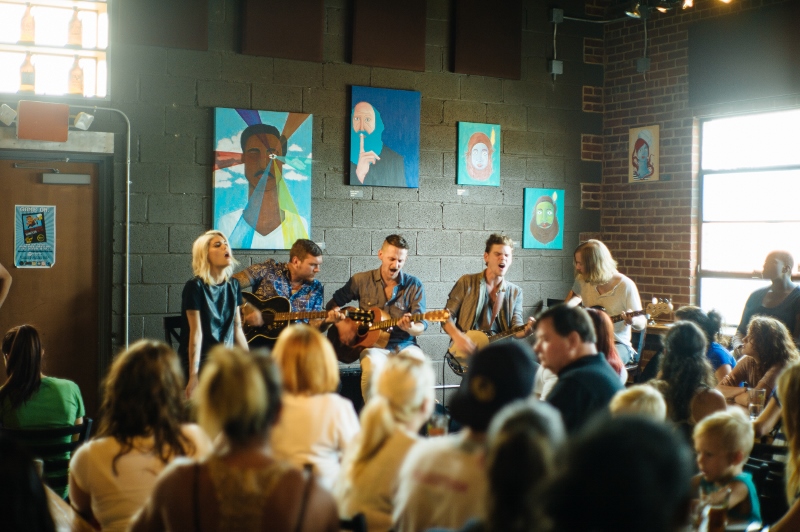 Last week, I attended the annual Speedway Children's Charities Gala at the Ritz-Carlton. It was quite a night. Celebrity chef Lorena Garcia made short ribs and grouper. NASCAR driver Jeff Gordon outbid everyone for a round of golf with Panther Luke Kuechly. And the Avett Brothers played.
I've seen the Avetts a dozen or so times through the years, at small venues and large venues, outside and inside, but this was the first time I've ever had to wear a black tie. After their set, which lasted about an hour, I introduced myself as the editor of Charlotte magazine. They immediately remembered being on the magazine's cover in 2005, tagged as the Charlotte "Music Scene's Best Hope." "Let's do it again sometime," Seth Avett said, and I can confirm the official magazine response was, "Yes."
Scott changed the subject, though, to our most recent music issue, published in February.
"Hey, I saw the Matrimony cover a few months ago," he said. "We're big fans of them. We're really rooting for them."
It's easy to draw comparisons between Matrimony and the Avett Brothers—family bands, developed here, going national with major-label record deals, energetic live shows. A banjo. Their similarities are so plain to see, in fact, that I had to force myself to not use the words "Avett Brothers" when writing the cover profile on Matrimony in that February issue.
It's natural to group things together to understand the world better, and, especially in the arenas of sports and music, it's also natural to compare the things within the group. That Jeff Gordon's good, we'll say, but he's no Earnhardt.
But part of the beauty of music and art is that no two notes are exactly the same. I trailed Matrimony off and on from July through November last year for that story, and during the course of the reporting each of the band members—Jimmy Brown; his wife, Ashlee Hardee Brown; and her brothers, C.J. and Jordan Hardee—revealed their individual charm and character. C.J., under 21 at the time, sneaking a beer or two at a bar. Jordan dropping to a knee to propose to his girlfriend on stage. Ashlee slipping away from the crowd to find quiet spaces. And Jimmy, admiring everything his wife does. ("The marriage is more important than the music," he says.)
Matrimony is on fire. The four family members added a cousin's husband, Austin Forbes, to play bass guitar, and they traveled around the country this spring around the May 6 release of their 11-song album, Montibello Memories. In March, they played South by Southwest in Texas. In April, they played Mercury Lounge in New York. They've been profiled on the websites of Rolling Stone and the Wall Street Journal, and just this week, the Huffington Post said of them, "Matrimony makes music that doesn't just get stuck in your head; it stays with your heart and soul a bit."
In stories appearing around the country, they've been presented as a family band playing in perfect harmony. And they are. But it's not their similarities—to each other, to any other bands—that make their rise special. It's their differences.
They're playing at the Neighborhood Theatre tonight. It's the first time they've played in Charlotte since November at the Chop Shop. They've been in town for a few days, and they've been so busy preparing for the show Brown says he hasn't even had a chance to play golf. "We really want to make this one special," he says.
What's that mean? They've added a few songs to their usual setlist. They've added band members for this one night. Friend Matthew Donovan will play an accordion and an electric ukulele. And John Hussey, another of the Hardees' cousins, will play percussion.
"We don't necessarily try to make it a family thing," Brown says. "It's just really a musical family, and it's weird how it works out."
It is weird, and also it isn't. When he was a teenager growing up in Belfast, Ireland, Brown went out one night to see local musician named Brian Houston. That night, watching Houston play, Brown decided he wanted to be a musician. He later moved to the United States and joined a band, Airspace. But about nine years ago, Brown quit that band and he considered quitting music altogether. He talked to Houston, who gave him some advice, "Give it 10 years. Really give it a shot, and if it's not working after 10 years, then you can and quit," Brown remembers Houston saying.
A few years later, at the Evening Muse, Jimmy met Ashlee. Soon they started playing music together, and soon they added her brothers to the band, and soon they had a major record deal. Now, about nine years into that 10-year trial period, Brown is the lead singer of a red-hot band with a new album and a nationwide tour, and they're coming home for a big night as the headliner at the Neighborhood Theatre, carrying the flame as the Charlotte music scene's best hope.
And Houston will be the opening act.
Michael Graff is the executive editor of Charlotte magazine.
Doors open at 7, show starts at 8.