Matt Olin: Waking Up to CreativeMornings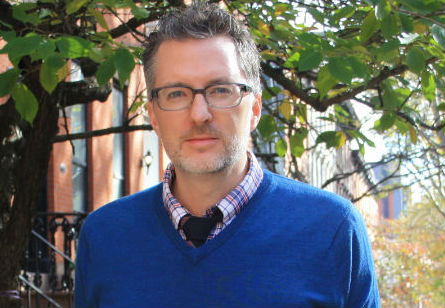 MATT OLIN grew up here. But the 42-year-old isn't what you'd call a lifelong Charlottean.
"Almost," Olin says, with a laugh. "I'm not a true rare panda bear sighting."
But in the creative sense, Olin has lived multiple lives in Charlotte. He served as managing director and producer at the now-defunct Charlotte Repertory Theatre in the early 2000s. He spent years as a member of prog-rock band Shadowflag, opening for the likes of 3 Doors Down and Crossfade. Recently, his copywriting and brand-creation venture, Matt Olin Creative, has served AMC Networks, Off Broadway Shoe Warehouse, Swisher, and others.
And throughout the years, he also found himself as a dual-citizen of Charlotte and New York. The latter's famed Broadway district is where he found some of his biggest success as a theatre producer. The Other Place, a play he crafted with Sharr White, bounced through theatre companies before a Tony nomination in 2013.
But then that thing happened. It's the issue that comes up for just about anyone who identifies as a "creative."
"I thought, 'What's next for me?'" Olin says. "'Where do I want to pour this energy?' I've always been in tune with a purpose-filled life. I didn't know where my next thing was."
When Olin and his wife, Sarah, decided to move back to Charlotte permanently for reasons that included "wanting a backyard," he continued that search for what's next.
"I finally discovered CreativeMornings was the answer for me," Olin says.
***
SEVEN YEARS ago, Swiss designer Tina Roth-Eisenberg had an idea.
On one Friday each month, she and other New York creatives would come together for breakfast and a short talk, delivered by one of the city's cultural leaders. It'd be free—and open to anyone. Some would call it "TED for the rest of us," referring to the popular and high-profile speaker series.
As of today, CreativeMornings exists in 130 cities on six continents. Each chapter is run by a volunteer organizer or "host," who then recruits a volunteer team. To get the regional rights to the brand, a prospective host must impress with both a written application and video to convey why a city of typically 500,000 residents or more will work for CreativeMornings. Olin worked with production studio Charlotte Star Room to create his video, which you can watch below:
Once you're in, CreativeMornings provides plenty of guidance along the way—and not just for the team behind the meetings. In its "Convince Your Boss" guide, the group provides instructions for potential attendees who need permission to leave the office one morning a month. The networking and motivational aspects of the event are touted, but one particular line speaks to the corporate world of 2015: "I will be able to use what I learn to create shareable online content on behalf of our company."
The morning time slot immediately sets CreativeMornings apart from the city's other social events, like WeLoveCLT and #InstaBeerUpCLT. As a frequent attendee of those events, Olin is excited to try something different.
"I'm attracted to the idea of flipping what's predictable on its head," Olin says. "As creatives, we tend to be nocturnal people. We get together over beers, and I do some of my best work at night. But I love this idea of gathering in the morning as creative people and see what it does to our day or month or year. How does that shift our perspective or stir that energy even more?"
Though the selection process is quite particular, Olin maintains that the gig comes with autonomy. That allows him to curate speakers and musicians to go with a certain theme. For November's theme, "Work," Playing for Others founder Jen Band was chosen. Her nonprofit has a nine-month program that cultivates both artistic talent and community involvement in Charlotte teenagers.
Olin says that autonomy is just part of the big picture of CreativeMornings. "They encourage us to be as creative and unpredictable as we can be," Olin says. "It goes hand and hand with their feeling that we're all creative. [When we start,] they give us best practices, and then we're up and going."
On Friday, at 8:30 a.m., CreativeMornings Charlotte will make its debut at LaCa Projects.
***
OVER COFFEE in Plaza Midwood, Olin reflects on his career and the path to CreativeMornings. That multi-disciplinary track is being tapped to curate the speakers and frequent music performance. Leading up to the first one, he's even seen a few of those old qualities return. "I've spent years battling my perfectionist side," he says. "I feel like I've done a pretty good job of sending him to his room and saying, 'You're not really welcome in this project.' This is not about perfection. This is about creating an engaged, inspiring, fun event."
He remembers the same feeling during rehearsals in musty old theaters, or even in the shoebox green rooms before a rock club gig. Those experiences also garner another quality: perspective. Even for someone who's not a "rare panda bear sighting," Olin has seen enough of the cultural community here to see its potential.
"I feel like we're at a real tipping point," Olin says, "Over the years, I've seen the creative energy surge, expand and condense. There's always been an active creative energy in Charlotte, but from my lens, it's more active now than it's ever been. Now, it's on a trajectory, and nothing is going to slow it down. All we can do is capitalize on that momentum, and say, 'OK, this is happening. How can we build it? How can we throw logs on the fire?'"
But what if you don't see yourself as a creative? Olin has an answer for that too: "We subscribe to a very broad definition of creativity," he says. "We want people who don't necessarily see themselves as creative to feel welcome. Entrepreneurs are creative. Chefs are creative. There are life coaches who are creative. I defy someone to find anyone who doesn't have that—and if you find that person, they are welcome, too."
Find more information on CreativeMornings Charlotte here.