Matt Swierad's Play By Play
Meet the man who's been announcing Knights games for 16 years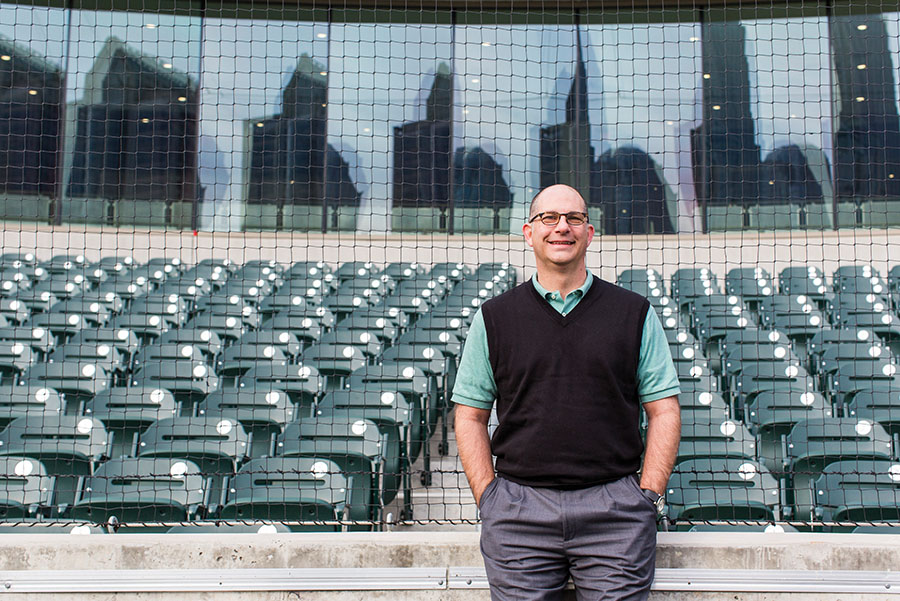 Matt Swierad has called more than 2,300 Charlotte Knights games since 1998—half on the road, half at home. As BB&T Ballpark prepares to open uptown on April 11, Swierad reflects on those many long nights.
I enjoyed Knights Stadium (the team's former home in Fort Mill). I had a lot of great experiences at that ballpark—working the games, calling a no-hitter, an (International League) championship in 1999. There are a lot of great memories at that place that I'll miss. I met my wife there; I met some great friends there.
But for fans, I see how it wasn't a very intimate ballpark. Now with the new BB&T Ballpark, no one is going to be more than 21 rows from home plate. So it's a lot more intimate there. It's also going to centralize the ballpark for a lot of folks. The ballpark in Fort Mill, it was kind of out of sight, out of mind.
To me, a good game is a well-pitched game, a fast-moving game that has some great plays turned in it. I don't need a 12-11 game; I'm happy with 2-1 or 1-0, because you can sense that it can turn on one pitch. And that's when the fans start to get into it more.
"He would not go to bed at night unless the Charlotte Knights were on the radio. I was his bedtime lullaby, basically, for two years."
This schedule is not for everybody. When people look at it, they don't grasp that we play 144 games in roughly 152 days. We have one day off a month, and we get three days off during the All-Star break. It's a challenge to get through the season because it is a grind. For the most part, you don't know what day of the week it is because you play every day. It's like Groundhog Day, over and over. That being said, it's a way of life, and this is normal living for me. But for someone else who's never done it, they'd probably think this is crazy.
We'll be on ESPN 730 AM as our flagship station this season, and it's going to be fun to be back in Charlotte on the radio. The last four seasons, our games were broadcast on a South Carolina station only. A lot of folks listen to us on the Web, but it's nice to actually be on a radio station in the city again, where people can drive around with their car radios on and listen to Knights baseball.
I still think to this day that the game of baseball is the perfect sport for radio. It's three hours, and you're telling a story every night. As a broadcaster, you're painting a visual picture for somebody who's sitting on their porch. Some years ago, I received an email about a little boy, five years old, who lived in Concord. His parents said he would not go to bed at night unless the Charlotte Knights were on the radio. I was his bedtime lullaby, basically, for two years. I can imagine that, and I can understand what they were doing because I did it. I grew up listening to the Red Sox and all their great broadcasters. During those West Coast trips when I was supposed to be in bed, I'd put that radio under my pillow—that made me want to do what I do.