Matthews Market Opens for Spring this Saturday
After a snowy winter and early spring cold snap, farmers and customers are eager to return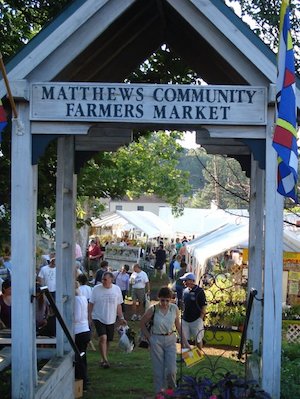 The winter caused havoc for Southerners across the region, and the Matthews Community Farmers' Market suffered, too.
The snow storm around Valentine's Day collapsed the market tents, leaving a pile of canvas and poles. So the farmers market reached out to the community for help. The fund-raising goal was $4,000 to replace the tents. Donations totaled almost $12,000.
"It was heartwarming and astounding how quickly they came in," says Pauline Wood, market manager. "People saw we had a problem and stepped right up."
Local farmers did 90 percent of the work, contributing valuable hours off their farms to help out. In addition to a new tent in the market's center, the site was regraded and new tents were installed around the market's perimeter. Matthews Fence & Supply Co. installed the tents' wooden posts. Property owner David Blackley of Renfrow Hardware had the market's Community House repainted. And the Town of Matthews upgraded the market entryway with new fencing and landscaping.
This weekend not only marks the opening of the spring market, but also celebrates the hard work of farmers and community members.
"In the spring there's always that anticipation of what the next year will bring," Wood says. "Last year was a very tough year with all the rain and a very hard winter. … Farmers are ready to turn the page on last year."
The spring market opens at 8 a.m. on Saturday (45 minutes later than last season) and continues until noon. The main vegetable selection will be mostly greens, with some cabbage, scallions, and radishes. The market will also offer pork, poultry, beef, prepared foods, vegetable transplants, and blueberry and blackberry plants. New vendors include Benjamin Frye and Courtney Buckley, the local couple behind Your Mom's Donuts. They introduce new flavors weekly and use locally milled flower. Neil Ringer of The King of Pops also makes a market debut with his handmade ice pops. And Tommy Allen of Allen's Mushroom Farm in Anson County will sell his shiitake mushrooms at the market this season.
At 9 a.m. on Saturday, Paul Verica of Heritage Food & Drink in Waxhaw will put on a cooking demonstration. Verica honors his restaurant's name by letting the seasons determine his dishes as cooks did generations before him. The Shumway family, who make up the group High Ridge Pickers, will also perform bluegrass music. (Listen to a sample of their sound here.)
Saturday is the first in a long lineup of market days that continue throughout the spring, summer, and fall. This one's fresh produce offerings will be slim compared to the bounty to come. But it'll be hard to match the excitement and anticipation of this year's opening day.