May 2011 NASCAR Events at Charlotte-Area Venues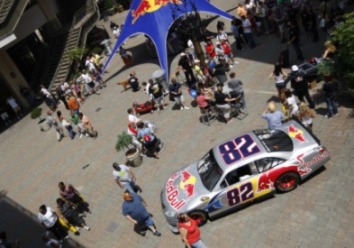 NASCAR races and fan events dominate the Charlotte area in May. To help you keep track of all the action, we've compiled a comprehensive schedule of events. The events listed below, many of them featuring driver appearances, are taking place at various venues around the city. To see a list of other NASCAR events being held in May—from Speed Street to Charlotte Motor Speedway—as well as interviews, profiles, and photos, go to www.charlottemagazine.com/nascar2011.
Through May 29
Janet Biggs: Going to Extremes
This exhibit features four videos by Janet Biggs that showcase performers in dramatic and heroic situations. The newest of the videos is Duet, which was commissioned by the Mint Museum and examines NASCAR racing. Rather than focusing exclusively on the drivers, Biggs presents the speed, precision, and agility of the pit crews and reveals their extreme grace under pressure. Mint Museum Uptown, at Levine Center for the Arts, 500 S. Tryon St., 704-337-2000, mintmuseum.org.
May 13-15, 20-22, 27-31
The Intimidator Rollercoaster
Inspired by NASCAR legend Dale Earnhardt, it's the tallest (232 feet), fastest (up to 75 miles per hour), and longest rollercoaster in the Southeast. The ride is complete with a Winner's Circle, Victory Lane, Wall of Fame tribute to Earnhardt, and a replica of his No. 3 Monte Carlo. It's a must-ride for Earnhardt fans and certainly for amusement park lovers. Carowinds is open Fridays through Sundays in May until Memorial Day, at which time it opens daily for the summer season. $22.99-$51.99 for admission to the amusement park. Carowinds, 14523 Carowinds Blvd., 704-588-2600, intimidator.carowinds.com.
May 17-28
Walmart NASCAR Events
Select Walmart stores in the Charlotte area are hosting NASCAR fan events through its new Race Time program. Customers are invited to attend these events and enjoy stock racing car displays, special driver appearances, and racing simulator machines. Some scheduled driver appearances are listed below, but dates and times are subject to change. 11 a.m.-5 p.m., unless where noted. Free. walmart.com/nascar.
Tuesday, May 17
Walmart Store #2005, 2420 Supercenter Dr. NE, Kannapolis

Wednesday, May 18
Walmart Store #2134, 7735 N. Tryon St.

Thursday, May 19
Walmart Store #4574, 5825 Thunder Road NW, Concord

Friday, May 20
Walmart Store #1027, 150 Concord Commons, Concord

Saturday, May 21
Additional events include the Fast Track Driving School, Armed Forces Day featuring a tank and helicopter, an auction of race team items to benefit Children's Miracle Network, and live bands Echo and Rock Candy starting at 1 p.m. 10 a.m.-5 p.m. Walmart Store #1027, 150 Concord Commons, Concord

Sunday, May 22
Includes appearances by Dusty Davis and Justin Johnson from 3-4 p.m. Event is 1-5 p.m. Walmart Store #1027, 150 Concord Commons, Concord

Monday, May 23
1-6 p.m. Walmart Store #1027, 150 Concord Commons, Concord

Tuesday, May 24
3-8 p.m. Walmart Store #1027, 150 Concord Commons, Concord

Wednesday, May 25
Walmart Store #1156, 169 Norman Station Blvd., Mooresville

Thursday, May 26
Walmart Store #4274, 7131 Hwy. 73, Denver, NC
Includes appearances by Ric Flair, Donny Schatz, Rusty and Steve Wallace, and Scott Wimmer. 4-8 p.m. Walmart Store #1027, 150 Concord Commons, Concord

Friday, May 27
Walmart Store #1552, 323 S. Arlington St., Salisbury
Includes appearances by Dawson Cram at noon, Bobby Labonte at 1 p.m., and Matt Kenseth at 6 p.m. noon-8 p.m. Walmart Store #1027, 150 Concord Commons, Concord

Saturday, May 28
Additional events include Cars and Stars from Concord Motorsports Park, the Colgate Motorhome Car Show, an auction of Race Time displays, Cheerwine/Nestle floats, the Bimbo Bear Patrol, and live bands Analog Machine, Midway, and BackWater. Walmart Store #1027, 150 Concord Commons, Concord
Thursday, May 19
NASCAR Pit Crew Challenge
Watch the pit crews from some of your favorite NASCAR teams go head-to-head in this competition of speed and skill. Seven members of each team are allowed to compete: front-tire changer, front-tire carrier, gas man, second gas can man, rear-tire changer, rear-tire carrier, and jack man. This event features entertainment for the whole family. 7 p.m. $15-$25; children twelve and under $7.50 each. Time Warner Cable Arena, 333 E. Trade St., 800-745-3000, pitcrewchallenge.com.
Friday, May 20
NASCAR Day
This annual, charitable celebration unifies the NASCAR community to support efforts to better the lives of children. NASCAR Day will include local activities at numerous race tracks around the country, as well as throughout the Charlotte area. Visit nascar.com/nascarday for more details.
Sunday, May 22
Joey Logano Appearance
Meet one of NASCAR's youngest and most exciting drivers. 1-3 p.m. The Home Depot, 8135 University City Blvd., 704-596-1550, homedepot.com.
May 23-27
Race Week Driver Appearances at Bass Pro Shops
Get these NASCAR drivers' autographs. Austin Dillon, May 23, 7:30-9 p.m. Tony Stewart, May 24, 6-8 p.m. Ryan Newman, May 25, 6-8 p.m. Steve Kinser, May 26, 4-6 p.m. Kerry Earnhardt, May 26, 6-8 p.m. Martin Truex Jr., May 27, 6-8 p.m. Bass Pro Shop, Concord Mills, 8181 Concord Mills Blvd., 704-979-2200, basspro.com.
Wednesday, May 25
Tony Stewart and Show Car Appearance
See one of NASCAR's most popular and winningest drivers in person. And get an up-close look at his race car. 11 a.m.-4 p.m. Office Depot, 8658 J.W. Clay Blvd., 704-549-0784, officedepot.com.
The Last Lap with Chris Lafferty
Hosted by the NASCAR Camping World Truck Series driver, this late-night TV show features laughs, appearances by NASCAR drivers and celebrity guests, as well as musical performances. Doors open at 5 p.m.; show starts at 6 p.m. Whisky River, inside the EpiCentre, 201 E. Trade St., whiskyrivercharlotte.com.
Thursday, May 26
Alive After Five
Charlotte's popular, weekly after-work event revs up even more for Race Week. Enjoy performances by Rubberband on the rooftop stage and U Neek Flavur on the courtyard stage. Plenty of cash bars scattered throughout. 5-9:30 p.m. Free. EpiCentre, 210 E. Trade St., epicentrenc.com.
Race Week Industry Event
Part of the nightclub's I Love NY DJ Series, this installment honors Race Week. Hosted by Greg Fornelli, Andrew Feit, and Pat Wood. 10 p.m. Butter NC, at NC Music Factory, 950 Seaboard St., buttercharlotte.com.
May 26-28
Live Music at Wild Wing Café
Enjoy good wings, cold beer, and live bands. Thursday: Brent Cates Band; Friday: The Newz; and Saturday: Southern Fried. Drink specials include $2.50 Miller Lite, $3 Corona, $3 Yuengling pints, and $5 Red Bull and vodka. Bands go on at 9:30 p.m. Free. Wild Wing Café, inside the EpiCentre, 201 E. Trade St., wildwingcafe.com.
Friday, May 27
Red Bull Racing Team's Annual Fan Day
It's a full day of fun for race fans. Starting at 2 p.m., fans will be able to enjoy music, drinks, raffle drawings for prizes and team memorabilia, pit stop demos, and autographs and photos with Miss Sprint Cup. NASCAR Sprint Cup drivers Kasey Kahne and Brian Vickers, as well as NASCAR Camping World Series driver Cole Whitt, will participate in a Q&A session at 4 p.m., followed immediately by an autograph session. Tickets for the autograph sessions will be handed out beginning at 11 a.m. The No. 4 and No. 83 Red Bull Shutter Speed cars will also be on display at the EpiCentre to allow fans to find their photo on the cars. Go to redbullracingusa.com/shutterspeed and submit your photo by May 22. Free. EpiCentre, 210 E. Trade St. redbullusa.com or twitter.com/redbullnascar.
Race Fan Friday
Come out and register to win two tickets to Sunday's Coca-Cola 600 at Charlotte Motor Speedway. Drink specials include $3 Miller Lite drafts, $5 Jack Daniel's Tennessee Honey, and $6 Red Bull and vodka. 9-11 p.m. BlackFinn American Saloon, inside the EpiCentre, 201 E. Trade St., blackfinncharlotte.com.
Friday Live at the Factory
The Fountain Plaza at NC Music Factory is transformed into an outdoor party oasis. This week's live performance is by Big Bad Voodoo Daddy. There will also be a fashion show. Admission gets you into several of the complex's venues, including The Saloon, Wet Willie's, and Butter NC. 5-11 p.m.; fashion begins at 7:30 p.m. $5 general admission; $40 VIP. NC Music Factory, 935 N. Graham St., ncmusicfactory.com.
May 27-29
Focus on the Family and Motor Racing Outreach Memorial Day Weekend
These nonprofit organizations come together to offer a weekend of fun, faith, and charity. Friday features a dinner at The King's Kitchen. Saturday features skeet shooting at Meadow Wood Farm and go-kart racing at Victory Lane Indoor Karting Center. Sunday includes a visit to the NASCAR Hall of Fame and garage tours at Charlotte Motor Speedway. Contact Missy deSouza at MRO to make reservations: 704-455-3828 or mdesouza@go2mro.com; go2mro.com.