May 2011 NASCAR Events at Race Team Shops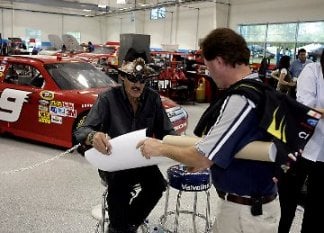 NASCAR races and fan events dominate the Charlotte area during May. To help you keep track of all the action, we've compiled a comprehensive schedule of events. The events listed below are taking place at NASCAR team shops—the Charlotte area is home to more than 80 percent of the race teams that compete in the top three NASCAR series. To see a list of other NASCAR events being held in May—from Speed Street to Charlotte Motor Speedway—as well as interviews, profiles, and photos, go to www.charlottemagazine.com/nascar2011.
_
Wednesday, May 25
Michael Waltrip Racing Fan Fest
A variety of activities are scheduled including show car displays, pit stop practices, games, giveaways, musical entertainment, and food from Mac's Speed Shop. MWR NASCAR Sprint Cup drivers David Reutimann, Martin Truex Jr., and JTG-Daugherty driver Bobby Labonte plus Nationwide Series driver Ryan Truex and East driver Brett Moffitt will join Michael Waltrip to sign autographs. MWR's Tim Brown, modified racer and star of the History Channel's 2010 reality series Madhouse, will also sign autographs and display his No. 83 race car. The team's race shop and gift shop will be open to the public throughout the day. Michael Waltrip Racing Headquarters, 20310 Chartwell Center Dr., 704-655-9550, pastranawaltripracing.com.
Red Horse Racing Open House
Drivers Timothy Peters and Miguel Paludo, along with co-owner Jeff Hammond, will sign autographs 6:30-7:30 p.m. at this open house, hosted by the team's sister company, PIT (Performance Instruction Training). 6-9 p.m. Free. Performance Instruction Training, 156 Byers Creek Rd., Mooresville, 704-799-3869, visitpit.com.
Thursday, May 26
Richard Petty Motorsports Fan Appreciation Day
Tour the shop, see current and historic cars, participate in a dunk tank, raffles, and more. Autograph session with Richard Petty, A. J. Allmendinger, and Marcos Ambrose begins at 9:30 a.m. Ticket distribution begins at 7 a.m. for the first 200 people who bring a twenty-four-pack of pencils to be donated to Classroom Central. 7-11:30 a.m. Free. Richard Petty Motorsports Shop, 7065 Zephyr Place, Concord, richardpettymotorsports.com.
Kyle Busch Motorsports Fan Day
The fan day is open only to Kyle Busch fan club members who RSVP'd, but the team is also hosting a garage sale that is open to the public. Items to be sold at the garage sale include old diecasts, hero cards, cardboard driver cutouts, and other memorabilia, with all proceeds going to the Kyle Busch Foundation. 11 a.m. Free. Kyle Busch Motorsports, 351 Mazeppa Rd., Mooresville, 704-662-0000, kylebuschmotorsports.com.
Earnhardt Ganassi Racing Fan Day
NASCAR drivers Jamie McMurray and Juan Pablo Montoya will sign autographs at the team's shop. A limited number of wristbands are available and required for admission to the autograph session. 10 a.m. Free. Earnhardt Ganassi Racing, 8500 Westmoreland Dr., Concord, 704-662-9642, earnhardtganassi.com.
Roush Fenway Racing Fan Day
NASCAR drivers Trevor Bayne, Carl Edwards, Ricky Stenhouse, and team owner Jack Roush will participate in an autograph session 11:30 a.m.-12:30 p.m. Drivers Greg Biffle, Matt Kenseth, and David Ragan will sign autographs 12:30-1:30 p.m. Tickets for both sessions are required and will be handed out on a first-come first-served basis beginning at 8 a.m. Free. Roush Fenway Racing, 4600 Roush Place, Concord, 704-720-4600, roushracing.com.
May 26-30
JR Motorsports Race Week
Highlighting the five days of festivities is an autograph session on May 27, noon-1 p.m., with Aric Almirola, driver of the No. 88 Chevrolet; Josh Wise, driver of the No.7 Chevrolet; and Kelley Earnhardt, co-owner and general manager of JRM. Tickets for the autograph session will be distributed beginning at 8:30 a.m. that day at the JR Nation retail store. Fans visiting the JRM facilities can see the No. 3 Wrangler Chevrolet that Dale Earnhardt Jr. drove to victory in the Nationwide Series race in Daytona last July. Also on display will be Danica Patrick's No. 7 Tissot Chevrolet, JRM's first-win car, along with various cars out of Earnhardt Jr.'s personal collection. Numerous JRM partners will also be set up and feature games, prizes, and more. Friday and Monday, 8:30 a.m.-5 p.m.; Saturday, 8:30 a.m.-4 p.m.; Sunday, 8:30 a.m.-2 p.m. JR Motorsports Headquarters, 349 Cayuga Dr., Mooresville, jrmracing.com.