May 4-6: An Insane List of Social Events and Parties this Weekend
From gallery and bar crawls, to Cinco de Mayo parties and festivals, to sporting and celebrity events, there's something for everyone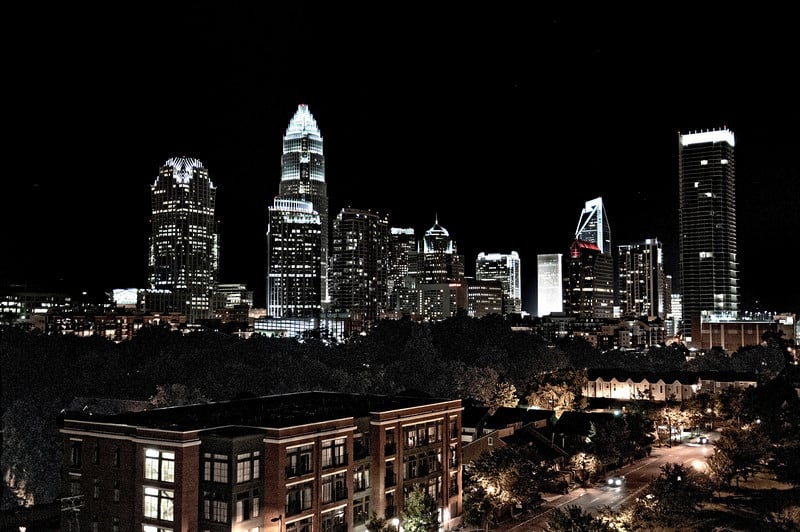 A culmination of the first weekend of the month, Cinco de Mayo falling on a Saturday, and annual events taking place make this one of the biggest social weekends of the year in Charlotte. Here's a list of 20 events well worth your time and efforts. Stay thirsty my friends.
Friday, May 4
South End Gallery Crawl
Tour more than 20 art galleries and shops, including Charlotte Art League, Ciel Gallery, Lark and Key Gallery, Hidell Brooks Gallery, Niche, Boulevard at South End, SoBo Loft Boutique and Gifts, and many more. Also enjoy live music and refreshments. Plus, it's Food Truck Friday, so you can purchase good eats from several of Charlotte's best food trucks. 6-9 p.m. Free. A free shuttle will be available to take you around to the various stops. South End, corner of Camden Road and S. Tryon St., southendclt.com.
¡Festival del Bigote!—The Festival of the Moustache!
It's a pre-Cinco de Mayo party, featuring free mustaches for everyone and music by DJ Rowshay. Drink specials include $3 Coronas and $5 premium tequila shots, along with all-you-can-drink domestic draft beer (8-10:30 p.m.) for $5. 8 p.m. Free. Prohibition, 200 N. Tryon St., prohibitionclt.com.
A Night in Vegas with Thomas Davis
The Carolina Panther star is presenting his annual Charity Weekend to support the Thomas Davis Defending Dreams Foundation (TDDDF). Friday night features a Vegas-style fundraiser with casino games, food, music, and other entertainment. Several of his NFL buddies will be in attendance. 8 p.m.-midnight. $25 and up. Hendrick Lexus, 6025 E. Independence Blvd., td58casinonight.eventbrite.com, defendingdreams.org.
Old School Special Edition with Big Daddy Kane
The weekly O.S.S.E. event takes it up a notch with the legendary Big Daddy Kane hosting this Friday, joined by Special Ed and Fly Ty of 92.7 FM. Music by DJ B Barnes. 9 p.m.-2 a.m. Free until 10:30 p.m. VIP tables available. Privilege, 223 S. Brevard St., privilegecharlotte.com.
Chanel West Coast
The blonde rapper and MTV star hosts and performs this Friday. 10 p.m. $10 in advance; VIP tables available. Butter NC, 950 NC Music Factory Blvd., buttercharlotte.com.
First Fridays Charlotte
The long-time monthly party has returned after a hiatus, now at a new nightclub. Music by DJ Magic, and Grey Goose drink specials all night. Presented by Troy Veale, Dee Autry, Ace Ent., and Orlando Farrar. 10 p.m. Free until 11:30 p.m.; VIP tables available. Caviar Nightlife, 300 E. Stonewall St., caviarnightlife.com.
Sunshine Jones Live
The San Francisco-based house music DJ and producer will play an extended set, along with Tre Damit. Event will also feature Charlotte's award-winning poet Bluz. 9 p.m.-2:30 a.m. $5-$10. Dharma Lounge, 1440 S. Tryon St., dharmacharlotte.com.
Saturday, May 5
Yacht Wars
Party in style on a yacht on Lake Norman. The pre-party takes place at Osso Restaurant and Lounge (1000 NC Music Factory Blvd., ossocharlotte.com) from 12-1 p.m., with a complimentary shuttle service available to take you from Osso to the marina. Music by DJ Jason Wiggz and DJ R Wonz. Presented by Red Rope Inc. Yacht boards at 2 p.m. $45. Kings Point Marina, 17939 Kings Point Dr., Cornelius, redropeinc.com.
Derby Day Bar Crawl
Put on your sundresses and seersucker suits and hop to several participating uptown bars: Connolly's, Dixie's Tavern, Fitzgerald's, Prohibition, RiRa Irish Pub, StrikeCity, and Town Tavern. Ticket gets you a keepsake mug, a complimentary beer, and drink specials include $2 beer refills, $3 mint juleps and whisky drinks, $4 Southern Comfort shots, and $5 Red Bull and vodkas. 1-8 p.m. $20 in advance; $30 day of. Check-in/registration site: Dixie's Tavern, 301 E. Seventh St., derbydaybarcrawl.com.
Convergence: A Sophisticated Cigar Social
Cigar enthusiasts will enjoy a fun afternoon at this portable lounge known as the Land Yacht. Cigar purchase required. Presented by Lashes and MustAshes. 2-4 p.m. Free. 501 S. Caldwell St. (parking lot across from NASCAR Hall of Fame), lashesandmustashes.com.
Derby Days 2012
Enjoy complimentary food, wine, and beer, live entertainment, games, and a silent auction on a picturesque lawn. Plus, the Kentucky Derby will be shown on a big screen. Presented by Young Affiliates of the Mint. 4-8 p.m. $38 for members, $48 for nonmembers. Mint Museum Randolph, 2730 Randolph Road, derbydayscharlotte.com.
Deltas of Charlotte Foundation Eighth Annual Bachelor Auction and After-Party
Ladies can bid on distinguished, handsome, and diverse men, ranging in age from 20s to 60s. Proceeds from the event are donated to college scholarships and community programs. Evening begins with a reception and silent auction at 6 p.m., followed by a live auction at 7 p.m. $25 in advance. Spirit Square, 345 N. College St., deltasofcharlotte.org. And the party continues with The Brothers at Blue after-party presented by Talk of the Town. Enjoy cocktails and a late-night menu, with music by DJ Flemingo. 10 p.m.-2:30 a.m. $15. Blue Restaurant and Bar, 206 N. College St., brothersatblue2012.eventbrite.com.
Third Annual Fashion SOUL
It's a celebration of fashion, art, theatre, and music, hosted by FOX Charlotte's Morgan Fogarty. Performances by Angela Lopez, Queen City Theatre Co., Spiral, Vess, and more. Plus, see fashion by local designers Abbeydale, Enemy To Fashion, Flow by Tara Davis, V. Vill by Cigi Guz, Franklin Headen, Andre Jarrid, and Frock Shop. After-party with DJs A-Huf, Party Bear Joel Khouri, and Smiley. Doors open at 8 p.m. $15-$35. Amos' Southend, 1423 S. Tryon St., amossouthend.com.
Ring Kings: Mayweather vs. Cotto Fight Viewing Party
Watch Miguel Cotto challenge undefeated Floyd Mayweather Jr. for the WBC Welterweight Championship, plus undefeated Mexican boxer Saul Alvarez versus Shane Mosley on the undercard. The fights will be shown on 10 flatscreens and a large projection screen. Finger foods and wings will be served along with drink specials such as the $5 Mayweather Margaritas and $4 Cotto Coronas. Doors open 7 p.m. Fights begin 9 p.m. $10 and up; VIP tables available. Re:Public, 314 N. College St., thesolkitchen.com.
Cinco de Mayo Parties and Events
Salsa-Thon
This Cinco de Mayo festival celebrates Latin culture highlighting salsa dancing and salsa music. Dance exhibitions will take place throughout the day, as well as live musical performances, vendor displays, authentic Latin food, and arts and crafts by local artists. Fun for the entire family. 12-6 p.m. Free. Uptown, 300 S. Tryon St., charlotte5demayo.com.
Cinco de Mayo Day Party
MAZ Entertainment presents a hip hop influenced celebration of the Mexican holiday, with music by DJ De Ron Juan. Cookout-style foods will be served, along with "adult slushies," and several of your favorite childhood games (Connect Four, Uno, Twister, Operation, etc.). 2-7 p.m. $5 in advance; VIP tables available. Phoenix, 300 N. College St., phoenixcharlotte.com, mazentertainment.net.
CincoFest Bar Crawl VI
Crawl to some of your favorite uptown bars, including BlackFinn, StrikeCity, Tilt, Prohibition, Dixie's Tavern, and Fitzgerald's. Drink specials include $3 lite beers and $5 premium tequila margaritas and shots. Presented by Lazyday.com and RockHouse Events. 3 p.m.-midnight. $5 in advance; $10 day of. Registration is 3-4:30 p.m. at Pavilion at EpiCentre, 210 E Trade St, cincofest.com.
Cinco de Mayo Party and Piñata Bash
These two neighboring hotspots are throwing one big party. There'll be a midnight piñata bash with thousands in cash and prizes. Drink specials include $3 Coronas and $4 tequila shots. Music by DJ Dirty and DJ Rwonz. 10 p.m.-2 a.m. Cost varies; VIP tables available. Mez and Kazba, at EpiCentre, 210 E. Trade St., mezcharlotte.com, kazbacharlotte.com.
Sunday, May 6
Fifth Annual Cinco de Mayo Fanta Festival
Keep the festivities going the following day at this popular festival featuring Mexican musical acts, celebrity appearances, children's games and activities, and folkloric dance performances. An open-air food court will serve authentic Latin American cuisine, and vendors will be selling native goods. 11 a.m.-7 p.m. Free. McAlpine Park, 8711 Monroe Rd., latinamericancoalition.org/fanta-festival.
Su Casa: the Sun-Day Party
The monthly Su Casa is celebrating with part one of its one-year anniversary party. Enjoy the sounds of soul, Afrobeat, house, Latin, and more by Charlotte's own DJ Fraser and Atlanta-based DJ Apple Jac. There'll be sweet treats courtesy of Café Cecelia, brunch-style drinks, a photography exhibit, and more cool stuff. 2-6 p.m. Free before 3 p.m.; $5 after. Dharma Lounge, 1440 S. Tryon St., dharmacharlotte.com, Facebook event details.
Other notable events going on this weekend include: Wells Fargo Championship, AIDS Walk Charlotte, and Charlotte Startup Weekend.
Verify dates, times, prices, and other info at the web addresses listed for each event.
Be sure to bookmark www.charlottemagazine.com/Blogs/Dusk-Till-Dawn to stay plugged into Charlotte nightlife.